---
The Supply Chain Insights team is proud to release two research reports this month, Talent: The Future Supply Chain's Missing Link and Supply Chain Metrics That Matter: A Focus on Contract Manufacturing. Join our webinar Thursday August 15th 1pm ET for a review of our talent report with guest panelists Marcia Connor, Principal at Sensify, Joe Krkoska, Supply Chain Director at Dow AgroSciences and Nicholas Little, Assistant Director, Executive Development Programs at Michigan State University.

Companies are feeling the pain of open positions. The average company has four positions open for five months, with 15% supply chain employee turnover. The talent shortage is greatest for middle management positions. Check out the report for three recommendations that we believe can make a difference.

Contract manufacturers are struggling. With slim margins, stagnant revenue per employee, and unstable growth from year to year, it is difficult to make improvements and undertake long-term commitments to improving their supply chain functions. Brand owners should understand the problems plaguing the industry and work to improve the partnership while also remaining cognizant of the fact that the contract manufacturing business model may simply not be viable in the long term. Find out more about this
report here
.
---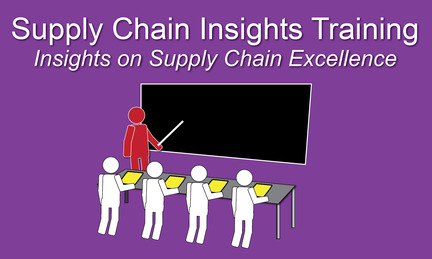 Join an elite group of supply chain leaders that have already experienced this unique two day training. The training is designed to help companies better manage the supply chain as a complex system and prepare for Supply Chain 2020. The training focuses on insights gained from quantitative studies, the mining of a decade of financial ratio data, and interviews with leaders of supply chain teams. Atlanta, Georgia dates to be determined shortly.
---
Supply Chain Insights Global Summit
Sept. 11-12, 2013
The Phoenician
Scottsdale, AZ U.S.A.
---
Upcoming Webinars

August 15th at 1pm ET is our latest webinar, Supply Chain Talent: The Missing Link.
Join us as Lora Cecere leads a
panel discussion that covers the latest research report on this hot topic.
---
Supply Chain Insights is Social
Connect with us in our community, view our latest blog posts and hear interviews on our YouTube channel and podcast show plus more.
---
Get the Newsletter
Make sure you are on our list to receive monthly updates of our research, supply chain knowledge, interviews with top supply chain leaders and more.

If you already receive this newsletter, please feel free to share it with others:
To ensure you get future emails from us, please add either this email's From Address or the domain @mail.vresp.com to your Address Book.
---
Supply Chain Insights
is focused on delivering independent, actionable and objective advice for supply chain leaders. A company dedicated to research, turn to us when you want the latest insights on supply chain trends, technologies to know and metrics that matter.
"Supply Chain Insights, Supply Chain Insights Index, Supply Chain Index, Supply Chain Shaman, Supply Chain Shaman's Circle, Supply Chain Insights Community, Supply Chain Insights Global Summit, Supply Chain Metrics That Matter, and all associated logos and designs are Trademarks of Supply Chain Insights, LLC."