---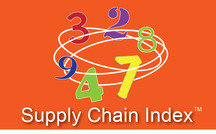 This research represents eighteen months of work to understand the relationship between supply chain financial ratios and the impact/ performance of the companies in public markets. To complete this study, we constructed a database of specific supply chain financial ratios (from a database of over 50 total financial metrics) and began to run correlations to understand the relationship between financial supply chain ratios and market capitalization for the past seven years. (The market capitalization data and the supply chain financial data used in the analysis was quarterly data from 2006Q1 to 2012Q4) We use this data to understand which metrics matter to financial markets for twelve Morningstar Sectors.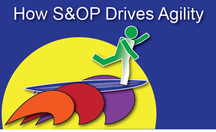 Sales and Operations Planning, S&OP, as a supply chain process is now over thirty years old. Most companies have implemented the process, but they are at very different states of maturity. The goal of this research was to understand the impact of S&OP maturity on organizational alignment and agility. We wanted to help supply chain leaders better understand the "state of the union" of sales and operations.
Don't miss our live
S&OP: State of the Union Webinar
Thursday June 13th. This webinar will cover the results of the survey and we will also hear from a panel of experts as they share their insights on the state of S&OP.
---
From the latest Supply Chain Insights Research Report Sales and Operations Planning/ S&OP State of the Union, this infographic shows how a Mature S&OP process will drive agility. Read the full research report
here
. You can also read more about this topic on Lora's latest blog post
S&OP Improves Supply Chain Alignment and Agility
.
---
Open Surveys
Your Participation Helps Us Provide Results
Our latest survey is designed to find out more about the talent gap in supply chain.
For Manufacturers, Retailers, Distributors & Consultants in supply chain management.
Help us understand:
What is the current state of supply chain talent issues today?
What are the top issues surrounding recruiting, hiring and training talent?
What are today's top strategies to address these issues and how are they working?

---
Supply Chain Insights Global Summit
™
The Phoenician
Scottsdale, AZ U.S.A.
---
Upcoming Webinars

June 27 at 1pm ET is our latest webinar on the
Supply Chain Index™. Join us as we provide an
overview of technology and apparel including an in-depth look into the metrics that matter for these industries.
---
Supply Chain Insights is Social
Connect with us in our community, view our latest blog posts and hear interviews on our YouTube channel and podcast show plus more.
---
Get the Newsletter
Make sure you are on our list to receive monthly updates of our research, supply chain knowledge, interviews with top supply chain leaders and more.

If you already receive this newsletter, please feel free to share it with others:
To ensure you get future emails from us, please add either this email''s From Address or the domain @mail.vresp.com to your Address Book.
---
Supply Chain Insights
is focused on delivering independent, actionable and objective advice for supply chain leaders. A company dedicated to research, turn to us when you want the latest insights on supply chain trends, technologies to know and metrics that matter.
"Supply Chain Insights, Supply Chain Insights Index, Supply Chain Index, Supply Chain Shaman, Supply Chain Shaman's Circle, Supply Chain Insights Community, Supply Chain Insights Global Summit, Supply Chain Metrics That Matter, and all associated logos and designs are Trademarks of Supply Chain Insights, LLC."