---
with co-author Lora Cecere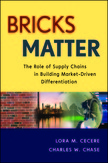 Get training based on the book Bricks Matter (now with 12, Five-Star Amazon Ratings and Reviews) to help your company in evolving towards the race for supply chain excellence 2020.
What will attendees learn?
How to develop and execute a successful supply chain strategy.
Insights from frameworks to drive agility and resilience from concept to action.
Evolution of supply chain excellence, current performance and the road forward.
Insights on the future of supply chain and how to formulate strategies for Supply Chain 2020.

---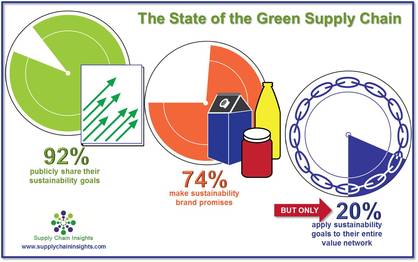 Most companies leverage being green for brand awareness but lack true sustainability goals in their value chain. Check out more research results in our latest report on the green supply chain.
View the full research report here:
---
This Friday March 15th at
1PM ET
Based on Building The Green Supply Chain Research Report
The first corporate social responsibility statement was published by Dow Chemical in 1996. Since then, how have supply chain leaders and corporate sustainability leaders defined supply chain initiatives? What are the priorities? Where are the commonalities? Are they aligned? How has the focus on carbon reduction, water usage minimization, zero waste, conflict minerals, and labor practices changed supply chain? What has it meant to supplier development? What are the differences? Join us for a joint discussion with John Davies, Vice President and Senior Analyst of Greenbiz Group, and Lora Cecere, Founder of Supply Chain Insights, on a recent joint research project with Greenbiz Group. We will also be joined by guest panelists Peter Murray, Supply Chain Development and Innovation Leader of DuPont, and David Lyons, Sr. Vice President, Operations & Supply Chain of Wells Dairy.

---
Surveys Turn Into Actionable Reports
Take Our Latest Survey Now:
How can we drive more value into supply chain processes and reduce overall costs for healthcare?
Survey topics: The use and performance of cost-cutting efforts, the role of the supply chain in healthcare, and value analysis program usage and success.
Who it's for: This study is aimed at those in the healthcare supply chain.
What's in it for you: Survey participants will get the full report, plus the offer for a detailed phone call with Supply Chain Insights to review the results.
Your privacy: This survey is confidential. Responses will be reported in aggregate and no individual- or company-identifiable information will be shared with anyone.

---
Supply Chain Insights Global Summit
September 11-12, 2013
The Phoenician
Scottsdale, AZ U.S.A.
---
---
Get the Newsletter
To ensure you do not miss out on our monthly newsletter with our latest research reports and happenings, subscribe here:

If you already receive this newsletter, please feel free to share it with others:
To ensure you get future emails from us, please add either this email''s From Address or the domain @mail.vresp.com to your Address Book.
---
Lora Cecere founded
Supply Chain Insights
in February 2012. A company dedicated to research, turn to us when you want the latest insights on supply chain trends, technologies to know and metrics that matter.