Supply Chain Resiliency

Find out how a new metric based upon corporate performance on inventory turns and operating margin helps to mathematically model supply chain resiliency. The research is industry specific and we will show you the companies leading the pack and in the back of the pack. Industries with high variability pose a risk to the extended supply chain.
Read the Report
---
Supply Chain Visibility

Read this report to understand and benchmark companies' supply chain visibility in business relationships within their extended supply chains.
---
Metrics That Matter: Aerospace and Defense

Sourcing complexity, multiple tiers of suppliers, growing governmental regulation, increasing commodity cost pressure and low growth are the challenges aero and defense manufacturers face today. Plus inventory is climbing for many manufacturers with one in particular representing the most extreme end with 251% growth. Find out what it takes to fight these battles and what metrics matter in this sector.
---
2014 Open Surveys

We rely on you and your insights to produce research reports that in turn help leaders in their work path. Take a moment to share your expertise on these open surveys:
---
Global Summit Agenda

This year's theme is Imagine. Imagine The Supply Chain of the Future. Sessions that will make you think differently such as Trends In Automation: The Future of Robotic Supply Chains and Imagine a Supply Chain That Can Maximize Profitability. Learn more about our agenda and register today for our 2014 Imagine Summit in Scottsdale, AZ USA on September 10th & 11th.
Link to the 2014 Global Summit
---
Lora's Latest Blog Post: Whew! It is Finally Happening.
As an analyst, Lora watches trends and the progress of technology adoption. At times she gets frustrated. But in this post, it is time to celebrate. Read how Lora is pleased with the adoption of new forms of B2B networks for supply chains.
Link to blog
---
About Supply Chain Insights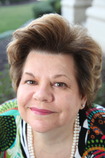 Founded by Lora Cecere in February 2012, Supply Chain Insights is focused on
delivering independent, actionable and objective advice for supply chain leaders.
If you need to know which practices and technologies make the biggest difference to corporate performance, turn to us. We are a company dedicated to this research. We help you understand supply chain trends, evolving technologies and which metrics matter.
Link to the Supply Chain Insights website
---
"Supply Chain Insights, Supply Chain Insights Index, Supply Chain Index, Supply Chain Shaman, Supply Chain Shaman's Circle, Supply Chain Insights Community, Supply Chain Insights Global Summit, Supply Chain Metrics That Matter, and all associated logos and designs are Trademarks of Supply Chain Insights, LLC."