This past week, Dresses for Orphans passed a huge milestone! We have made over 10,000 dresses and shirts for orphans around the world!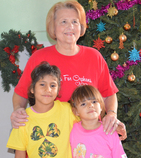 They have been sent to 67 orphanages in 27 different countries. In less than four years, we have seen incredible growth that has enabled us to serve this many c

hildren. To God be the Glory!

At Christmas time, we were honored to help deliver outfits to these kids at Casa Hogar in La Cruz, mexico. They care for 27 children in this orphanage, including a severely handicapped boy! What a ministry!
Where Do We Go From Here?
We simply move forward! Right now we are working on a request for 1,000 outfits for kids who have been orphaned in the war-torn country of South Sudan. Beyond that, we are already committed to sewing over 1,300 outfits in the coming weeks that will go to Zambia, Philippines, Mynamar, Haiti, El Salvador, Guatemala, Central African Republic, Kenya and India.
How Is All This Financed?
People ask this question quite frequently. The answer is very simple - it is financed through the gifts of
Dresses for Orphans
Partners who believe in what we're doing to serve orphans. We also occasionally do special fund raising projects. We are an all volunteer ministry so there are no salaries or overhead costs. Apache Wells Community Church in Mesa, Arizona, allows us to meet in their fellowship hall to sew. All of the money we receive goes directly into supplies to make the dresses and shirts. The cost to make a dress is $5.00 and a shirt is $2.50. Because we're able to buy most of our supplies wholesale, the cost is much less than it would be if one were to just go to any store and buy an outfit for a child. If you go to our website -
http://dressesfororphans.org/
- you can see lots of pictures on the home page of kids from around the world wearing their outfits.
Who Are

Dresses for Orphans

Partners?
Dresses for Orphans Partners are people who have a profound impact on this ministry in two areas.
First, there are
Volunteer Partners.
These are the women who faithfully sew the outfits every week. There are 46 women in the group in Mesa, Arizona in addition to the groups that meet in Ohio and Washington. Without these women, the dresses and shirts would never become a reality!
Second there are Financial Partners. These are the people who stand by us financially, giving their money to this ministry in order for us to support what we do for children. Currently, we have 42 Financial Partners - people who have given a one-time gift, have given several times or perhaps monthly. Our Board of Directors has asked us to set a goal to have 75 Financial Partners by the end of 2013. We would love to include you in that number!
Dresses for Orphans is a nonprofit ministry so all gifts are tax deductible. You can become a Financial Partner by giving in two ways.
1. If you would like to give using PayPal, simply go to the website -
http://dressesfororphans.org/
- and click on the 'donate' button on the top of the home page. This will direct you to the right page to make a PayPal donation.
2. Simply make out a check to Dresses for Orphans and send it to:
Dresses for Orphans
3055 N Red Mountain, #133
Mesa, AZ 85207
The number of requests for dresses and shirts is continually going up! The number of volunteers continues to go up! In light of these numbers, the financial need goes up also!
We would love to include you as a Dresses for Orphans Partner, making it possible to fulfill all the requests we receive.
Thank you so very much!!!
Darlene Carpenter
P.S. Tune in next month to read the story of a wonderful orphanage for girls in Thailand.