WHO SHOULD GO ON A

DRESSES FOR ORPHANS

MISSION TRIP?
In this newsletter, I'm going to interview Garnet, one of our faithful volunteers who's 'been there and done that'on our mission trip to Peru a year ago. She'll give us her insight on who should consider a trip such as the one planned for Honduras in March, 2016.
Darlene: Garnet, tell us a little about who you are and your family.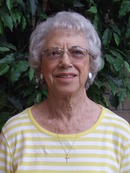 Garnet: Well, I've lived here in Arizona for 36 years and I was married to my (late) husband, Dean for 67 years. I have two granddaughters, one grandson, and four great-grandchildren.
Darlene: I know you're never supposed to ask a woman her age, but . . . Garnet, how old are you?
Garnet: I'm 89 years old (that'll be important as the story moves on!)
Darlene: What did your family think about you taking a mission trip?
Garnet: They were all 100% in favor of my going to Peru. One of my sisters, with a tiny bit of concern, asked me what would happen if I died over there. Well, I told her my body was going to be cremated and I had travel insurance so it wouldn't be a big deal!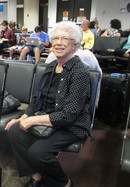 Darlene: What was the main reason you wanted to go on a mission trip?
Garnet: The kids!! For the past five years my job at the Dresses for Orphans sewing group each week is the final pressing of the dresses and shirts. (I always say I have the best job because I get to see all the finished outfits.) Anyway, as I'd press the outfits, I'd think about the kids who would be receiving them and wish I could visit them. So, this was my opportunity to do just that - to see the kids, interact and play with them, see where they cam from, where they were now, how they were being cared for - and to see their faces when we would give them a new dress or shirt.
Darlene: What were some of the things that made an impression you during the trip?

Garnet: Of course, there were many things. But once again, I learned so much about the kids and that was the most impressive part. Most of the kids we worked with at Juniper Tree Children's Home came out of extreme poverty. Some of them had already experienced more negative life experiences than many adults will ever face. But at the children's home they were experiencing unconditional love from their 'Mommas' and other staff and they were learning to trust and love and care and grow to be whole.
I was impressed with how well-mannered the kids were - I never heard any complaining, no fighting or bullying or even crying. I also loved the way they would pray before their meals. They all knew that they took turns praying and even the very youngest boy had his turn. I never heard anyone say 'I don't like this' at mealtime but they all ate what was put before them and were grateful for it.
All in all, they were wonderful kids to be around. When arriving at the home in the morning, it was really special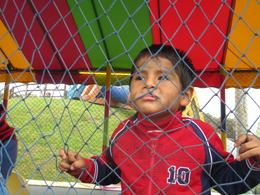 to have this little guy run up to give me a big hug. Hugs communicate even when there's a language barrier!
Darlene: Another question - where did you stay while you were there?
Garnet: Kid's Alive, the orphan ministry that we were with, has a very nice guest apartment where we stayed. There were four bedrooms and bathrooms that we shared that were furnished with bunk beds. The fridge was stocked for us to have breakfast on our own. Sometimes we ate lunch and/or dinner with the kids at the children's home and other times we ate at the apartment where a Peruvian woman cooked our meals.
Darlene: One last question - who would you recommend should consider going on the mission trip to Honduras in 2016?
Garnet: Anyone and everyone!! I went to Peru when I was 88 years old so I think I proved that you're never too old! But, the team needs a good mix of people. Younger people will interact with the kids and be able to do things for the orphan ministry that are unique to them and their age group. Also, I think it would be a wonderful experience for teenagers (probably with a parent along). What better way to learn about the world outside of the U.S. than to actually experience it first-hand. It's an extremely eye-opening and fulfilling experience regardless of the age of the person involved.
Darlene: As a footnote, I must add that Garnet is one of my favorite people. She's a gentle person who always has a smile so you'd never guess her adventurous spirit. I happen to know that both she and her late husband had pilot licenses and they flew their plane together. I'm sure there were more places but I know they flew from Indiana to Alaska and also to the Bahamas for a vacation! What a gal!
HONDURAS MISSION TRIP 2016
If you're interested in joining the team going to Honduras, here are some details. We'll be leaving on Saturday, February 27th and returning on Saturday, March 5th. This trip is under the leadership of Orphan Outreach -
http://orphanoutreach.org
. The first couple of days we'll be at a church and school where they are involved. Then the rest of the time we'll be at an orphanage. Exactly what we'll be doing depends on the people who make up the team - their background, expertise, talents, etc.
If you're interested in learning more about the trip and have questions about the possibility of your involvement, please send me an email at darlene@dressesfororphans.org. I'll be happy to answer all your questions or if I don't know the answer, I'll find out.
Another way you could be involved would be to help in providing some of the things we'll be taking along. If you're interested, I'd be happy to talk about specific needs but it might include socks, underwear, toothbrushes, etc. for the kids.
Darlene Carpenter
Dresses for Orphans
3055 N Red Mountain, #133
Mesa, AZ 85207
480-807-2672
darlene@dressesfororphans.org
Dresses for Orphans is a nonprofit ministry and all gifts are tax-deductible.