Dresses for Orphans
has passed a huge milestone - over 30,000 dresses and shirts have been made for kids in 42 countries!! To celebrate this accomplishment, each volunteer was challenged to collect 600 pennies for our Christmas luncheon. And collect pennies they did!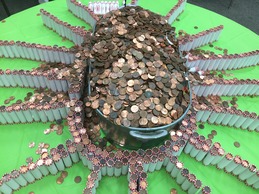 Since the bank will only let us bring in five bags at a time, it will be a couple weeks before we'll know the total amount collected. This money will be used to buy more T-shirts to make more outfits to bless more kids!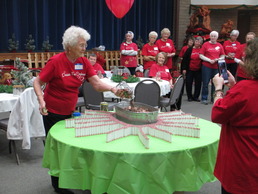 Cora actually brought four jars of pennies to pour - one for her and her husband, and the three others to honor her kids, grandkids and great grandkids!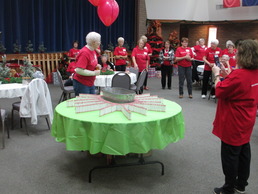 Joan brought a jar of pennies that her Mother had actually saved. I can't even imagine how old some of them must have been!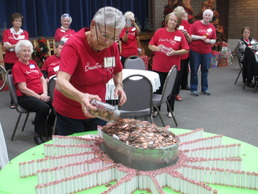 Jan's daughter who lives in California, thought this was a fantastic project and started saving pennies through her work. Our original goal was to collect 30,000 pennies but she did more than that by herself. She sent us $358.00 that she raised simply by asking people to put their pennies in the container and telling them what they were for. What a fantastic supporter!
IT'S NOT TO LATE TO VOTE!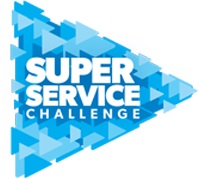 No, I'm not talking about our recent general elections! I'm referring to the Super Service Challenge.
Dresses for Orphans has applied once again for funding through the challenge. You may recall that in 2015 we were awarded $33,000!
Now you can help us receive funding once again by voting for the 80 videos that we have taken and posted on their website. Every 25 votes count as another video submission, so your vote is important.
Simply go to
https://superservicechallenge.com/gallery/#/0/12/2016
. You'll find a search bar on the top right that says 'Search videos'. Type
Dresses for Orphans
in that area and hit enter. All of our videos will come up. Click on the first one and when the 'watch to vote' area turns yellow or orange and says 'vote now' click in that box. When the box turns blue with a check mark in the middle, you'll know that your vote has been included and counted.
Thanks so much for your vote by December 31st. We won't know until January how much money we may be awarded but we do know this - EVERY vote counts!
Darlene Carpenter
Dresses for Orphans
3055 N Red Mountain, #133
Mesa, AZ 85207
480-807-2672
darlene@dressesfororphans.org
Dresses for Orphans is a nonprofit, 501(c)(3) ministry. All gifts are tax deductible and go directly to buy the supplies to make the dresses and shirts. It is an all-volunteer ministry!