Many thanks to Jim and Marlene Voita for the following first-person account and pictures of their trip to Kenya! Things become more real when one hears it from the lips of people who have actually been there and done that!
STILLWATER, MINNESOTA TO KAPENGURIA, KENYA
When our minister from First Presbyterian Church in Stillwater, Minnesota asked if anyone wanted to go on a mission trip to Kenya, we said "Yes!" As the plans for our trip were being made, we (Jim and Marlene Voita) wondered if
Dresses for Orphans
could be a match for
Daylight School.
Our trip was set for January 13 - 21, 2015 and was already mid-October. However, we inquired about the possibility and the response was that they would try very hard to have the outfits made in time for our trip.

The dresses and shirts were given out to the children of
Daylight School,
a K-7 boarding school for orphans of tribal warfare, at a morning assembly within a few days of our arrival. The students were so excited. Some had never had a NEW piece of clothing. Many of their green wool uniform sweaters were moth eaten and a few wore parkas given by people of other mission trips. Although is was hot during the day, the kids endure cold nights in dorms with no heat!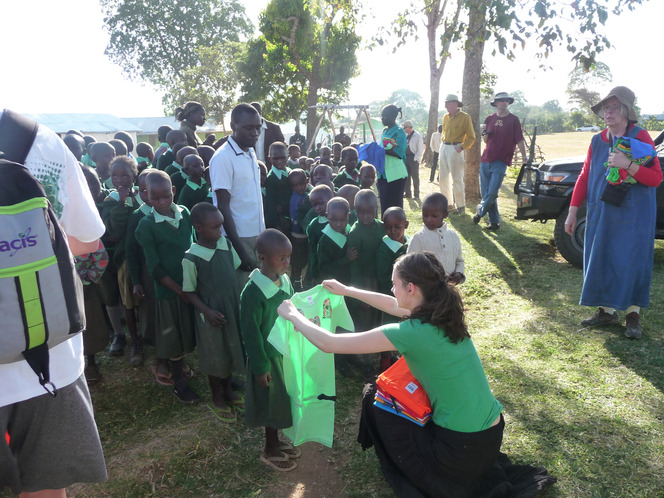 Although the kids have been taught to hide their pain and emotions for the safety of their villages, the smiles were overwhelming as we read the letter from Darlene and passed out the dresses and shirts.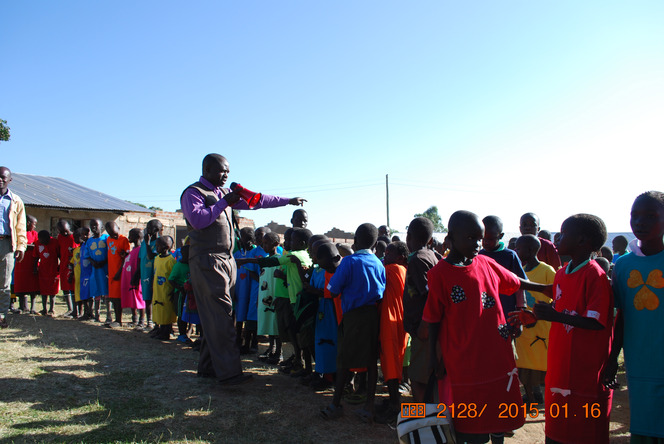 The students spread out across the soccer field (cow pasture) next to the school buildings in their bright beautiful outfits. They joined hands to form a giant undulating line changing praises to God for the wonderful clothes, led by James, a 72-year-old retired headmaster. He exclaimed, "simply wonderful". One of our group said the children reminded him of the Omni Theater show of the flight of brightly colored butterflies.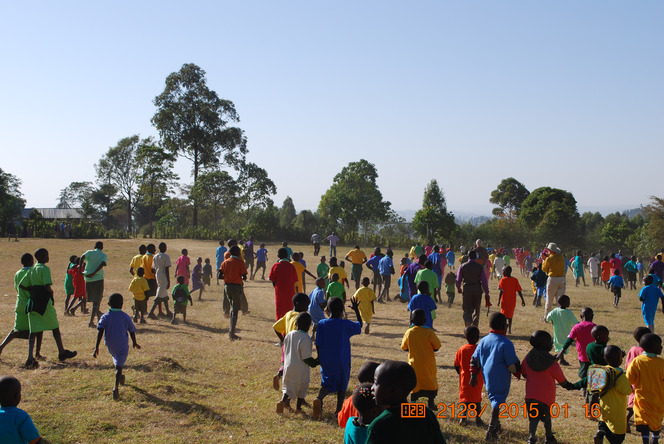 Our group leader said that he had some concern about the logistics of bringing the dresses and shirts. In the end, he thought that the 'Dresses for Orphans' was a major highlight of the trip and that it left a lasting wonderful impression with the kids.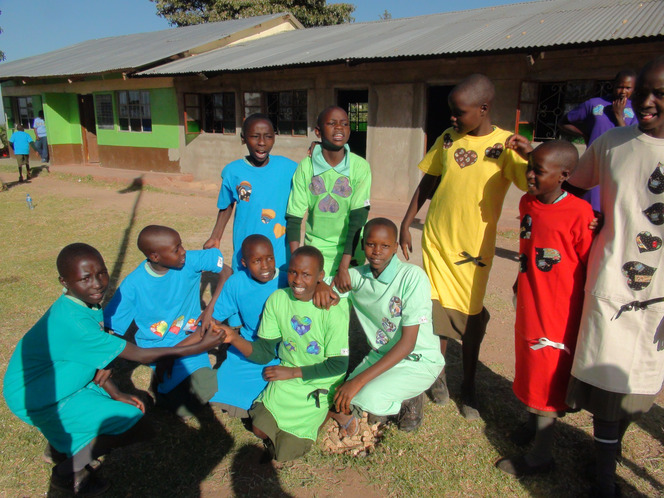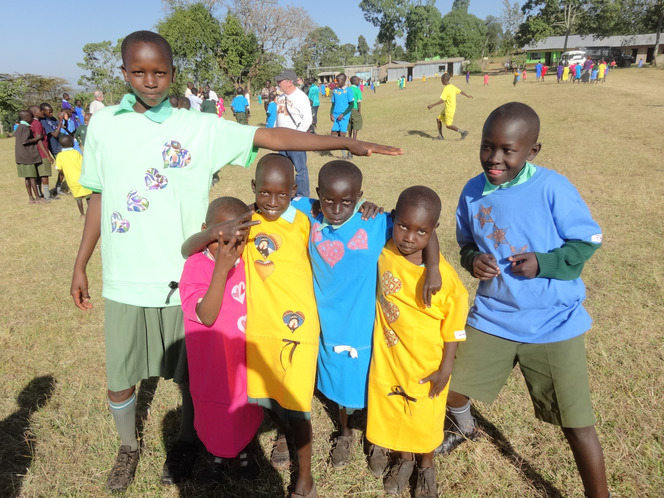 At the final celebration held to thank our group, the whole community came out in traditional costumes with spears and shields. We saw a group of young women warrior dancers with pink sheets pinned at one shoulder, proudly wearing their precious colorful dresses as though they were part of their traditional village costume. It was a great sendoff by the Daylight School which has strong Christian traditions and loving hearts!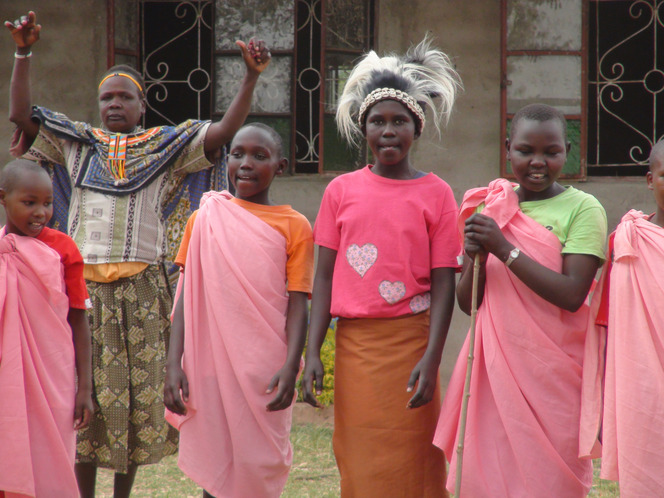 We can't thank Dresses for Orphans enough for the beautiful, brightly colored dresses and T-shirts and their prompt delivery, a super human effort to get them done in time for our trip!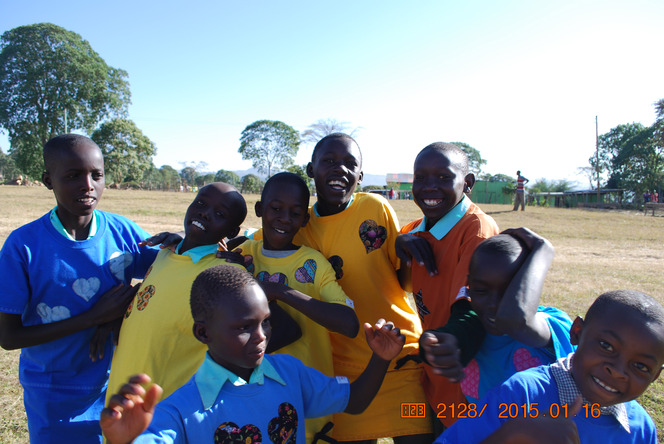 "Today (Easter) we had an egg hunt, after telling the Bible story using the 12 eggs with the symbols of Easter in them. Then we gave out the dresses and shirts. The children were so happy and thankful! The pictures of children praying are taken after the shirts were distributed and you can see how sincere the prayers of the children are and how they are thanking God for all of you." India
"I am sincerely thankful to you and your team for the time and resources invested into these dresses and shirts. I am sure no amount of words I say to you are enough to express by gratitude!" Nigeria
"Anna and I want to immensely thank you for your special kindness in getting these dresses and shirts to us. What a joy to see all the bright colors and designs! You have a giving ministry and I know the children will be gleeful when I deliver them." Mexico
"During the Christmas celebration at Unique Nursery and Primary School, every child was given a T-shirt or girl's dress. Many local dignitaries from the village and the Ministry of Education were present. It's now a common sight to see children walking around in your shirts and dresses when you visit!" Cameroon
Dresses for Orphans
3055 N Red Mountain, #133
darlene@dressesfororphans.org
Dresses for Orphans is a nonprofit, 501(c)(3) ministry. All gifts are tax deductible and go directly to the supplies to make the dresses and shirts. It is an all-volunteer ministry!