Darlene Carpenter founded Dresses for Orphans in her Mesa, Arizona home five years ago, and today her team of volunteers have made more than 15,000 dresses and shirts for children in 29 different countries. The nonprofit began with Darlene sewing in her back bedroom, but it quickly grew. Dresses for Orphans now includes 50 dedicated volunteers who meet weekly to stitch.
Click here to view the entire video:
http://5hourenergy.com/helps-amazing-people/#sthash.DThJnyTG.dpb
Don and several associates here in the U.S., working together with a ministry in Uganda wanted to build an orphanage. Before they began the whole process, they decided to do a study to see how many orphans were within walking distance. I asked him what he meant by 'walking distance' and he s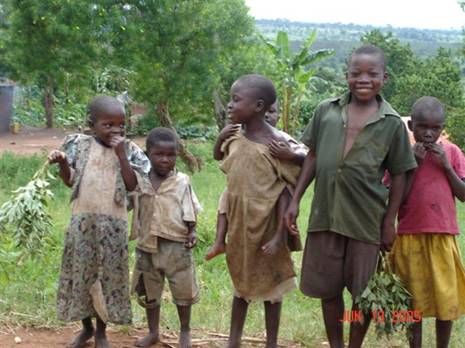 imply said the
dis
tance you could walk in 20-30 minutes. I quickly did the math and figur
ed a fairly fast walker could go about two miles in 30 minutes. What they found was 2500 or
phans in about a two-mile radius of their location! They built the orphanage for 150 kids in Bukaleba, Uganda and immediately made plans to expand as soon as possible! This is a picture of some of the kids that they found in their study. Dresses for Orphans sent outfits for the kids in the new orphanage and it looks like they were badly needed!
. . . . . simply stands for Christian Alliance for Orphans. It is an organization that unites more than 140 Christian organizations and a whole group of churches. Their purpose is to provide a network to inspire and equip Christians worldwide to reflect God's heart in caring for orphans in adoption, foster care and global orphan care.
Dresses for Orphans
is blessed to be a part of this wonderful organization.
Every year CAFO sponsors the Summit which is an opportunity to meet together to learn, encourage and inspire one another in whatever area of orphan care each ministry is involved. This year it was May 1st and 2nd and
was hosted by Willow Creek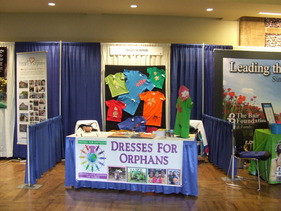 Community Church in South Barrington, Illinois, a suburb of Chicago. There were over 2600 attendees from 35 different countries.
Dresses for Orphans
had a booth at the conference and experienced a fantastic response
from many different people/ministries who will be requesting dresses and shirts in the next months.