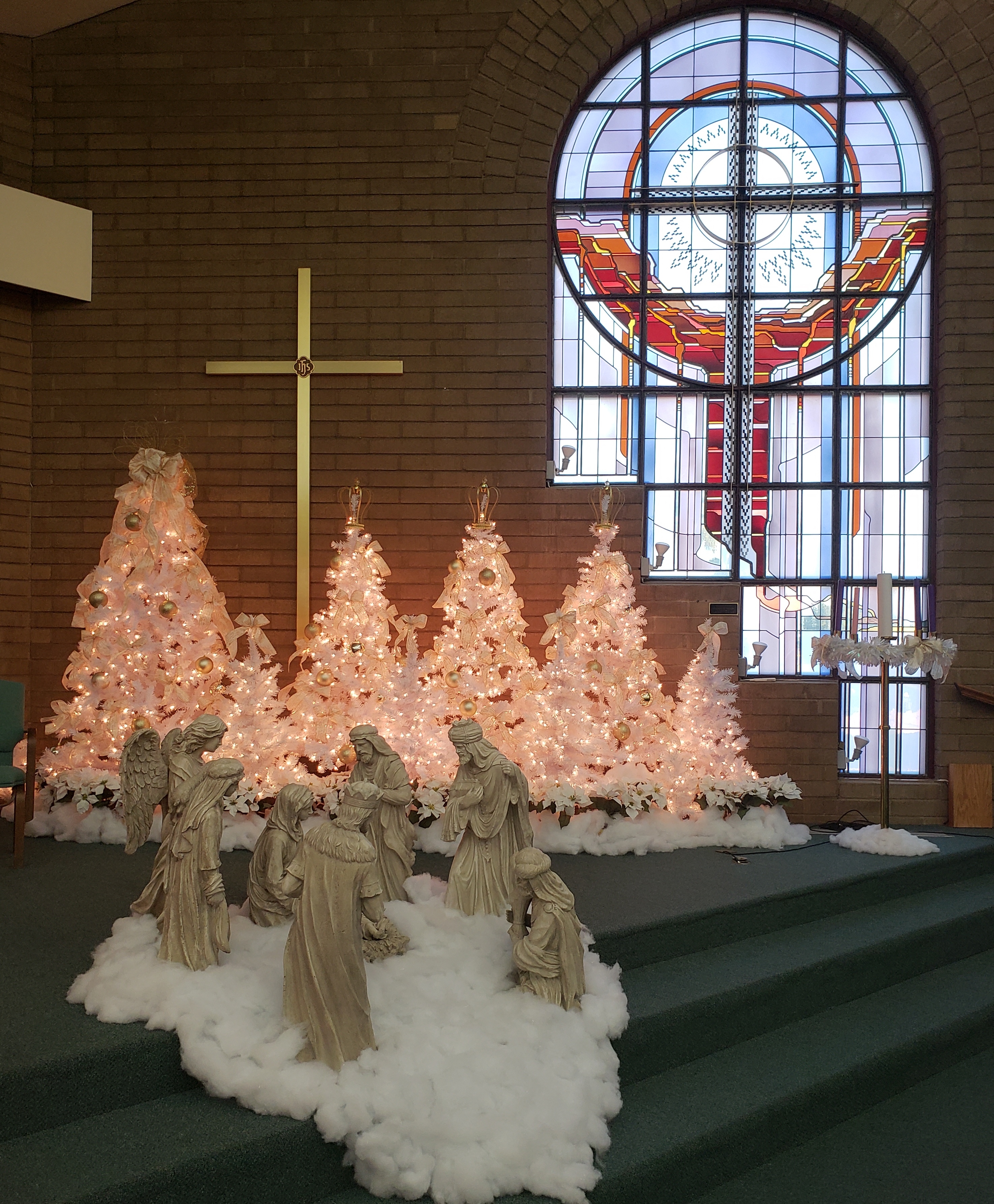 This is what the front of the Apache Wells Community Church in Mesa, Arizona looks like! What a beautiful depiction of our faith - the manger, the cross and the crown (topping each of the trees). That is really the 'total package' of what we believe and captured in one beautiful display! Dresses for Orphans has a wonderful relationship with this church as we meet every Wednesday in their Fellowship Hall. Thank you Apache Wells for nine years of a wonderful partnership.
As 2018 Comes To A Close . . .
It's been a terrific year!!! Here are a few of the things that have happened:
- over 5500 dresses and shirts were made for kids in 17 different countries
- 1,500 of those went to Malawi
- 830 pillowcases were made with our excess fabric that were donated locally to
ministries such as Phoenix Rescue Mission, Changing Life Center and Family Promise
- a new sewing group was started in Sioux Falls, South Dakota
- another new sewing group was started in Bismarck, North Dakota
- several new volunteers have joined our sewing group here in Mesa, Arizona
Thank You, Thank You, Thank You . . .
. . . to those of you who voted for our videos on the Super Service Challenge! We have met our goal and expect to hear soon about the funds that we will be receiving from this great foundation. By voting for us, you have helped raise the funds needed to continue to bless boys and girls all around the world with a new outfit.
Your love and support throughout the year is what makes it possible for us to continue this unique ministry. Not only are we able to give new dresses and shirts to vulnerable kids, but we also have a special ministry to our volunteers. All of our women are retired and many are widows. Many wonderful friendships have been formed as we've worked together and we've been able to accomplish much more as a group than any of us could have by ourselves.
As I was preparing the devotional to share with our volunteers at our Christmas luncheon, I found this on the Internet and would like to share it with you also.
I Corinthians 13 - Christmas Version
If I decorate my house perfectly with plaid bows, strands of twinkling lights, and shiny balls, but do not have love, I'm just another decorator.
If I slave away in the kitchen, baking dozens of Christmas cookies, preparing gourmet meals, and arranging a beautifully adorned table at mealtime, but do not have love, I'm just another cook.
If I work at a soup kitchen, carol in the nursing home, and give all that I have to charity, but do not have love, it profits me nothing.
If I trim the spruce with shimmering angels and crocheted snowflakes, attend a myriad of holiday parties and sing in the choir's cantata, but do not focus on Christ, I have missed the point.
Love stops cooking to hug a child. Love sets aside the decorating to kiss a spouse. Love is kind, though harried and tired. Love does not envy another's home that has coordinated Christmas china and table lines. Love does not yell at the kids to get out of the way, but is thankful they are there to be in the way.
Love does not give only to those who are able to give in return, but rejoices in giving to those who cannot. Love bears all things, believes all things, hopes all things, and endures all things. Love never fails.
Toys will break, pearl necklaces will be lost, golf clubs will rust, but giving the gift of love will endure.
Merry Christmas To All Of You!
Darlene Carpenter
Dresses for Orphans
3055 N Red Mountain, #133
Mesa, AZ 85207
480-807-2672
darlene@dressesfororphans.org
Dresses for Orphans is a nonprofit, 501(c)(3) ministry. All gifts are tax deductible and go directly to buy the supplies to make the dresses and shirts. It is an all-volunteer ministry!