2014 was a year that will long be remembered as
Dresses for Orphans
broke all previous records! Thirty-two orphanages in 13 different countries received 5,785 dresses and shirts for the kids in their care! In addition, we're creeping right next to 20,000 outfits made since we started in 2009.
Add to that the fact that more and more women are hearing about our sewing groups and wanting to be a part of this ministry. At present we have 65 women on our roster from the sewing groups in Arizona, Washington and Ohio as well as individual women from other states.
Reports and pictures continue to come in telling how thrilled the children are to receive these new outfits. Emails also come in every week from all over the world requesting dresses and shirts for the children in their care!
We're expecting 2015 to break even more records!
Sherrie Miller is the leader of the Dresses for Orphans group in Washington. Just a couple weeks ago she and her husband, Andrew, went to China to bring their two adopted children home. In the picture below, you'll see them along with their youngest biological son, their new teenage son, Shane and their little daughter, Selah. In a future newsletter, we'll hear from Sherrie about their road to the adoption of these two kids and their adjustments becoming a family with six children!
China . . .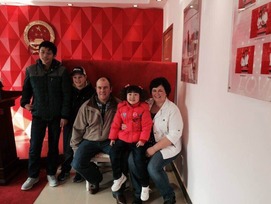 Dresses for Orphans is a nonprofit ministry dedicated to providing a new dress or shirt for orphans and vulnerable children. All gifts received go toward buying the supplies to make these outfits and are tax-deductible. Thank you for your continuing support in this new year!
Dresses for Orphans
3055 N Red Mountain, #133
darlene@dressesfororphans.org