A few weeks ago,
First Baptist Christian School
in Slidell, Louisiana raised money for
Dresses for Orphans
through the Love Bank Can. Over the period of a few days, the student body of a little over 250 kids raised $2189.00 for this ministry by simply collecting enough coins to fill their bank. One of the students wrote this note and stuck it in the top of the can: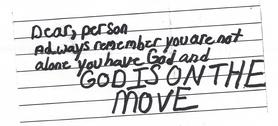 Once again, Dresses for Orphans is applying for funding from the Super Service Challenge. This is an organization that gives money to qualifying nonprofit organizations and Drew Brees of the New Orleans Saints is their spokesperson. They are working to encourage people to volunteer all across America. To apply for funds we have posted 178 videos on their website of our volunteers working together. You will see several of the ladies more than once because we learned that we could submit a video every time a person volunteered, even if they had done so the week or month before and the more videos submitted, the better.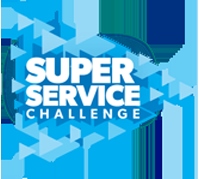 sure the 3 little boxes say 'Sort By: Most Recent' and 'Year: 2017'. The third box will be empty. In that box type 'Dresses for Orphans' and hit enter. The first video will come up and a blue box that says 'Watch to Vote. When the color of the box changes to yellow/orange, it'll say 'Vote Now'. Simply click on the box and then clock 'Next' to get to the next video.
Thank you so much for participating in our ministry in this way. As we receive more funding, we can continue to bless kids all around the world!
Jan, one of our volunteers, is responsible to keep track of how many outfits we make each week and how many we have ready to ship. Every week she sends out the numbers and includes a little blurb that we call
Jan's Pearls of Wisdom.
Last week she sent this story that I want to share with all of you as well:
Some time ago a man punished his three year old daughter for wasting a roll of gold wrapping paper trying to decorate a box for under the Christmas tree. Money was tight and he became infuriated. Nevertheless, the next morning the little girl brought the gift to her father and said, "This is for you, Daddy".
He was embarrassed by his earlier reaction, but his anger flared again when he discovered the box was empty. "Don't you know when you give someone a present there is supposed to be something inside?" "Oh Daddy," she said with tears in her eyes, "it's not empty at all. I blew kisses in the box. They're all for you, Daddy."
A short time later, an accident took the life of his daughter. It is said that her father kept that gold box by his bed. When he was discouraged, he would take out an imaginary kiss and remember the child who put it there.
In a very real sense, each of us have been given a gold container filled with unconditional love and kisses...from God. No other possession could be more precious.
I'm going to send each great grandchild a decorated, kiss filled gold box, explaining what's inside with these words attached: "Whenever you miss Gramma Jan, open this box, take out a kiss and rub it on your cheek." I won't be surprised if next Christmas a gold box finds its way to my house.
I love Jan's plan to give each of her great grandkids a similar box with the note inside. Maybe that's something more of us could do for others - kids, grand kids, friends or neighbors.
I trust that all of you will have a wonderful Christmas as we learn to love one another more and to show that love to others!
Darlene Carpenter
Dresses for Orphans
3055 N Red Mountain, #133
Mesa, AZ 85207
480-807-2672
darlene@dressesfororphans.org
Dresses for Orphans is a nonprofit, 501(c)(3) ministry. All gifts are tax deductible and go directly to buy the supplies to make the dresses and shirts. It is an all-volunteer ministry!