Here I Am Orphan Ministries
, with headquarters in Brenham, Texas, is a ministry that reaches out to orphaned children both here in the U.S. and overseas. They work with several different orphanages in Latin America. This summer,
Dresses for Orphans
made 250 outfits for distribution to the orphanages they visited in El Salvador during their mission trip.
Sometimes the ministry of Dresses for Orphans reaches beyond the walls of an orphanage and into the community beyond. During their mission trip, Debbie Fauther, the Executive Director of the ministry, wrote a blog and here is an excerpt from it that explains the picture of these precious children: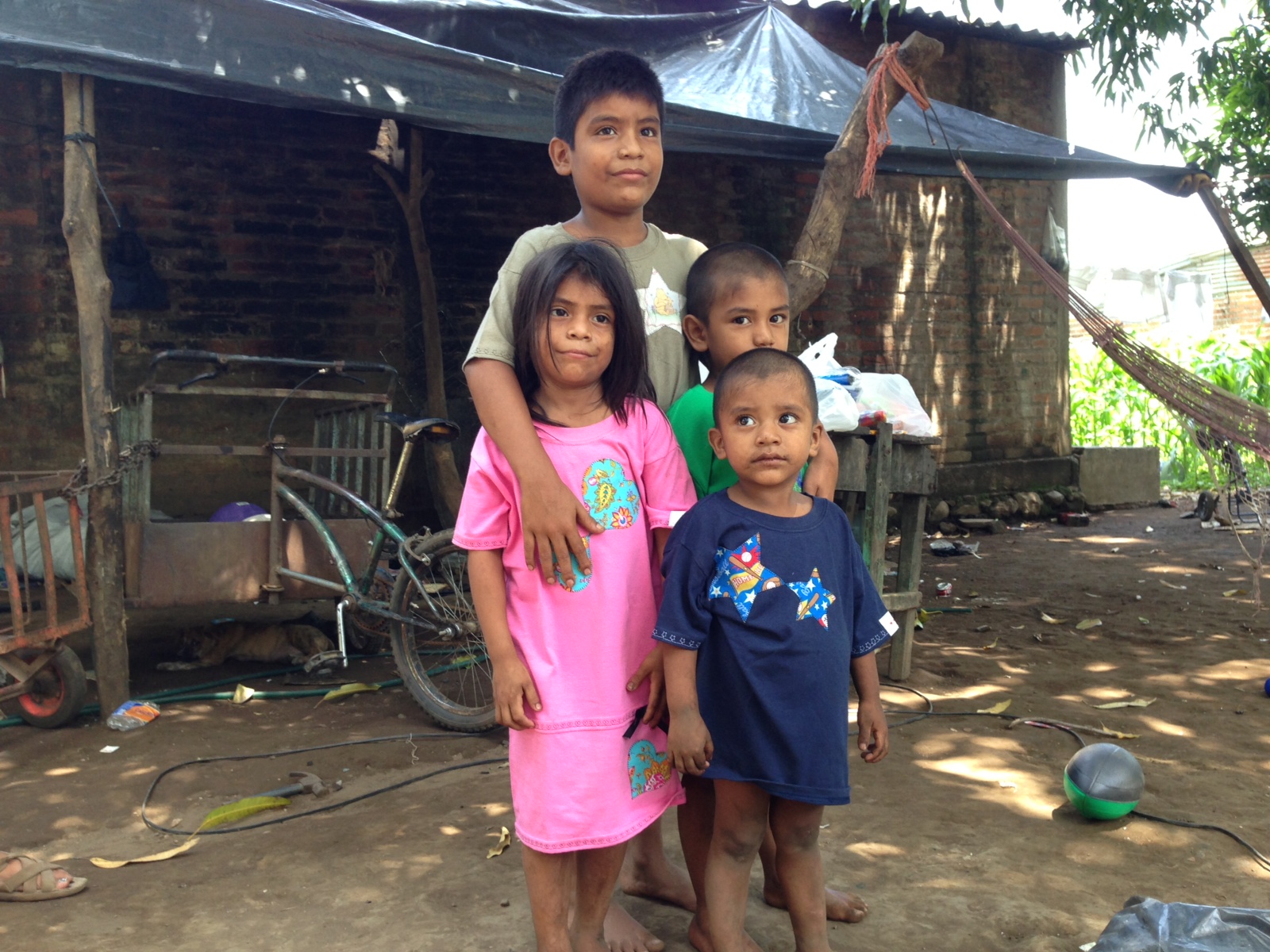 "We had some leftovers and some items we brought for the family we met two years ago that lives across the street. We took the items over there and were sad to find that the parents were not home. They were at work and were not due home until 6:00 p.m. and we would be gone by then. The four children were there with their aunt.
We gave the little girl a dress and the boys a T-shirt. They were very happy to receive them.
These children were not dressed when we arrived - two of them had on underwear only and the other two had on nothing. This family literally has nothing.
When we arrived, Claudia, who is 5, asked us to come in . . . there is no door - their home is basically outdoors. She ran and got a broken stool and two 5-gallon buckets that were turned upside down for us to sit on. It was precious!
As we were about to leave the Dad (Daniel) rode up on a bicycle. The look on his face was priceless . . . he was so happy to see us. He looked at us and said, "I have some good news . . . I am a Christian now!" It brought tears to our eyes. The first year we met them, we gave them some food and a New Testament. Last year when we arrived and asked if he remembered us, he responded, "Yes, you gave me the New Testament last time." This year he told us that when we gave him the New Testament, he began reading it. He then felt like he needed to be attending church. He said he is now a Christian and serves in his church!
He went and got his wife, Marta, from work and we visited with them and we loved on the kids a few minutes and went back to the orphanage to present the gospel to the girls.
This is a beautiful account of how God works in many different ways and through many different individuals. Dresses for Orphans is honored to have been part of the story!!

The outreach of
Dresses for Orphans
goes beyond the obvious - to show love to a boy or girl through a new shirt or dress. When the outfits are sent, a sheet goes in the box encouraging the orphanage director to give the kids their outfit and then to use the opportunity to explain to them the parallel to the free gift of salvation.
Of course they use their own words, but we suggest something like, "You are receiving these outfits completely free - you didn't have to work for it and all of you can have one. All you have to do is reach out your hands and receive it. In the same way, God offers you the free gift of salvation through His Son, Jesus. It's offered to each of you, regardless of your background, where you came from or who you are, and none of you can work to achieve it. All you have to do to receive this free gift of salvation is to reach out to God in prayer and accept it."


It is through the gifts of people who believe in this ministry that we continue to bless boys and girls all over the world. Thanks so much for your gifts.
Darlene Carpenter
Dresses for Orphans
3055 N Red Mountain, #133
Mesa, AZ 85207
darlene@dressesfororphans.org