That question was our first response when we received a request for dresses and shirts from an orphanage in Myanmar. In fact, the pronunciation (mee-YAN-mar) was a mystery and the location an even greater mystery.
Myanmar is a country in Southeast Asia that might be better known as Burma. On the negative side, it's a country of forced labor, human trafficking, sex slaves and child labor. It is a huge producer of opium and illegal drugs.
On the positive side, they have many precious stones such as rubies, sapphires, pearls and jade. However, many U.S. and European jewelry companies refuse to import these gems because of reports of terrible working conditions in the mines.
Buddhism is the major religion practiced in Myanmar. However, there are also many Christians who are engaged in ministry, including Richard Khum of Agape Orphanage Children's Home.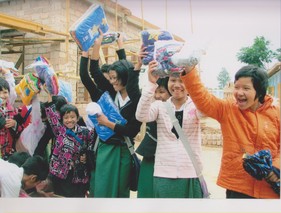 See the excitement on these kid's faces as they unload the boxes of new outfits!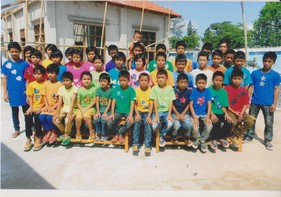 All dressed up and ready to go in their new dresses and shirts!
Here are a couple excerpts from emails with Richard, the orphanage director:
". . . All the children very exciting and some children can't sleep because very enjoy. They never have had dresses and T-shirt newly. All the orphans are praying continually with the broken heart for all of their needs . . ."
". . . We will give the dresses all the children and we will have specially prayer program for you tomorrow. They all are very excited and so happy. They never get like very excellent dresses, this is the first time . . ."
The leadership of the Mesa sewing group planned to meet every other Wednesday through July and August to give all the volunteers a bit of a break. However, some of these wonderful ladies 'rebelled' and said they really preferred to continue coming every week! When it was put up for a vote, it was unanimous that the group keep meeting every week!
If you live in the Phoenix area and would be interested in joining our sewing group, there is always room for more women - both those who know how and love to sew and those who don't but have willing hands. We meet at Apache Wells Community Church in East Mesa every Wednesday morning. For more information, call Darlene at 480-807-2672.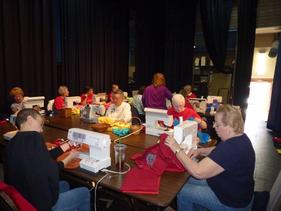 The number of
Dresses for Orphans
Financial Partners continues to grow as more people believe in what we're doing and want to be a part of blessing kids around the world. Because of the gifts of many people, we have been able to provide a new outfit to 11,990 orphaned kids in 83 orphanages in 29 countries over the past four years!
A new dress or shirt is a simple, but very meaningful way of showing Jesus' love to these very needy children. You can learn a lot more about this ministry by going to the website:
www.dressesfororphans.org
Dresses for Orphans is a nonprofit ministry and all gifts are tax deductible. Donations may be sent to:
Dresses for Orphans
3055 N Red Mountain, #133
Mesa, AZ 85207
Thank you so much for all those who have faithfully supported this ministry over the last four years. The best is yet to come!!
Darlene Carpenter