"All the kids were excited to be in these new outfits. Just to be sincere with you, it was all their first time to put on a new outfit. They cried, danced and we were also in tears seeing these kids celebrating. Thanks so much. The entire Muslim community surely believed in the love of Christ." This is the email we received from Daniel, the leader of His Embrace Uganda. One never knows how far the impact of a new dress or shirt may go as many times it creates a ripple effect to others. Thank you to those of you who contribute to Dresses for Orphans so that we can continue to give these outfits to needy and vulnerable kids around the world.

Davio School for the Blind: Peter C. is one of our contacts who works with several ministries, churches and other organizations in the Philippines. We have given him outfits several times for him to give out at his discretion. This means that if he sees needy kids that he feels could benefit from our dresses and shirts, even if they're not in an orphanage, he can feel free to give them out. Below is a picture of an example of that as these girls, along with many other kids, are at Davio School for the Blind . Their smiles tell me they're happy to get a new dress even though they can't see all the details!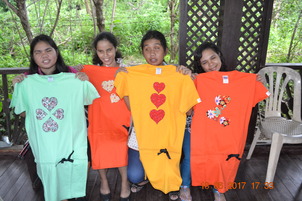 Many of the kids we serve have a lot of baggage and sometimes feel that it's their fault that they've been orphaned. In so many cases they've seen and experienced things no adult should have to go through, much less a child. In an effort to make them feel special and worthy, we always send a little card like the one below (it's the size of a business card) and ask the on-site leaders to give one to each kid along with their outfit.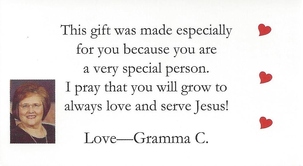 We also strongly suggest that when they give out the outfits that they take the opportunity to tell the kids the parallel between getting a free outfit and the free gift of salvation. We encourage them to use their own words but suggest something like this:
"You are receiving these outfits completely free - you didn't have to work for them an all of you can have one. All you have to do is reach out your hands and receive them. In the same way, God offers you the free gift of salvation. It's offered to everyone regardless of your background, where you come from and who you are, and you can't work to achieve it. All you have to do is receive that free gift is to reach out to God in prayer and ask for it."
FROM THE INBOX
From Kate D. who is also going to Uganda:
"
I received the boxes! The team (including a middle school sewing teacher) was very impressed with your attention to detail. We tried one dress on my 7-year-old daughter. ADORABLE!!! I love how you shrink wrapped them! So much easier for packing - and then distributing them to the kids in country. I'm sure it will keep them cleaner before we hand them out too.
OH . . . and we loved the little cards!
And we got emotional over the free gift of salvation analogy. I'm going to type that up and print it out for each team member - as a cheat sheet - so the team can remember it when handing out the dresses and shirts.
SO THANKFUL for you and your sewing gals!"
Darlene Carpenter
Dresses for Orphans
3055 N Red Mountain, #133
Mesa, AZ 85207
480-807-2672
darlene @dressesfororphans.org
Dresses for Orphans is a nonprofit, 501(c)(3) ministry. All gifts are tax deductible and go directly to buy the supplies to make the dresses and shirts.
It is an all-volunteer ministry!