More Than One Way to Become an Eagle Scout!
Dyllan is one of only 5% of Boy Scouts who earn the ranking of Eagle Scout. He emailed me a few weeks ago to tell me that he was looking for a project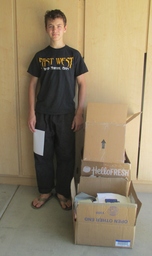 that he could do do earn that honor. He had seen the Dresses for Orphans website and noticed that we used all donated fabric for our appliques - and also to make pillowcases when several yards are donated. So, he asked if he could collect fabric for us for his Eagle Scout project! Of course, the answer was 'yes'!!
Dyllan worked hard and collected three boxes of fabric for us to use. Not only will he be qualified to earn the Eagle Scout ranking, but he has proven that anyone can get involved with Dresses for Orphans - not only women who sew or cut or make appliques or package dresses and shirts for mailing.
Congratulations to you, Dyllan! More kids will have a beautiful heart or star applique on their outfit because of your work.
Seeds of Dignity Ministries in the Philippines
Seeds of Dignity Ministries, based in California, partners with many ministries in the Philippines who need some extra help to fulfill their mission. In addition to orphanages, these ministries reach out in many areas to help vulnerable individuals. We send outfits to Peter, the president of the ministry who spends a great deal of his time on site and he distributes the according to the needs he sees. Below are pictures from some of the individuals who received a new dress or shirt:
From Tebow Cure Hospital: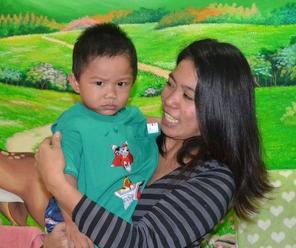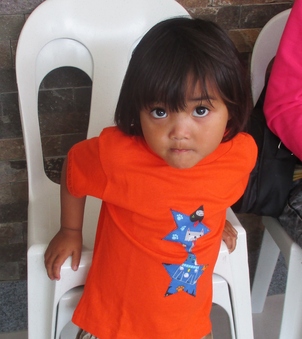 These kids don't look too happy to be in the hospital at all, but hopefully their new shirts will make them feel better!
Davao School for the Blind: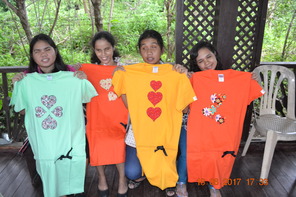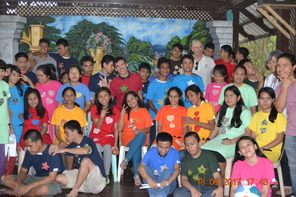 Look at the smiles on their faces! Even though they can't actually see their new dress or shirt, they're happy with their new outfit and it makes them feel good about themselves and how they look.
Wheelchair Ministry: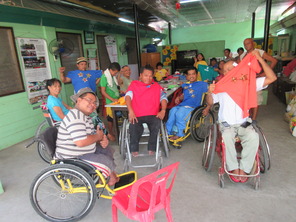 These people may depend on a wheelchair to get them where they want to go, but they love to have a new outfit!
Kids in Kenya Love Their Outfits AND Underwear
Beth is a woman who lives in the Phoenix area, but has ministries in several African countries. She travels extensively in these countries, training local people in the Scriptures and how to take it back to their villages. Recently she took along dresses and shirts for some of the kids included in her ministry. A couple weeks ago, she came to our sewing session and reported on her trip. She said the kids were thrilled with their new outfits as these were the first NEW items then had ever had and that they belonged to them personally. One of our volunteers had bought kids's underwear as well that we sent with her. She said the little girls loved their underwear - after she taught them how to put it on! (Obviously, they had never worn underwear before!)
What a blessing for us to partner with wonderful ministries around the world who are serving vulnerable kids and adults!
Darlene Carpenter
Dresses for Orphans
3055 N Red Mountain, #133
Mesa, AZ 85207
480-807-2672
darlene@dressesfororphans.org
Dresses for Orphans
is a nonprofit, 501(c)(3) ministry. All gifts are tax deductible and go directly to buy the supplies to make the dresses and shirts.
It is an all-volunteer ministry!