Did you know that when you shop at Amazon you could also be making a contribution to
Dresses for Orphans
- at no cost to you? You can!! Here's how: Instead of going to
http://www.amazon.com
, go to
http://www.smile.amazon.com
. On your first visit, you'll need to select a charitable organization to receive donations from eligible purchases before you begin shopping. Just type in
Dresses for Orphans.
That's all you need to do! Amazon will remember your choice and from then on, every time you shop,
Dresses for Orphans
will receive a donation from your purchase.
Your current account and personal information will all remain the same. You'll be able to continue to purchase exactly the same things at the same price as you always have before. The donations are made by the AmazonSmile Foundation to the selected charity.
Be sure to bookmark http://www.smile.amazon.com as your 'go to' site for shopping so that you can make a donation to Dresses for Orphans each time you order something!
As in the past several years,
Dresses for Orphans
had a booth at the Summit sponsored by the Christian Alliance for Orphans of which we are a member. This year was very special because we got to meet a gentleman from Nigeria who we only knew through email messages.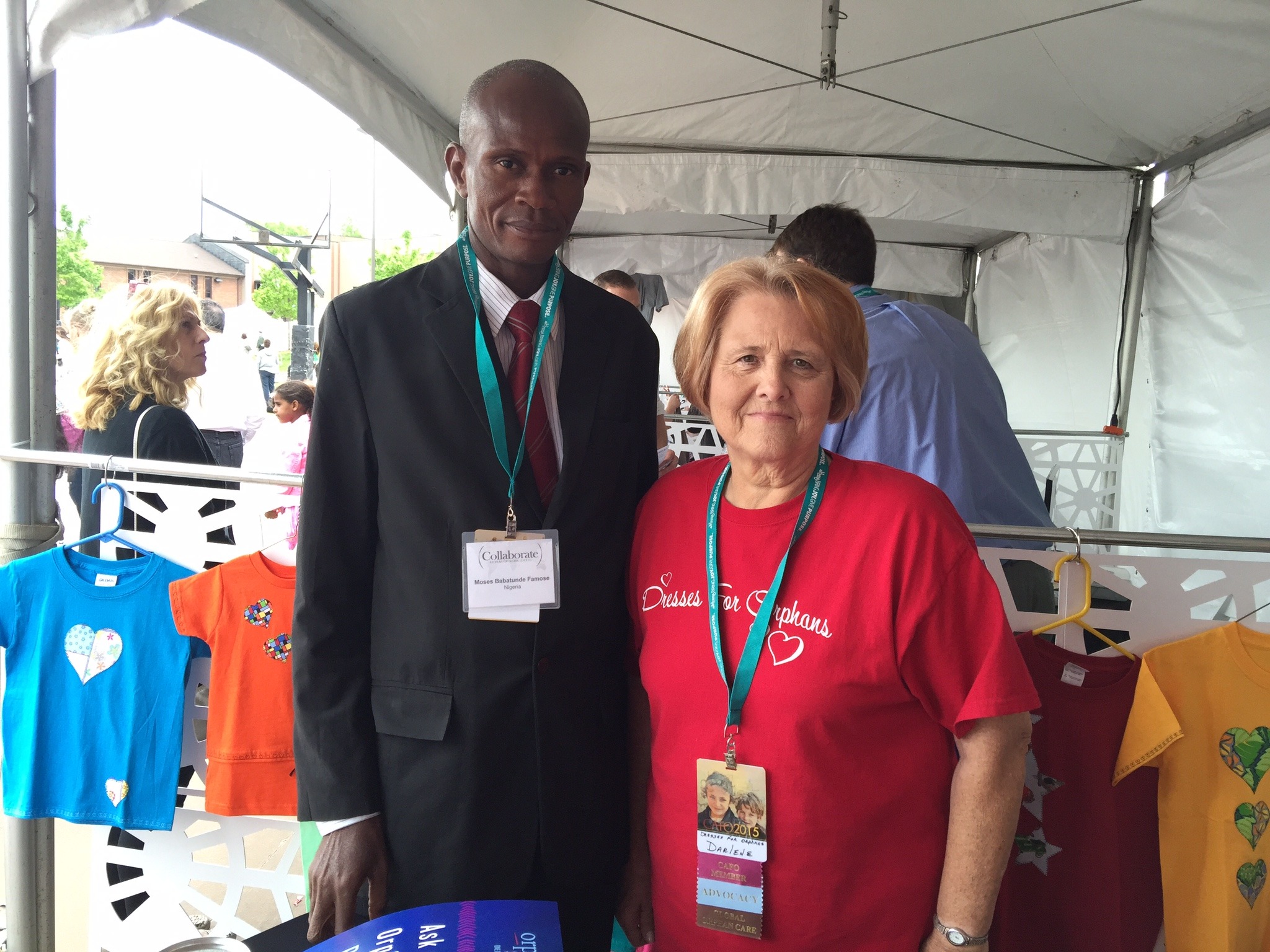 Moses is the Orphan Sunday Coordinator for the Christian Alliance for Orphans in Nigeria. We had made dresses and shirts for the children in his care and while he was here he picked them up to take back home. Later he sent this picture of some of the kids wearing the outfits.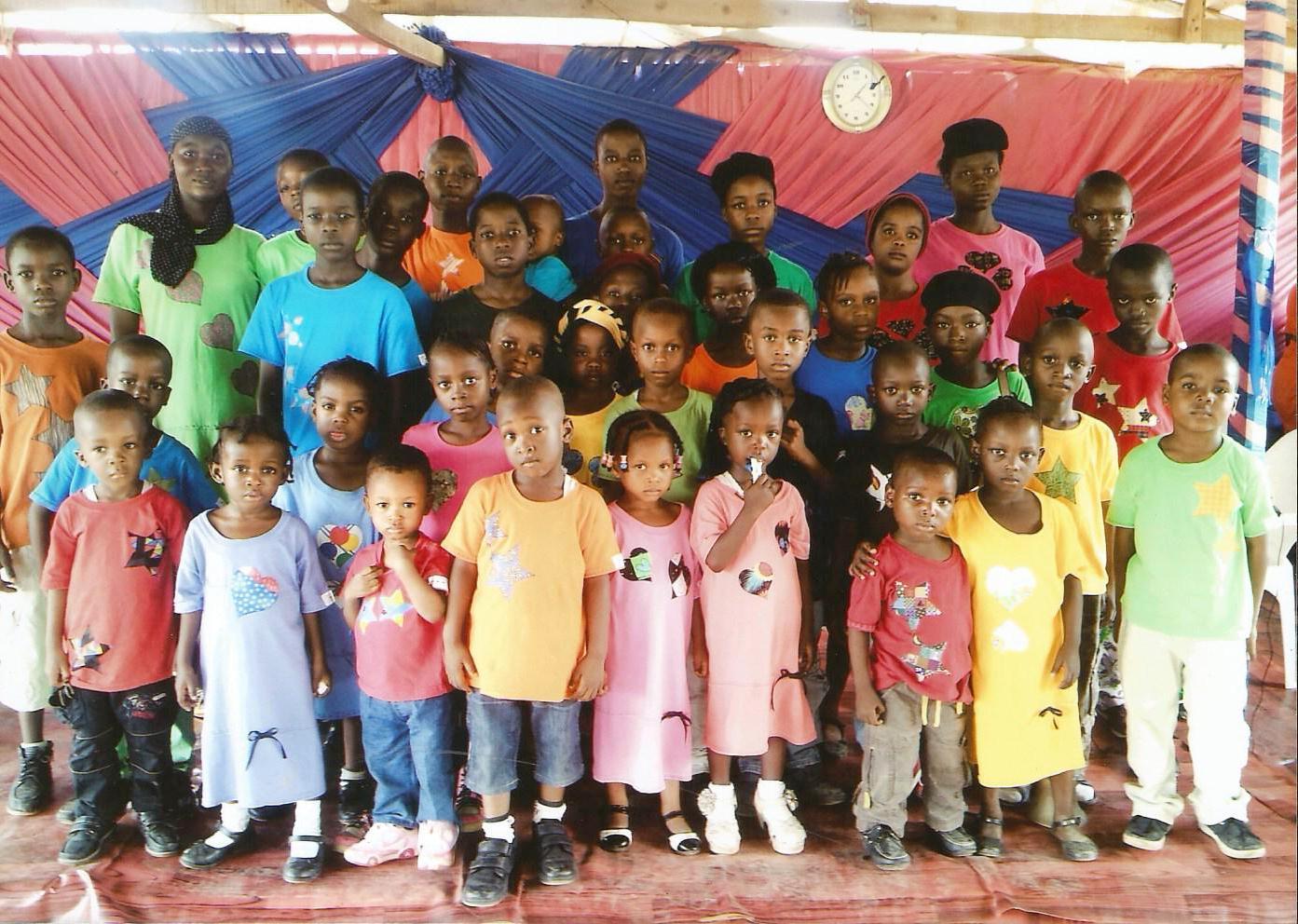 ACCUQUILT - A FANTASTIC COMPANY!
For several years we have used the AccuQuilt GO! Fabric Cutter to make the hearts and stars for the appliques for each outfit. We finally wore out a part and it had to be repaired. One of our volunteers, Gloria, contacted the company who said they'd repair it for $30 and would also pay return shipping! What a great deal, right? She sent them the machine along with a check, a
Dresses for Orphans
brochure and a note about our ministry.
When we received the repaired machine it also included
the returned check for $30 and
a great letter from the CEO commending us for the work of
Dresses for Orphans
. Then he said he was including "a couple of extra goodies that should help you continue to make the world a better place." Those 'extra goodies' included another new machine (identical to the one we've been using) and also a smaller machine in addition to the dies and plastic covers needed to make the appliques!! Instead of one machine that was broken, we now have three machines! The retail cost of these new machines and necessary accessories is well over $400.
This is a company that went way beyond what would be expected in customer service. When you have a minute, please visit their website at http://www.accuquilt.com and tell your sewing friends what a great company they are!
"Thank you, Thank you, Thank you dear friends in Christ! All the children who got these gifts say many words of thanks to all who help to bring joy and happiness for the people in eastern Ukraine who are in needs and survive because of tragically war time." Natasha - Ukraine
"We thank you for your generous donation of T-shirts. The kids were most grateful for the brand new shirts . . . they were just flying out of those bags as soon as I opened the box! They especially liked the tag you had sewn into each sleeve. I had a Spanish speaker talk about the parallel between the free gift of salvation to the free gift of the shirts. They totally got it!" Peggy - Mexico
"While we were in Kenya we visited a medical center and during the three days we were there, 21 babies were born. Each of these babies received a diaper bag filled with goodies including a baby T-shirt. We also gave outfits out to the girls at the Rescue Center. The majority of the girls wore them the whole time we were there! Wherever we went during the 14 days we were there, we shared the Gospel and there were 59 salvation decisions throughout our entire stay!" Sheri - Kenya
Darlene Carpenter
Dresses for Orphans
3055 N Red Mountain, #133
Mesa, AZ 85207
480-807-2672
darlene@dressesfororphans.org