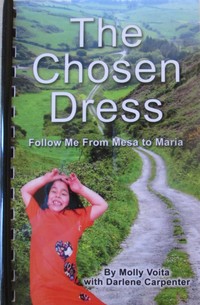 Written from the 'voice' of the dress, this charming book tells the story of all the steps to transform a simple blank T-shirt into a beautiful dress that would delight any girl. With full-color pictures on almost every page, volunteers are shown doing everything from selecting the heart appliques to the final pressing. The dress is so excited when it is actually given to a beautiful girl, Maria, who lives in an orphanage in Peru.
This book shows how the dresses (and shirts) are actually made. It will make a wonderful gift for anyone who is interested in learning more about the ministry of Dresses for Orphans. It is also appropriate for young children as they follow all the steps as the dress explains what is happening.
There is also a DVD in the back of the book showing the volunteer group working on the outfits.
The author, Molly Voita, is a volunteer of this ministry and has been part of it since its early beginning.
(All money received from the sale of this book goes to
Dresses for Orphans
to buy more supplies to make the dresses and shirts.)
To order your copy, simply go to the website -
www.dressesfororphans.org
and click on the Online Store tab at the top right side where you'll see instructions for ordering.
From the Philippines -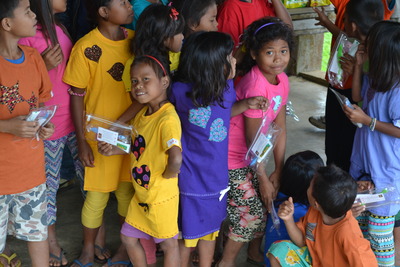 "Today we gave out clothing to very poor kids - 43 of them live in a home so they can go to school, mostly on their own when they are here. They walk 4 to 9 miles on Friday to their villages and return on Sunday night. Today, they had no food and no decent clothing but were blessed to receive the dresses and shirts."
Seeds of Dignity is a ministry that works in the Philippines with local pastors, missionaries and many different ministry organizations.
From India -
"Thank you for your loving gifts. The dresses are beautiful. We thank you and all your volunteers for making the outfits spending much of your time and energy.
We are supporting 51 orphaned and destitute children. We shall give the dresses and shirts to these children at the Christmas Program specially organized for them. We shall explain to the children connecting this gift with the free gift of salvation. It will be an apt occasion to help the children to appreciate your gift as well as the gift of God. You may be surprised to know that this morning I was reading the letter of St. Paul to the Romans, chapter 3. The verse 3:24 particularly tells about the free gift of God. What a coincidence!"
(
With every request that is completed and shipped, we include a sheet asking that those receiving the outfits take the opportunity to explain to the children the parallel of these free dresses and shirts to the free gift of salvation. They didn't have to do anything to receive these outfits but to accept them. So with salvation, one only needs to receive the free gift that God offers. Obviously, this director is going to do exactly what we suggested!
)
Jan Patton, one of our very faithful volunteers changed her address on October 7th from Iowa to heaven!!! Actually, she lived in Iowa during the summer months and in Mesa,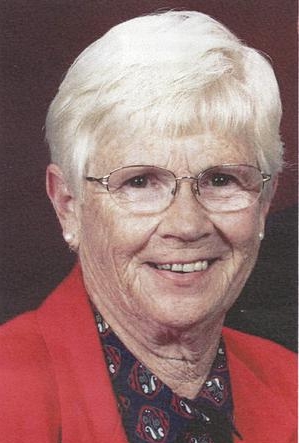 Arizona d
uring the winter. Jan passed away after a long battle with cancer. She survived breast cancer over 30 years ago but unfortunately it came back about 18 months ago in another location.
Jan was one of my favorite people. While she was very cheerful, had great friends and could carry on a lively conversation, when she came to the Wednesday sewing time, she was ready to work! She'd usually arrive a little early and I knew I'd better have sewing laid out for her to start on right away.
During the summer months in Iowa she was still active for Dresses for Orphans. Some time ago, as a fund raiser, we made and sold crocheted necklaces. When Jan came back to our group in the fall, she'd bring along numerous necklaces that she had made during the summer.
Jan's concentration was always on her children and grandchildren. However, she also worked as a registered nurse for many years - and graduated from nursing school first in her class!
Jan is greatly missed and our prayers and love go out to Bill, her husband of 62 years, as well as her four children and 12 grandchildren.
Before her death, she requested that rather than flowers, memorial gifts be given to some of her favorite ministries, including Dresses for Orphans.