The Summit, sponsored by the
Christian Alliance for Orphans
brought over 2,000 people from 30 different countries to Brentwood Baptist Church in Nashville, Tennessee just a week ago. Several people from countries all over the world were asked to pray in the general sessions. Each of them started praying in English (sometimes quite haltingly) and after a few sentences would switch to their native language. It was quite thrilling to listen when they prayed in their first language as one could sense the intensity changing completely!
It was a great time to renew acquaintances and make a lot of new contacts!
Alex and Sunita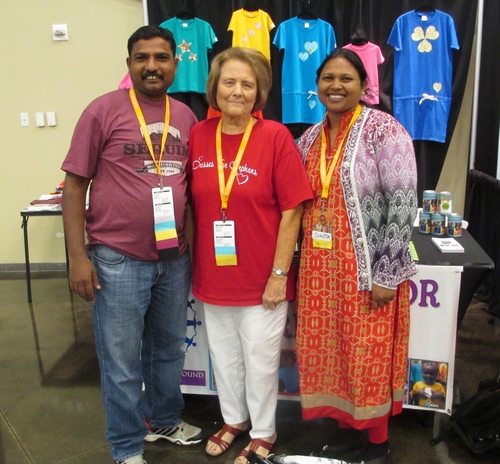 Alex Sam is from India and this is the third year we've met at the Summit. This year he was able to bring his wife, Sunita, along as well. This beautiful couple takes in vulnerable kids that they love, care for and nurture while at the same time they look for forever families where the child can be placed. In their 'spare time', they also run two schools.
Cathy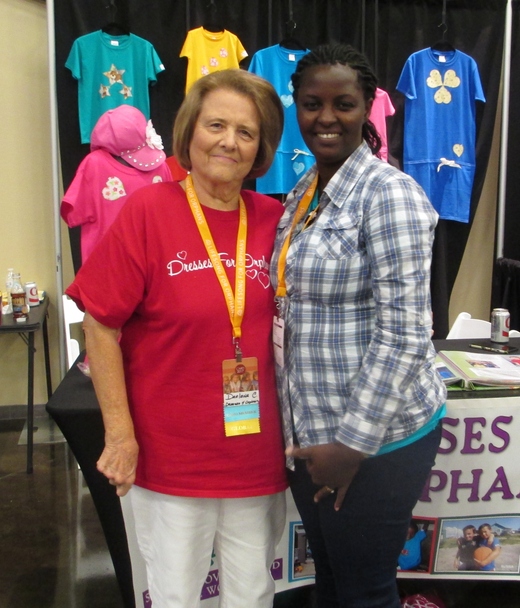 Cathy Mgagazi was a new contact and we enjoyed her visit to our booth so much! She is from Uganda and is a beautiful example of what God is doing around the world as people are stepping up to care for orphans and vulnerable children. She'll be taking over 300 dresses and shirts back to Uganda that the ladies who volunteer at
Dresses for Orphans
have sewn.
Our Booth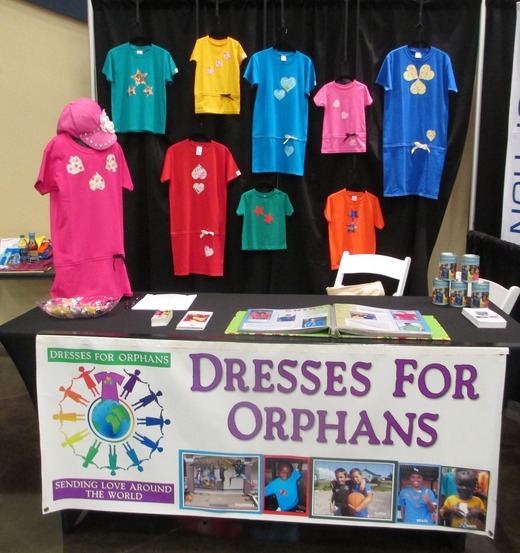 The booth for Dresses for Orphans was the best it's ever been. The exhibit hall had two entrance doors and from both of them, if one were to look straight ahead, they would see our booth!
"When I was talking to my teammate, I was just so blessed by thinking about you and your group of ladies being part of the body of Christ. We are all serving orphans together - some can SEW and some can GO."
Kate D.
"I am happy to let you know that I cam to the U.S. last week and have received the clothes you donated for the orphans in Tanzania. I want to thank you very much for your generosity in making this enormous donation. I will keep you updated on the next steps and share a report and photos."
James M.
"What you are doing makes a HUGE difference. You are exchanging rags for lovely clothes. Thank you for the work you and your volunteers are doing."
Ben S.
"I was amazed at what I saw when I opened the package of dresses and shirts. You have a unique ministry. We have been talking a lot about using whatever gifts we have for His glory, and this is such a wonderful example."
Linda M.
Darlene Carpenter
Dresses for Orphans
3055 N Red Mountain, #133
Mesa, AZ 85207
480-807-2672
darlene @dressesfororphans.org
Dresses for Orphans is a nonprofit, 501(c)(3) ministry. All gifts are tax deductible and go directly to buy the supplies to make the dresses and shirts. It is an all-volunteer ministry!