Dear Sonoma County Resident:

The Press Democrat recently published the results of a survey ranking communities across the nation by job growth. The results paint a dismal picture for anyone looking for a job or thinking of starting a business in Sonoma County. We ranked number 389 out of 398 communities. We can do much better.

A recent brouhaha in Schellville is a case study of how this came about. An unelected county board has managed to conclude that an entrepreneur, his business and four employees are expendable. The arguments are arcane and bewildering. The bottom line is someone with an idea and the willingness to go out on a financial limb to establish a fly fishing school on his property adjacent to the airport hangs in the breeze while the County attempts to find its way through its own maze of regulations.

Four people at Leland Fly Fishing Ranch have been laid off and Josh Leland Frazier is watching his personal savings evaporate after the County pulled the rug out from under his business. No doubt those four lost jobs will help Sonoma County become the 390th worst place in America for job growth.

When a County government decides that banning fly fisherman from wetlands will somehow make the skies safer for air travel, we all have a problem.

I know from personal experience what bureaucratic dilly-dallying can do to a savings account. When my husband Morgan and I began to expand our employment agency, I experienced first-hand the delays and burdensome regulations that strangle job creation and crush the ability of people to earn a living. It took us 18 months to get a single permit from Cal Trans just to open our office! That one delay cost locals jobs and kept us from expanding our company at a time the economy was booming.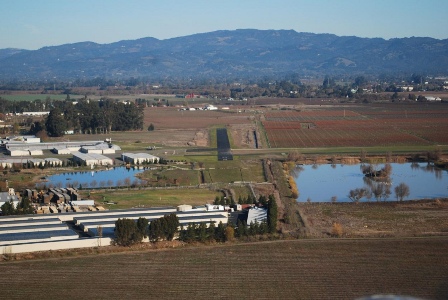 Final approach to runway 35, with Leland pond at left and Airport pond at right. Photo credit: Aero Pacific Consulting.

The flimsy reasoning and threadbare arguments that led the County Airport Land Use Commission to shutdown a viable business is a perfect illustration of how we are finding our way to the bottom of the list of job-growing communities. This travesty demonstrates why California's runaway government is often the target of many jokes.

We can do better. This situation convinces me of the importance of electing an experienced leader from Sonoma Valley who will do more than pay lip service to the importance of jobs and businesses to a thriving community. Local job creation starts with small business owners making investments in our local economy. County officials ought to be attracting private investment and the jobs that come with it, not driving it away. I want to bring my perspective and experience as a small business owner and job creator to the County Board of Supervisors. I need your vote June 5!



Sincerely,

Joanne Sanders