The Clean Up
The early morning rains had us wondering whether people would be willing to show up for a day of beach cleaning and hanging out at the park. As we finished setting up the tents people began showing up and it seemed like the constant flow of motivated volunteers wouldn't stop. We were not overwhelmed but extra ecstatic and had no idea what our efforts from the past month would have on attendance. The handing out of flyers, outreach to community groups, participation in fairs, signs, talks at schools around the island, and the almighty social media worked. It spurred tremendous talk and motivation resulting in 687+ people braving the elements and coming out on Earth Day to show their kokua for Makapu'u and Mother Earth. Sustainable Coastlines would like to send a gigantic ALOHA to all the participants, volunteers, and staff that made this event go off without a hitch.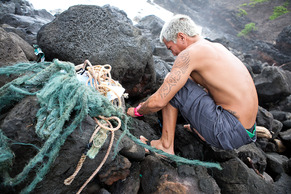 To the right are the results from the tally sheets that participants diligently filled out during the event. This data will be used to create a database of trash in order to ascertain when the Japan tsunami debris begins washing upon our shores, aid in helping to encourage legislation that will reduce single use plastics, and help NOAA and The Ocean Conservancy keep track of the trash washing up on our shores.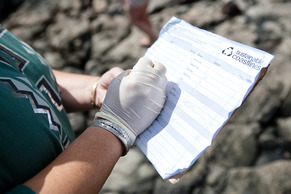 The data allows anyone to hold those responsible for trash accountable, for example, the tobacco and plastics industries. One of our greatest hopes is that someday this tangible data can be used to create a quickly biodegradable cigarette butt or greatly reduce the production of single use plastic products.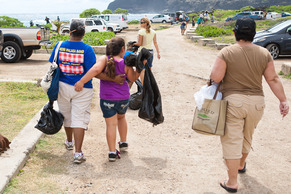 The Festival
556 people went from cleaning the beach to across the street at Sea Life Park where they joined a multitude of people already in attendance. Live music, a keiki tent,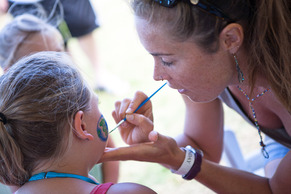 climbing wall, live art installations, guest speakers, and a tent filled with environmentally focused organizations and businesses entertained while educating the visitors.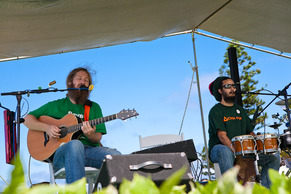 Raffle prizes, trivia questions, and calls for action resulted in countless gifts being awar
ded to the participants.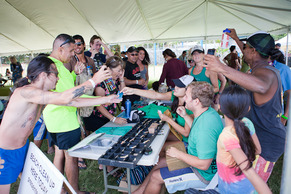 Items like tandem paragliding rides, an ala'ia surfboard, hand boards, Hurley gear, Quiksilver gear, Twin Islands apparel, Uahi Grill Gift Certificates, Nui Nani Gift Certificates, and much more were handed out throughout the day.
The Results
Total Participants: 687+
Total Weight: 3,652 pounds
Cigarette Butts: 3,461
Bottle Caps and Plastic Lids: 1,565
Plastic Bags: 264
Fishing Nets/Pieces: 432
Styrofoam Cups and Pieces: 784
Food Wrappers:746
Plastic Bottles: 206
Syringes: 4
Toys: 284
Utensils: 134
and much, much, more
Breakdown of Participants
2% Westside
1% North Shore

2% Central

23% Eastside
24% South East
36% Town
10% Ewa
2% Neighbor Island or Out of State
This data above is not an exact count of what was found. It was tallied from the sheets filled out by participants. It can be assumed that what was actually found was larger than the tallies above.
To download the full totals, please feel free to visit our website where the document is available for your use to do good in this world.

Other News:


Congratulations to all the dedicated individuals and organizations that persevered on passing legislation to reduce single use plastic bags on Oahu.
Bill 10 was approved on April 25, 2012 by the City Council. It represents a great step in the right direction to limit single use plastics from littering our beaches and entering our waterways.
_________________________________


Sustainable Coastlines received it's first grant from the Johnson Ohana Charitable Trust.

This grant will support initiatives focused on creating stewards of Hawaiian coastlines through marine debris removal, quantification, tsunami debris preparation, and community outreach.
NEXT BEACH CLEAN UP:
Celebrating International Surfing Day
Diamond Head on June 17th with Surfrider
Check in at 9:30
Clean to 11:45
After clean up festivities are still being worked out. Regardless it's going to be fun with live music and a low environmental impact.