Dear MMUF Fellows:
We are pleased to share the November issue of the Mellon Mays Fellows Professional Network newsletter. The Network continues to grow with former Mellon Fellows sharing and connecting in our growing Facebook and LinkedIn groups.
Each section of the MMFPN newsletter will depend upon your participation and input.
December's newsletter will focus on the Southeast region. Do you know of any employment opportunities, conferences, networking events, or scholarships specific to this area? If you live in the Southeast region and would like to be featured in the next newsletter, please hit reply and contact us now!

Have a safe and joyous Thanksgiving holiday!
Remember, once a Mellon, always a Mellon!
MMFPN Staff
Keep us up-to-date about
what's going on in your life
Have you gotten married? Moved in the past year? Changed your email address?
Update your contact information by
Are you in the NYC area? Planning a visit? WE WANT TO MEET YOU!

You are invited to MMFPN's 1st Regional Kickoff Event on Friday, December 7th. Come and meet other MMUF alumni in the New York City area. Enjoy an open bar, unlimited hors d'oeuvres, and learn more about the Mellon Mays Fellows Professional Network.

There are a limited number of tickets so email mmfpn@woodrow.org to RSVP today!

If you're not in the NYC-area, don't worry! An MMFPN kickoff event will be coming to your area in 2013.
---
Featured Fellows:

Ernest Gibson, Justin Emeka, Kinohi Nishikawa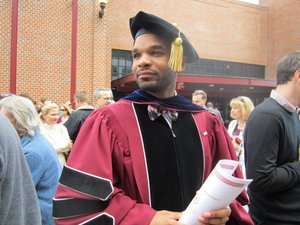 Meet Dr. Ernest Gibson
gibsone@rhodes.edu

This past spring, having completed my training in the Du Bois Department of Afro-American Studies, I defended my dissertation, In Search of the Fraternal: Salvific Manhood and Male Intimacy in the Novels of James Baldwin and walked across the stage at the University of Massachusetts-Amherst. Within this moment, I witnessed how a young man, willing to dream beyond disadvantage, could take an intellectual epiphany - inspired by the late Dr. Rudolph Byrd - and transform it into a palpable reality. And while some things demand articulation, there are others so sacred and personal that they must remain - ineffable.

After finishing my tenure as the Thurgood Marshall Fellow of African and African American Studies at Dartmouth College, I accepted a tenure-track position as Assistant Professor of English at Rhodes College. As I sit in my office, gazed upon by a wall-size photo of my literary muse, James Baldwin, inspired by the words of Ralph Ellison and W.E.B. Du Bois, I thank MMUF for its undying support and look forward to my book project on James Baldwin, being featured in a piece on Black Intellectual Dandyism in the Chronicle, the daunting pursuit of tenure, and new phases of intellectual life.