---
Upcoming Calendar at a Glance
June 9th: Out of the Nest Class
June 12th: Dungeness Recreation Area Field Trip
June 13th: Flowers Walk Deer Park
June 19th: Dungeness River Audubon Center Annual Meeting & Potluck
June 20th: "The Seattle Cooper's Hawk Project" & Potluck
June 25th: DRAC Volunteer Docent Training
June 27th: Flowers Walk Hurricane Hill
June 28th: Learn By the Light of the Moon Series
July 20th & 21st: Protection Island Sunset Cruise
July 27th: Learn By the Light of the Moon Series
August 3rd: Save the date - Dine on the Dungeness
---
Summer Camp Schedule 2018!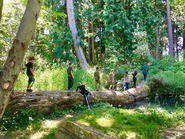 The Dungeness River Audubon Center day camp for boys and girls ages 8-12 is an exciting opportunity for kids to experience and explore the outdoors. Our goal is to help children understand and enjoy the natural world through a variety of hands-on activities.
Nature Ninjas - July 2nd -3rd - $90
Girls in Science - July 9th -11th - $120
Treasure Hunters - July 16th -17th - $90
Bike Camp - July 30th – August 2nd half days - $100
Amazing Animals - August 6th - 7th - $90
Builders Camp - August 13th -14th - $90
Summer Nature Camp - August 20th-24th - $180
Register now by calling 360-681-4076 or emailing rceducation@olympus.net
---
Out of the Nest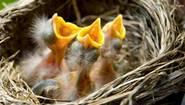 'Out of the Nest
'
is the subject of the June class in the Backyard Birds series. Ken Wiersema and Nina Sarmiento will present a program that includes the adult bird's role in feeding and caring for young birds, how young bird's food needs change as they grow, vulnerabilities of young birds, and how to make your home and property less hazardous to young birds. Different species have differing roles in raising their young. Learn to recognize these and help them thrive.
Where: Dungeness River Audubon Center
Date: June 9th
Time: 10:00am - 12:00pm
For more information, call
360-681-4076 or email rceducation@olympus.net
---
Dungeness Recreation Area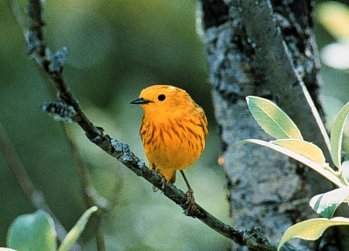 Ken Wiersema will be leading this walk-about for local land birds that are setting up to nest in this unique ecosystem. Sparrows, chickadees, and towhees have already started to nest, but warblers, vireos, and flycatchers are just arriving and beginning to establish nesting territories for that purpose. This will be a listening, looking, and searching outing for these new arrivals.
Where: Dungeness Recreation Area. Voice of America Rd. - first parking area to left after passing through gates.
Date: Tuesday, June 12th
Time: 8:30am - 11:00am
---
Flowers of the Olympic Peninsula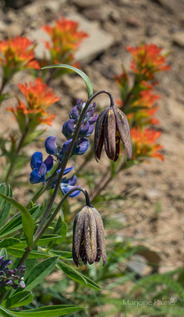 Experience the amazing diversity of plant life on the Olympic Peninsula. Join leaders John Bridge and Jenna Ziogas for the second year of our flowers walks where we search for wild treasures! There will be four classes with options to take them as a series or to join us for a single class. This class will look at flowers from low elevation riparian forests, and up to the alpine area. We will start with fawn lilies at the confluence of the Dungeness River and GrayWolf River and finish up with glacier lilies, grass widows (aka satin-flower), and many more that cover the alpine slopes. Participants will walk between 2 and 4 miles each day making sure to have time to smell the flowers - and take photos.
Where and When: All classes will meet at Dungeness River Audubon Center at 9 a.m. and strive to return by 3 p.m.
Class 1- Dungeness Forks and Lower GrayWolf (April 18th)
Class 2 -Fish Hatchery and Klink Bridge (May 16th)
Class 3- Deer Park (June 13th)
Class 4- Hurricane Hill (June 27th)
Cost: $25 per class or $80 for all four
To sign up or for more information, call
360-681-4076 or email rceducation@olympus.net
---
DRAC Annual Meeting & Potluck

Please join us at the Dungeness River Audubon Center for our annual membership meeting and potluck. Along with celebrating recent accomplishments, we will be sharing a new promotional video and providing the latest on the Center's expansion.
Our annual meeting potluck is a long-time tradition. Please bring some tasty appetizer or dessert 'finger food' to share. We'll provide beverages and plates, etc.
Board member elections will also take place at the annual meeting. We truly appreciate your support of the Center and Railroad Bridge Park and look forward to seeing you at the annual meeting.
Where: Dungeness River Audubon Center
Date: June 19th, 2018
Time: 4:45 p.m. - 7:00 p.m.
---
The Seattle Cooper's Hawk Project & OPAS Potluck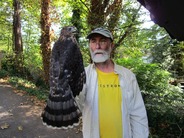 Cooper's Hawks, once threatened by DDT poisoning just like Bald Eagles and Peregrine Falcons, have returned in such good numbers that they now nest in many urban areas, including Seattle. A dedicated group of researchers has tracked Seattle's Cooper Hawks since 2003, documenting their locations, nesting success, and food choices. In 2017 they tracked 44 nests, closely investigating how these avian predators have adapted to life in the big city.
Ed Deal is a retired physical therapist who has studied raptors for over 24 years. For the last six years he has coordinated the all-volunteer Seattle Cooper's Hawk Project, up before dawn most days during the nesting season to peer into the secret lives of these birds. Through his dedicated interest in these raptors, Ed has become a genuine expert on their nesting characteristics and behaviors.
Where: Dungeness River Audubon Center
Date: Wednesday, June 20th
TIme: Potluck Dinner begins at 6 p.m., Meeting begins at 7 p.m.
---
DRAC Volunteer Docent Training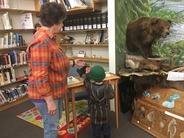 Fourth Mondays of the month we will be holding volunteer training; where we will talk, laugh, and explore the ways we connect with our visitors!
For the first training we will explore our owl collection and discuss ways you can talk to visitors about these fascinating creatures.
Seasoned docents as well as newcomers are welcome!
Where: Dungeness River Audubon Center
Date: June 25th
Time: 3:30pm - 4:30pm
---
Learn By the Light of the Moon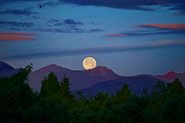 The Dungeness River Audubon Center presents a new speaker series starting this spring, "Learn by the Light of the Moon." These talks will happen once a month, as the full moon dictates, and speakers will range from biologists to professors and authors.
Please join us under the light of the full moon in our new amphitheater for an evening of discovery and wonder.
There is seating in the amphitheater but feel free to bring lawn chair and blankets also! Rain or shine!
The next presenters for the series are Alana Linderoth and Tom Sanford (Community Engagement Specialist and Executive Director of North Olympic Land Trust)
"Conserving the bedrock of community, economy and place"
Together, we'll explore the connection between land conservation and quality of life on the North Olympic Peninsula. We'll share insight into the Land Trust's efforts across Clallam County and conservation priorities. We will talk about the importance of balanced land-use, and how individuals can shape the future of their community's landscape.
When: June 28th
Where: Dungeness River Audubon Center Amphitheater
Time: 7 pm.
Cost: Free!
Upcoming talks.....
July 27th - Kim Sager-Fradkin (Wildlife Biologist, Lower Elwha Tribe)
"By the light of the Buck Moon, research on Columbian black-tailed deer, mountain lions, and other furry or feathered wildlife"
August 26th - Robert Steelquist (author, environmental educator)
"Deep Connection: Experiencing Nature and Finding the Explorer in Each of Us"
September 24th - Patty McManus (Promotions Coordinator at Nash's Organic Produce)
"Farming in Partnership with Nature."
October 24th - Tomás Setubal (Mountain Lakes Team Olympic National Park)
"Changing Climate and Aquatic Ecosystems in Olympic National Park"
For more information, call
360-681-4076 or email rceducation@olympus.net
---
Protection Island Sunset Cruise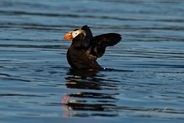 Cruise on the 55 passenger, 65-foot Glacier Spirit around Protection Island for a narrated program on marine bird life and marine mammals found between John Wayne Marina in Sequim (off Highway 101) and Protection Island National Wildlife Refuge. Expect to see Tufted Puffins, Rhinoceros Auklets, and other sea birds. This is a two hour tour. Included is a dessert. Wine can be purchased on board. Casual dress, bring a warm jacket.
Proceeds benefit the Education Programs of the Dungeness River Audubon Center and Railroad Bridge Park.
For reservations call 360-681-4076 or email rcoffice@olympus.net. There is a limit of 55 people per cruise.
Where: Leaves from John Wayne Marina in Sequim
Date: Two different cruises, July 20th & July 21
Time: 6:30pm - 9:00pm
http://dungenessrivercenter.org/archives/event/protection-island-puffin-marine-sunset-dessert-cruise

---
Dine on the Dungeness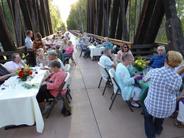 Come enjoy a summer evening dining on the lovely Railroad Bridge. Enjoy the views, sounds of the river, delicious food, and the company of friends all while supporting our education programs.
Where: Railroad Bridge
Date: Friday, August 3rd
Time: 6:00 p.m. - 8:00 p.m.
Cost: $95 per person.
For more information or to register call 360-681-4076
---
Calling all local photographers!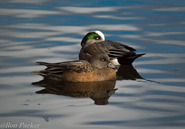 We are currently looking for help from photographers in the area to feature photos of local wildlife for our Focus On Series. Photos will be used for advertisement flyers or in the presentation.
We think this is a great opportunity for our community to see the work of some of the very talented artists that live here!
For our second edition of the Focus On series we will be covering the following....
Bears - August 18th
Slugs - September 15th
Rodents - October 20th
Kingfisher/heron - November 17th
Raccoons - December 15th
Raptors - January 19th
If you have any photos that you would be willing to share with full credit given to you, please send them to rceducation@olympus.net
---
Volunteering at the River Center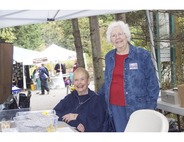 Thousands of people each year visit the River Center and Railroad Bridge Park to explore nature, walk, bike, picnic in the park, and enjoy the scenic beauty. Keeping the center and park open and operating requires the help and time of many individuals. We are lucky
here to have so many dedicated volunteers that spend their own time to sustain this wonderful community resource. Dungeness River Audubon Center is looking for new volunteers to help us continue to support our mission!
If you are interested in volunteering please contact Jenna Ziogas, Education and Volunteer Coordinator. rceducation@olympus.net 360-681-4076
---