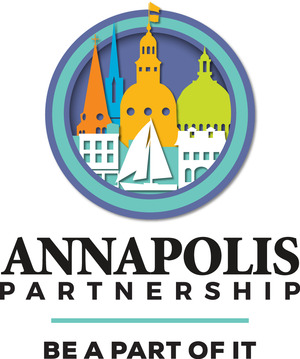 ---
In this issue
---
IMPORTANT NEWS
Midshipmen Help Annapolis Clean Up After Record Snowstorm
More than 300 USNA Midshipmen were out on the streets of Annapolis after this weekend's snowstorm to assist residents and businesses with digging out from the historic snowfall. Organized by the Midshipman Action Group, the Mids used equipment loaned by the USNA's Public Works Department to dig out vehicles and clear sidewalks downtown. Midshipman 1st Class Michael Higgins, vice president of MAG and lead organizer of the "Big Dig" of 2016, said "We are here to serve, and that service starts here in Annapolis serving those around us. The people of Annapolis have done so much for the Brigade, and assisting our neighbors by shoveling snow is an easy way to say Thank You, Annapolis, for all your help and support." Thank you, Midshipmen, for all of your help!! GO NAVY!
City Trash Collection Schedule Changes
Due to trash and recycling cancellations caused by the storm, Monday's normal collection will be on Wednesday, Tuesday's collection will be on Thursday, Thursday's collection will be on Friday, and Friday's collection will be on Saturday. There will be no Bulk and Yard Waste Collection this week. It will resume next week on Wednesday, February 3.
---
Events This Week


John Englander at Back Creek Books - January 2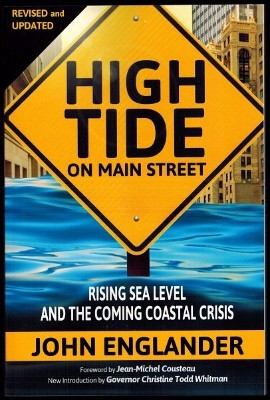 8
Back Creek Books, 194 Main Street, welcomes John Englander, noted oceanographer and president of the International Sea Level Institute, for a discussion of his book "High Tide on Main Street: Rising Sea Level and the Coming Coastal Crisis" on Thursday, January 28, at 6:30 pm. Mr. Englander will also be signing copies of his book at this event.
Design District Networking Event - January 28
Looking to remodel your kitchen or update your bedroom? Join Design District professionals at Fox's Den on Thursday, January 28 for Happy Hour and get inspired. 5:30 to 7:30 pm, 179B Main Street. Sponsored by the Design District.

Happy Hour: Weather It Together - Friday, January 29, 5 to 7 pm
Join the City of Annapolis, the Urban Land Institute - Baltimore and the Annapolis Partnership for $5.00 drinks and light appetizers provided by ULI-Baltimore. Come out to mix, mingle and learn about efforts to protect our historic seaport. 49 West Coffeehouse, Winebar and Gallery, 49 West Street. RSVP to info@annapolispartnership.com.
Novel Discussion and Book Signing at Annapolis Bookstore - January 29
On Friday, January 29, at 7 pm, Anne Posten, translator of Monika Held's Novel This Place Holds No Fear, will be at the Annapolis Bookstore for a discussion of the novel and a book signing. The Bookstore is located at 35 Maryland Avenue. For more information on these and other events, visit the Bookstore's website.

Hammond-Harwood House Reschedules Poe Event to January 29
The Hammond-Harwood House has rescheduled its event, "An Evening with Edgar Allan Poe," to Friday, January 29, due to last weekend's storm. Details here.
Free Public Lecture - January 30
Annapolis Prepares for Rising Seas: History Meets the Future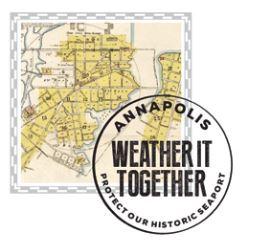 There's still time to register for the free public lecture by John Englander, noted oceanographer, author and President of the International Sea Level Institute, and hear how the global impacts of sea level rise will impact Annapolis and the greater Chesapeake region. Mr. Englander will discuss why Annapolis is leading the way in planning for the protection of cultural assets and working with state and federal partners to Weather It Together. The lecture will be held on Saturday, January 30, at 4:00 pm at the Francis Scott Key Auditorium at St. John's College, 60 College Avenue, Annapolis. A reception and book signing will follow at 5:00 pm. Please RSVP to histpres@annapolis.gov, or Shari Pippen at 410-263-7961. More details can be found here. View the Rising Sea Level Risk Action Checklist for Finance Professionals here.

"Pure Photography" Exhibit Events at the Mitchell Gallery - February 3 & 4
The Mitchell Gallery at St. John's College is currently featuring an exhibit entitled "Pure Photography: Pictorial and Modern Photographs from the Syracuse University Art Collection" through February 28. On Feburary 3, Art Educator Lucinda Edinberg will give a lunchtime gallery talk on the exhibition from 12:15 to 12:45 pm. Join members of the Mitchell Gallery Book Club on February 4 for a docent tour of the exhibition followed by a discussion of Classic Essays on Photography by Alan Trachtenberg from 2:30 to 4:30 pm. Registration is required by calling 410-626-2556. More information on these and other events during the exhibition can be found here.
---
Member News
Rams Head Supports Special Olympics at the Polar Bear Plunge
Rams Head has been involved with the Polar Bear Plunge since 2008. Each year, the Special Olympics of Maryland erects a massive tent at Sandy Point State Park dubbed Rams Head Ice Lodge. The tent features food, fun, beer & live music. The tent will open at 8 am with Bloody Marys and the music from the following bands: Burnt Sienna, Hot Tub Limo & Foreplay. 100% of beer, wine & liquor sales in the Rams Head Ice Lodge are donated to Special Olympics of Maryland. To date, Rams Head has helped raised more than $300,000 for Special Olympics of Maryland, volunteering more than 1400 volunteer hours, with the support of their year-round partners: Fordham & Dominion Brewing Company, Budweiser & Katcef Sales, Barefoot Wines, Finlandia Vodka, Jack Daniels, George's Bloody Mary Mix, Sysco Foods, Penn Jersey Paper Co, G&G Outfitters and Humdinger Productions. For more details about the Plunge experience, view this editorial by WBAL TV about the 2016 Plunge. Experience the Plunge this weekend - Saturday, January 30. More details here.
ASGT Announces Open Auditions for 2016 Performances
The Annapolis Summer Garden Theatre has announced open auditions for its 2016 performance season. Performances include "The Wedding Singer," "Rent," and "The Producers." Auditions for each show are open to anyone who will be age 18+ as of the opening night of that show (please bring a picture ID to the audition). Auditions and callbacks are being held at Anne Arundel Community College, Cade Building, Room 103. Find directions and a campus map here. Full audition requirements, character breakdowns, ASGT's audition policies, and more info on the 2016 shows and directors here. ASGT is a nonprofit community theatre, and acting roles are unpaid.
---
Member Spotlight


HERE. a pop-up shop
Amy & El of HERE. a pop-up shop became fast friends when they met in their Arnold neighborhood 8 years ago. They went from sharing mom advice, clothing and accessories to heading up the Spirit Wear for their elementary school together. At the time they had no idea that experience would lead to them going into business together.
After only 2 months of cultivating this idea and scouting locations with little luck, they opened their first pop-up, "Flirting with Spring", on March 1, 2013 and have had 13 shops since then. This does not include many 1-day "m
ini" pop-ups (festivals, within other businesses, at the Paca Girlfriends party + more), or other multi-day events like their now annual Fierce. Fall. Fashion.
event held at Metropolitan Kitchen & Lounge.

The first pop-up had about 20 LOCAL artists. These days you will find anywhere from 45-70+ artists in each pop-up they have.

Giving artists an opportunity to sell their product: jewelry, clothing, art, home goods, furniture, gifts, chocolates, pretty much anything made by hand and locally is HERE. a pop-up shop's mission. Not only is it great for the artists, it gives Amy & El's customers unique and quality items to choose from, while supporting local artisans. The boutique environment is an appealing and enjoyable shopping experience. This business model creates a sense of excitement and urgency since the shop is only opened for a limited amount of time.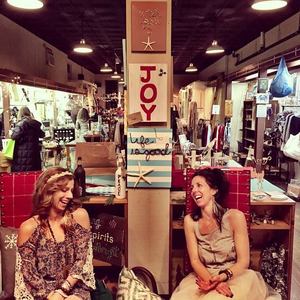 Both ladies also have other jobs, and very busy kids, so for now they only pop-up in and around Annapolis. About every 8-10 weeks they open a new retail location, usually a vacant space, with a new, seasonal and/or inspired theme. (Some examples: "Lazy Days of Summer", "Homegrown in Annapolis", "Making Spirits Bright") Not only does this help fill an empty store front, liven up the location and give a landlord a little income, it is another source of intrigue for their growing loyal customer base. Merchandising each space and the products in a new and creative way is one of their favorite parts of the job!

Finally Amy & El feel strongly about collaborating with all their neighbors & giving back to the community, everywhere they go. Nearby restaurants will become a THERE. by giving a discount if HERE. customers come in. This generates additional business for them and the feedback has been great from everyone. HERE. always advertises other local shops by sharing flyers, specials, posters, etc. And each pop-up has a GIVE. BACK. Day, where a portion of their sales that day benefits a local charity or non-profit.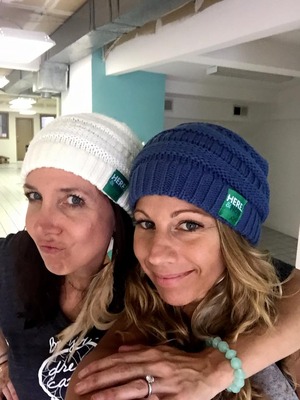 Exciting news for this duo is the introduction of their own line: "HERE. & NOW xo, Amy & El". Staying true to their roots, they are having their local artists create their own designs for them. So far they have tees, tops, beanies, their own candle and body butter scent, jewelry and lots of new items coming!

Just as exciting, they are launching ecommerce to their website in early February!

Amy & El hope to see you HERE., in store or online (links below)..soon!
Website: hereapopupshop.com
Facebook: facebook.com/hereapopupshop
instagram, twitter & pinterest: hereapopupshop
Like us on Facebook!
Follow us on Twitter!

Contact Us
Annapolis Partnership
3 Church Circle
Box 210
Annapolis, MD 21401



Subscribe to our Newsletter! (sign-up is at the bottom of our home page)



---
Send us your news!
Are you celebrating a milestone? Having a sale? Coordinating a special event? Send us the details and we'll share them here in the e-blast and on social media! Use the Contact button above or email info@annapolispartnership.com. The deadline for submissions for each week's e-blast is Tuesday at 3 pm.
---
Annapolis Partnership
The Annapolis Partnership is a nonprofit organization made up of local business owners and leaders, property owners and residents, the City of Annapolis, and business and community associations. Our partners work together to enhance all businesses within the City of Annapolis.


---
Around Town
Annapolis Design District
Membership Drive: Start the new year off by joining the Annapolis Design District. Annual Membership Drive underway now. Click here for more details.
Annapolis Restaurant Week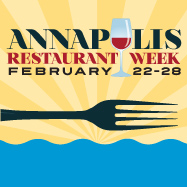 Treat yourself to dinner out during Annapolis Restaurant Week 2016! Enjoy specially priced meals at over 40 restaurants in town. Check out an interview featuring Restaurant Week with Doug Smith, AP VP and Treasurer, here, and visit the Annapolis Restaurant Week web site for all the details. Many menus are already online so plan your week and make your reservations now!
---
New and Renewing
Welcome and thanks to the following new and renewing Annapolis Partnership members:

South Annapolis Yacht Centre
Tilghman Co. Jewelers
Will Get I.T. Done
W.R. Chance Jewelers

Don't forget to renew your Annapolis Partnership membership for 2016! It's quick and easy to do on our website here. Questions? Email us at
info@annapolispartnership.com.
---

Help Make Annapolis Sparkle
Wasn't it beautiful all over town this holiday season? Help us make it beautiful every year by making a tax-deductible gif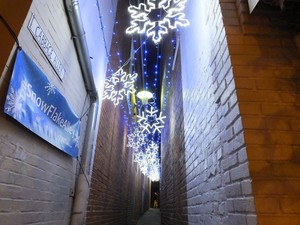 t toward the downtown holiday decorations. These festive adornments keep Annapolis sparkling throughout the holiday season. Donate on line here, or send a check to the Annapolis Partnership, 3 Church Circle, #210, Annapolis, MD 21401.

Annapolis in Bloom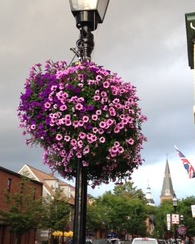 Annapolis is beautiful year-round, but if you'd like to keep it blooming during the warmer months, consider a year-end tax-deductible donation to the Annapolis in Bloom program and "Fund a Flower, Build a Basket, or "Plant a Pot". Donate online here, or mail a check to Annapolis in Bloom c/o Annapolis Partnership, 3 Church Circle, Box 210, Annapolis MD 21401. Thank you.