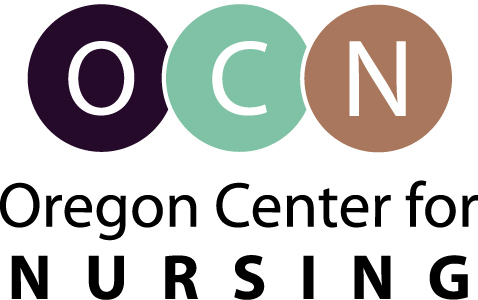 News and Reviews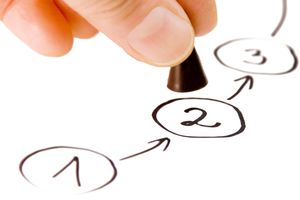 OCN: Moving Forward
New Mission Focuses OCN's Work
Message from OCN Board President Barbara Van Slyke, RN, Bay Area Hospital
At our fundraising breakfast on September 30, we introduced the new mission statement for the Oregon Center for Nursing(OCN).
"The Oregon Center for Nursing ensures a superior, well-prepared and diverse
nursing workforce to meet the health and wellness needs of our communities."

This mission is similar to the reasons why nursing leaders created OCN in 2002, and focuses our work back on making sure Oregon has the highest quality nurses. In turn, these nurses will make sure Oregon patients have the best possible outcomes.

The first step to ensuring a superior nursing workforce is to evaluate the workforce. We need to know what nurses are experiencing in their practice and work, or as part of their education, to know what needs to be done. OCN has long been known for its research to accurately report the supply of and demand for nurses in Oregon. We have also, among other reports, illustrated the career satisfaction of nurses and highlighted the nurse faculty shortage. Most recently we have created concise and easy-to-interpret infographics on the nursing workforce as a resource for nursing professionals and nurses across the state.

But OCN can't continue to do this work alone. OCN is moving forward, and we have some good momentum right now, but we need your help to keep going. Here are ways you can help:
Enter the OCN and Me contest. Tell us your stories. Share your experience. How has OCN helped you in the past? How has your career improved because of your interaction with OCN?

Give to OCN through the end of the year #GivingTuesday campaign. If you've already contributed to OCN this year through the Fundraising Breakfast, a big "THANK YOU." If not, please consider giving as part of our involvement #GivingTuesday. It's an easy way for you to make an impact at the end of the year.

Tell others! Share your knowledge of OCN's impact with others. We are happy to speak at your organization to let other nurses know what we know about the nursing workforce.

Tell us! Give us your feedback. What do you think of the new mission statement? How can we help you even more?

We are grateful for the opportunity we have to keep moving forward, and are looking forward to many more years of ensuring a superior and well-prepared nursing workforce for all our communities.
OCN and Me
Share Your Story Contest

#GIVINGTUESDAY
Make a Difference for OCN
Did you attend a conference, and used what you learned to make your job better? Or maybe you used statistics from an infographic to explain the impact of nursing? Or you get ideas about improving your practice by listening to Oregon NurseCast? Did you see the "Are You Man Enough To Be A Nurse?" poster while in nursing school? We want to hear from you!

Go to OCN and ME to tell us your story of how OCN has been an influence on your work. If you fill out the survey by Friday, November 14th, you will be entered to win a $25 gift card!

Good luck and let us know why OCN is important to you!

You've heard of Black Friday, and Cyber Monday. But there's another day associated with holiday shopping that brings to light the holiday spirit of giving. We are celebrating a day dedicated to giving – when charities, families, businesses, community centers, students, retailers and more will all come together for #GivingTuesday – a movement to celebrate giving and kick-off the holiday giving season.

Last year, more than 10,000 organizations in 46 countries came together to celebrate #GivingTuesday. In Portland, #PDXGIVES provides even more community focus to the #GivingTuesday campaign. We invite you to join the movement and to help get out the give this December 2.

Click here to learn more
Oregon NurseCast:
Emerging Nurse Roles


Oregon Nurse Honored
Interested in how the role of a nurse will change with new healthcare laws and new methods of delivery? Hear Judee Berg, RN, MS, FACHE from the California Institute for Nursing & Health Care and Mary Dickow, MPA from the California Action Coalition discuss the Nurse Role Exploration Project to see some of the emerging roles they've discovered.

Listen Now

Jake Creviston, MN, PMHNP-bc, DNP student at OHSU and a psychiatric mental health nurse practitioner (PMHNP) at Amenda Clinic, has recently been awarded the "Breakthrough Leader of Nursing" award sponsored by the Future of Nursing: Campaign for Action.

Nominated by the Oregon Action Coalition, Creviston is one of only 10 winners chosen nationwide. He will receive a leadership development scholarship from the Center for Creative Leadership, funded by the Robert Wood Johnson Foundation, and serve as a nurse ambassador.

Congratulations, Jake! We expect great things from you.
Thank you to our Oregon Center for Nursing supporters:





5000 N Willamette Blvd, MSC 192 | Portland, OR 97203 | Phone: 503-305-4732 | ocnadmin@up.edu