TOLLerant Project - Newsletter July 2015
---

TOLLerant EUROPEAN SUMMER SCHOOL
A two-day Summer School will be held on September, 22nd and 23rd 2015 at University of Milano Bicocca.
The school, titled "Chemistry and biology of human immunity: focus on Toll-Like Receptors", will be focused on multidisciplinary topics such as medicinal chemistry, biochemistry, immunology related to TLR signaling. Lessons will be delivered by TOLLerant partners and will include a practical part.
The school is open to PhD students of different faculties including biotechnology, chemistry, medicine and biology.
PhD not belonging to the TOLLerant network should pay a registration fee of 150 E covering didactic material, local transport, coffee and lunch breaks and will include a daily free pass for Expo.
More information at >>>


PUBLIC DISSEMINATION EVENT at EXPO MILANO 2015
A dissemination event called "The wonderful journey of a molecule in our body: from drugs to functional food" will be held at EXPO Milano on September 24th 2015. This will be an occasion for the large audience visiting EXPO to directly approach scientific topics related to molecular aspects of drugs and functional foods in a simple way, through an interactive two-hour session.
Find more information at >>>


TOLLerant WORKSHOP
The coordinator, University of Milano-Bicocca organizes at its premises a two-hour workshop on July 21st 2015. Confirmed speakers are Professor Thomas R. Huser, University of Bielefeld (Germany) and Dr. Olivier Maury, École normale supérieure de Lyon (France).
Find more information at >>>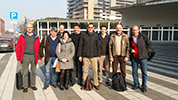 TOLLerant KICK OFF MEETING
The kick off meeting of TOLLerant project was held in Milan on 11 and 12 February 2015 at University of Milano Bicocca.
During the scientific session of the meeting, each PI presented its research group focusing on the specific expertise and the main research topics of work. After a brief presentation, each partner proposed practically how to contribute to the development of TOLLerant project.
The steps and development of the first-year research related to the project were planned in very collaborative and synergistic atmosphere.
During the meeting, it was also planned also the first training and dissemination event of the project, that will be held in Milan in the period between 21 to 25 September 2015.
The partners decided also that the school will focus on chemistry at the interface with immunology, and will be linked to the European Night of Researchers through a dissemination event open to the large public, and that this event would focus on the themes linked to chemistry and health, chemistry and immunology.
Find more information at >>>

---

This project has received funding from the European Union's
Horizon 2020
research and innovation programme under the
Marie Sklodowska-Curie
grant agreement No 642157
http://www.tollerant.eu/
tollerant@unimib.it