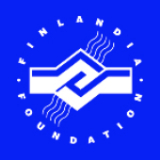 ---
Did You Know...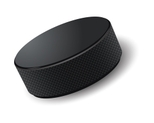 …that Finland is known for producing top, professional, ice hockey goalies?
A recent ESPN story calls Finland a "goalie factory" for the talent it has turned out, starting in the 1960s and '70s.
Nashville Predators goalie Pekka Rinne credits "active hands," which he says he got from playing pesäpallo.
---
Learn Finnish Foods & Crafts at Salolampi
Head to Bemidji, Minnesota October 28-30 for a hands-on weekend of Finnish culinary arts and handicrafts in the authentic Finnish surroundings of Salolampi Language Village.
Food sessions include making pulla, rye bread, salmon soup and meat pies. You'll learn to work a traditional loom and create holiday crafts.
Of course, the lakeside sauna will be hot and welcoming!
Click here for details on the Finnish workshop.
---
Bouquets to Our Donors

Through the generosity of donors, Finlandia Foundation National is able to grow its programs and continue in its role as the most important source of support for Finnish and Finnish-American culture in the U.S.
Gifts are matched by a grant from the Paloheimo Foundation (up to $100,000 annually). FFN is a 501(c)(3) organization, and contributions are tax-deductible.
Please click below to give to FFN:

Thank you.
Kiitos!
---
Join FFN!
You can join Finlandia Foundation National as an individual or as a member of a chapter in your area---we have 51 chapters in 24 states and Washington, D.C. To locate a chapter or to join as an individual please go to our membership page at:
---
"Like" Us on Facebook!
Join our international Facebook community for a daily dose of fun facts, links to articles, event information, recipes and more to do with Finland and Finnish America. Just click below:

Type Title Here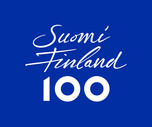 FFN's Finland 100 Celebration Is Coming Together
Dear Friends: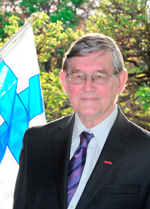 We look forward excitedly to the fall schedule of activities that includes, for the first time in a decade, the assembly of Finlandia Foundation chapter representatives. Response has been good for attendance at the Joint Chapter Meeting November 4-6 in the Washington, D.C. area, when volunteers for Finnish-American affiliates from across the country will have a chance to share information and ideas, and learn more about FFN and other chapters and organizations.
This gathering of Finnish-American interests is an appropriate lead-in to the centennial of Finland's independence in 2017, which carries the theme, "Together."
FFN has been working to encourage chapters to plan Finland 100 events, and has organized and is committed to sponsorship of programs for the general public, as well. The first of these is the November 19 performance of Kaija Saariaho's La Passion de Simone (see story below).
We have also created a music program featuring talent from Finland and the U.S. for appearances at FFN chapters.
Speaking of music, in Michigan later this month the Helsinki Chamber Choir premieres a new opera supported by a grant from FFN (see story below).
These are among the Finlandia Foundation programs that are made possible with the continued support of individuals like you.
FFN President
---
FFN's Finland 100 Program Supports La Passion de Simone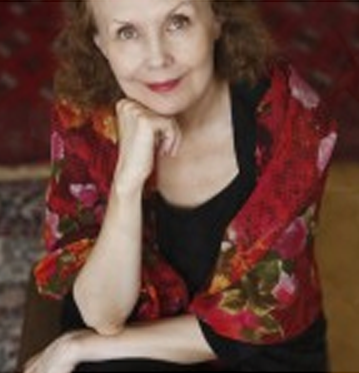 Finlandia Foundation National is pleased to be a sponsor of the November 19-20 performances of La Passion de Simone by Kaija Saariaho at the Gerald W. Lynch Theater in New York City.
Saariaho is recognized as one of the top contemporary Finnish composers and performers, and has been called by the Denver Post "one of the most original compositional voices of our time."
Her oratorio La Passion de Simone, with libretto by Amin Maalouf, is a "Passion play on the 'luminous trajectory' of philosopher and activist Simone Weil, who devoted her life to the oppressed and met an untimely death in 1943." The chamber piece will be performed by the French music theater company La Chambre aux échos, the musicians of the International Contemporary Ensemble, and students of Mannes School of Music, as part of Saariaho's residency at the institution.
Also on the calendar for Saariaho: Esa-Pekka Salonen will conduct the New York Philharmonic in her Circle Map October 13-14, and her opera L'Amour de Loin will have its New York premiere December 1 (with performances through the 29th) at The Metropolitan Opera, with Finnish conductor
Susanna Mälkki.
Photo of Kaija Saariaho by Maarit Kytöharju
---
In the Spotlight: Helsinki Chamber Choir in Northern Michigan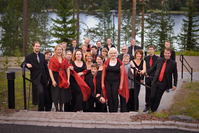 With the aid of a grant from Finlandia Foundation National, the Helsinki Chamber Choir will premiere a new opera, State of the Union, September 29 at Northern Michigan University in Marquette. The opera, by composer Eugene Birman and librettist Scott Diel, "
considers environmental sustainability, economic inequality, and the general obliviousness of society."
Following their September 29-30 performances at NMU the choir will travel Michigan, presenting the opera in the Traverse City area, Houghton and Sault Ste. Marie.
The program will include traditional Finnish choral music.
Click below for more information about the opera and ticket information:
---
FFN Programs Available for Booking
As we approach the centennial of Finland's declaration of independence, Finlandia Foundation chapters have the opportunity to learn about different aspects of the country's freedom and identity from five experts who comprise the expanded Lecturer of the Year program.
Centenary Lecturers and their subjects are: Thomas A. DuBois: "Finland and the Kalevala;" Sharon Franklin-Rahkonen: "The History of Finnish Independence;" Peter MacKeith: "A House of Finland;" Börje Vähämäki: "Film, Literature and Finnish Identities;" K. Marianne Wargelin: "Beyond the Atlantic: Finland's Independence Viewed from Across the Sea." Click here for broader descriptions of the speakers and their topics.