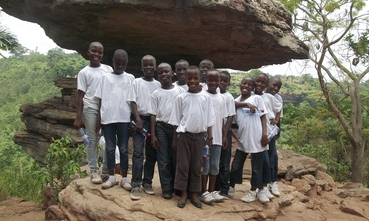 Friends of BBSCF,
We've seen the Ice Bucket Challenge, the Twizzler Challenge, the Selfless Selfie Challenge, and now the Brigitte & Bobby Sherman Children's Foundation has a challenge of our own! Don't worry, you don't have to dump a bucket of ice on your head or eat a Twizzler with a friend - all you have to do is share our
Facebook
and
Twitter
page. That doesn't seem like too hard of a challenge, right?
For the past few months we have focused on increasing awareness about BBSCF on our social media sites. We currently have 770 Facebook followers, which is GREAT! But we want to reach even more supporters out there. We would like to engage with everyone that cares about education, music, and deserving children - and we are challenging you to help us do this.
Aren't you relieved our challenge doesn't require any ice? BBSCF is challenging you to share our
Facebook
and
Twitter
page with all of your friends, family, and followers.
Help us reach
1,000 followers on Facebook
and engage with
20 new Twitter followers
by June 30
.
If you accept this challenge and help us reach our goal of 230 new Facebook followers, and 20 new Twitter followers we can promise you the ultimate reward. If you liked the
Valentine's Day Duet
Brigitte and Bobby shared with you, then we can promise you'll love our celebratory song if we meet our goal! Brigitte and Bobby are preparing another never-before released song and they want to share it with Foundation supporters!
Please join us in the #bbscfchallenge and help us reach our goals. We want to know when you share our social media pages with friends, so be sure to post on our Facebook page and tweet us letting us know - don't forget to use #bbscfchallenge. It is a lot easier than pouring ice on your head!
Biakoye,
Brigitte Poublon and Bobby Sherman