Waller joins MOSES as Operations Director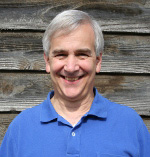 Please join us in welcoming Jerry Waller to our staff as Operations Director, a new position for MOSES. Jerry has years of experience in leadership positions at the University of Wisconsin-River Falls, where he directed conferences and events, managed dining services, and, most recently, served as the University's Sustainability Coordinator. He has been active in developing a regional food hub, a project which includes other MOSES staff.
Jerry grew up on a traditional family farm in north central Iowa, which had hogs, chickens, beef, and row crops. He recently has taken on responsibility for the farm, and is focusing on sustainable alternatives to preserve soil and build fertility. To support his efforts, he has looked to MOSES, the Land Stewardship Project, and Practical Farmers of Iowa.
"I have a profound love for agriculture and value the critical role our care has on soil preservation and resilience, protecting our environment and providing a safe and secure food supply," Jerry said. He and his wife live in River Falls, Wis.
Welcome aboard, Jerry!
---
Field Day season continues!

More than 100 people boarded air-conditioned tour buses to see MOSES Organic Farmer of the Year Charlie Johnson's South Dakota farm last month. See our
Field Day page
for photos and recaps of this event and other completed field days, plus information about all the upcoming field days.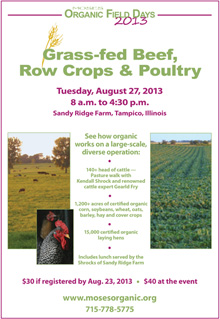 Large-scale organic ag will be featured again in our Aug. 27
Grass-fed Beef, Row Crops and Poultry
field day at Sandy Ridge Farm in Tampico, Ill. Gearld Fry, renowned expert on cattle genetics, will be on hand to answer questions.
In the meantime, we have an
Organic Dairy
field day in Goodhue, Minn. Aug. 14, and an
In Her Boots workshop
Aug. 18 in Brodhead, Wis.
---
Workshops teach how to farm by the numbers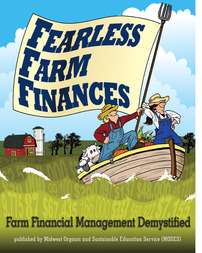 MOSES is partnering with Badgerland Financial, Michael Fields Agricultural Institute, and UW-Extension to provide workshops based on the popular book
Fearless Farm Finances.
The book's authors--Chris Blanchard, Craig Chase, Paul Dietmann, and Jody Padgham--will teach farmers how to collect, organize and understand farm numbers, how to use a balance sheet and cash-flow statements, and how to assess their farm's profitability. Farmers can choose from two workshops: Nov. 15-16, 2013 at the Best Western Riverfront Hotel in La Crosse, Wis.; or Dec. 6-7, 2013 at Michael Fields Agricultural Institute in East Troy, Wis. Participants in both workshops can attend the Wrap-up Program Jan. 10, 2014 at Badgerland Financial in Prairie du Sac, Wis. The $125 workshop fee includes a copy of
Fearless Farm Finances
, organic meals, and workshop materials. To learn more or to register, click
here
.
---
Nominate inspiring farmer for Farmer of Year
Here's your chance to recognize a farmer who inspires you: nominate a farmer or farm couple/family to be the
2014 MOSES Organic Farmer of the Year.
This award will be presented at the MOSES Organic Farming Conference Feb. 27, 2014 in La Crosse, Wis. (The recipient must be a certified organic farmer or farm family.) The award comes with a number of prizes, including VIP treatment (free registration and lodging) at the MOSES Conference, a cash award and a substantial gift certificate to the conference bookstore. Email or mail your completed
nomination form
to MOSES by Sept. 15, 2013.
---
Webinar: using radio to raise awareness
MOSES and the Women Food & Ag Network host a free
Plate to Politics webinar
at 2 p.m. Tuesday, Sept. 10. Presenters include Melinda Hemmelgarn of Food Sleuth Radio and Elise Peterson of "See Jane Do." Hear how these two women leaders are using the power of radio as a way to raise visibility for women and issues related to healthy food and farming. Registration is free.
---
Newspaper offers ad option for small businesses

The
Organic Broadcaster
newspaper, published by MOSES, reaches more than 12,000 organic-minded readers each issue, making it a great medium for advertisers with products or services related to farming. Now, small businesses can reach this audience, too, through the newspaper's new
Business Directory
. A 4-line listing includes the business name, contact information, and a brief description. Lines are limited to 50 characters/spaces.
Example:
Midwest Organic & Sustainable Education Service
MOSES • www.mosesorganic.org • 715-778-5775
Education, resources and expertise
to help farmers grow organic
A listing runs $150 per year, which includes placement in six issues of the
Organic Broadcaster.
To place a directory listing that begins with the September-October issue, submit your four 50-character (maximum) lines by Aug. 15, 2013.
---
Websites explain organic check-off program
The Organic Trade Association (OTA) has launched a new website,
www.unitedformoreorganic.org
, in anticipation of a possible USDA referendum to decide if organic producers would like to institute a check-off to fund a research and promotion program. This website also offers a chance to provide feedback on the basic plan for a check-off program, how it might be managed, and how the money might be allocated. NODPA is providing information on the pitfalls of this possible check-off on its
website
. Both the US Senate and House versions of the Farm Bill included the authorization for a referendum on an organic check-off. If Congress is able to pass a farm bill, this wording may be included.
---
Minnesota unveils cost-share pilot program
The Minnesota Department of Agriculture recently opened a first-in-the-nation incentive program to help farmers transition land and livestock to organic. Farmers can receive a rebate of 75 percent of eligible costs, with a maximum payment of $750 per year for three years or until achieving organic certification, whichever comes first. Reimbursable costs include soil testing and registration fees to attend an organic education conference. Application forms for the 2013
Minnesota Organic Transition Cost Share Program
are due by Feb. 14, 2014.
---
Center funds research on fire blight
To address the issue of non-antibiotic alternatives for fire blight control in organic orchards, The Organic Center is funding a
research project on integrative antibiotic-free management
strategies. The project will be published as a report written by farmers for farmers, reviewing methods for controlling fire blight holistically, and covering other pertinent issues. This will provide a critically needed bridge to cover the gap created with the 2014 expiration of oxytetracycline as an allowed substance for organic production.
---
Comment period for FSMA extended

The deadline for comments on the Food Safety Modernization Act regulations was extended from Sept. 16 to Nov. 16, 2013. The National Sustainable Agriculture Coalition has launched a
new webpage
with information and talking points for writing comments on this regulation that will impact all aspects of food production in the United States.
---
New website highlights research to improve vegetable production
Iowa State University and the Leopold Center for Sustainable Agriculture have created a
Sustainable Vegetable Production
website to share results from research on strategies that enhance vegetable production and cropping systems. Topics include transplant production, season extension, cover cropping, plasticulture, biochar, soil biology, nutrient management and food quality aspects. The website's purpose is to help growers reduce input costs, improve crop and soil health, and create cropping system efficiencies.
---
Graphic compares organic, natural foods