Conference registration open through Feb. 13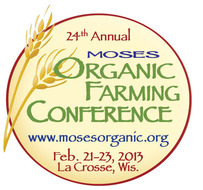 There's just one week left to register for the
MOSES Conference
. Registration ends at midnight Feb. 13. A limited number of walk-in registrations will be available at the conference.
The
Organic University
™
pre-conference day-long courses are filling up quickly. Even if you've already registered for the conference, you can add a pre-conference course to your plans. Just check the
list of courses
to make sure the one you want to take is still open, then click on the "Registration" link below the photos on that page to sign up for that course without re-registering for the conference.
If you can't take in a day-long course, consider one of the two short courses offered from 1 to 5 p.m. Thursday, Feb. 21. Author, farmer and consultant, Atina Diffley leads a participatory session to help farm partners gain communication tools to improve their relationship and productivity. The other session features a panel of experienced women farmers, facilitated by MOSES Rural Women's Project Coordinator Lisa Kivirist, talking about ways to add an education component to your farm's business strategy.
---
Still working on farm bill

Major progress was made last year on the food and farm policy front. While not perfect, draft versions of the 2012 farm bill included long-overdue reforms, investments in the future of American agriculture, and support for protecting our natural resources. The only problem: the bill never passed. Instead a
9-month extension
of some farm programs was put in place on New Year's Day, without many important programs that encourage organic and sustainable farming.
MOSES, as a member of the National Sustainable Agriculture Coalition and the National Organic Coalition, will keep you informed as strategies unfold in the next few months. We will continue to promote programs and regulation reform that support the revitalization of rural America, while protecting and enhancing our environment for future generations.
---
Website helps farmers choose cover crops

A team of cover crop experts from the Midwest Cover Crop Council has created a web-based system of
Cover Crop Decision Tools
to help farmers select the best cover crops for their area. The online tools walk farmers through the process of choosing their region, soil drainage class and goals such as finding soil builders, nitrogen sources, weed fighters and forage harvest values. The tools deliver recommendations of various cover crop species and their optimal planting date windows based on 30-year average frost dates in the user's county.
Farmers can learn more about options for cover crops at the upcoming MOSES Conference. Two workshops target in on the topic: "
Beyond Rye and Vetch: Expand Your Cover Crop Options
" takes place Friday morning at the conference; "
Rolling Rye for Organic No-Till Crops
" runs Saturday morning.
---
Use Driftwatch registry to discourage spraying
Certified organic growers in Minnesota, Wisconsin, Michigan, Indiana, Illinois, Montana, Colorado, Nebraska and Missouri can register their land in the
Driftwatch
™ registry managed by Purdue University. (Iowa has their own program and is not part of Driftwatch.) The program uses Google Maps to identify organic fields so commercial applicators know which areas to avoid. In order to have an impact, more farmers need to use this service.
---
Training offered for Drift Catchers

Pesticide Action Network (PAN) offers trainings in the use of its
Drift Catcher
device to collect air samples which can be analyzed for pesticides. It empowers farmers and community members to document and draw attention to otherwise invisible chemical exposures. The next training takes place March 9 in Iowa. To be considered for the training, complete this
short questionnaire
about why you are interested in being a Pesticide Monitor.
---
Food system event coincides with MOSES Conference
The Center for Integrated Agricultural Systems
at the University of Wisconsin-Madison hosts a conference Feb. 20-21 at the Radisson Hotel, in downtown La Crosse (next to the La Crosse Center, home of the MOSES Conference). The meeting will highlight transportation innovations in the local and regional food systems supply chain in the Upper Midwest. Presentations and discussions will range across the food system, exploring the current and future outlook for supply of local and regional food, retail opportunities and challenges, and distribution innovations and constraints. This event is free and open to the first 100 registrants.
---
Organic Voices records Conference workshops
All of the workshops and keynote presentations at the MOSES Conference are recorded by
Organic Voices
, which has been preserving the oral history of the MOSES Conference since 1993, capturing the wisdom and experience of those who have shaped the foundation of organic and sustainable agriculture. The Organic Voices booth at the conference is across from the Dining Hall. They have recordings from all the past conferences available. The company recently updated its website to include content from many farming conferences, adding a business directory, user forum and organic cookbook.
---
Online conference covers CSAs
Small Farm Central and the Pennsylvania Association for Sustainable Agriculture (PASA) host an online conference, "
The CSA Expert Exchange
," on March 15, 2013 from 11 a.m. to 4 p.m. EST. It will be accessible via any web browser; attendees will be available to watch video of presenters, view Powerpoint slides, and interact via chat to ask questions. The fee is $45. Register with the code "MOSES2013" at checkout to get a $10 discount. Flyers about this event will be available at the MOSES Conference in the Free Resources area on the Concourse.
---
2013 MOSES Conference is greenest ever
We are committed to producing a conference with the lowest possible environmental impact. We're using recycled paper to print our Registration Books and Programs, and encouraging participants to return extra handouts from workshops for reuse. These handouts are printed locally by
Sir Speedy
, which uses a solar-powered array to run equipment. We also will have recycling and composting stations throughout the conference center. Much of the food served at the conference and the benefit
Wine & Dine
is locally sourced. Our T-shirts and tote bags are made in the USA of 100% organic cotton. And, the glass conference mugs have lids and can be used over and over--some folks even use them for canning! We also have created a group through Ridebuzz so conference participants can carpool to La Crosse. Once there, they can take advantage of our free shuttle service between the conference and local hotels. We continue to look for ways to be "green." Feel free to share your ideas with us at the conference!