---
MOSES Conference registration opens Dec. 3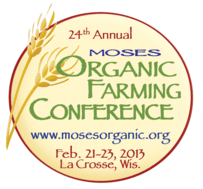 Registration for the 24th Annual MOSES Organic Farming Conference
opens online Monday, Dec. 3.
This is the country's largest event for organic producers and agriculture professionals with 3,000+ participants gathering at the La Crosse Center Feb. 21-23, 2013. This year, there are more
workshops
, more
exhibitors
, new
networking opportunities
and more seats in the Dining Hall!
MOSES Organic University,
with 10 in-depth courses and two short courses, precedes the conference on Feb. 21. Details about these courses and their presenters are on the
MOSES website
and in the registration booklets arriving by mail next week.
Five workshops, two farmer lunch panels, and several social activities will be geared especially to
New Organic Stewards
-- a group for young or beginning farmers who aspire to be or who are currently involved in organic and sustainable farming.
For more information about the MOSES Conference, see www.mosesorganic.org.
---
Submit poster proposals for Organic Research Forum

Government scientists, academic faculty and staff, students, and farmer researchers can
submit poster proposals for the Organic Research Forum
at the MOSES Conference Feb. 22 & 23. The poster session will document on-going and completed research projects related to organic agriculture. Email poster proposals to MOSES Organic Specialist
Joe Pedretti
by Jan. 9. The Organic Research Forum includes several workshops in which researchers present their findings, a poster display, and a research forum breakfast social to give farmers, researchers and students the chance to discuss current organic ag research topics.
---
Conference keynote presenters announced

The 2013 MOSES Conference includes two general sessions with
keynote presentations.
On Friday, Feb. 22, Jeremy Seifert and Joshua Kunau will discuss what they learned from farmers, seed sellers and scientists while making their new film,
GMO OMG.
Saturday's keynote features Carmen Fernholz, a long-time organic farmer, who will share his vision of the ideal organic food production system and the roles producers and consumers play.
---
EQIP sign-up deadlines announced
The USDA NRCS (Natural Resources Conservation Service) is accepting EQIP applications for the 2013 crop year. Application deadlines vary by state; some states offer several sign-up rounds.

"There are some changes from last year's program, with more flexibility on what practices can be cost-shared as well as how items are ranked for funding," said MOSES Organic Specialist Harriet Behar. "If you applied last year and your application was not accepted, try again." EQIP, the Organic Initiative and other special initiatives have the same closing dates for applications to be considered for 2013. Applications can focus on more than 80 practices, including cover cropping, fencing, rotational grazing, and high tunnels. For details, contact the NRCS office at the USDA Service Center for your county.

EQIP sign-up deadlines by state:
Illinois -- Feb. 3, March 30, and June 1
Iowa -- Dec. 21, Feb. 15, and April 19
Minnesota -- Jan. 18, Feb. 15, March 15 and April 19
North Dakota -- already closed
South Dakota -- Feb. 15
Wisconsin -- Jan. 18

---
Where oh where is the 2012 farm bill?
Despite pressure from farmers and ag groups, there has not been a lot of movement on the 2012 farm bill since the election. This state of limbo means that many important programs no longer have funding or even exist, such as the safety net for dairy farmers, improvements to crop insurance, and the organic certification cost share program. At this point, Congress could attach the current farm bill to deficit-reduction legislation or continue to do nothing and allow the bill to expire in January, forcing the new Congress to go back to the drawing board. One other alternative is that Congress could draft a short-term extension of the current farm bill, giving the next Congress more time to draft a new bill.
The risk with any of these scenarios is that the bill might not include funding for organic programs, and might use cuts to conservation programs to pay for the other parts of the bill. MOSES and its partners in the National Sustainable Agriculture Coalition (NSAC) have been lobbying Congress to encourage movement on the farm bill. Just this month, NSAC presented a petition with more than 20,000 signatures to Congress asking for a 2012 farm bill NOW!
Check for updates on the
MOSES Action Alert
webpage.
---
Report finds organic dairy farms boost rural economies
A report released by the Union of Concerned Scientists (UCS) shows that the organic dairy sector provides more economic opportunity and generates more jobs in rural communities than conventional dairy farms.
"Cream of the Crop: The Economic Benefits of Organic Dairy Farms"
looked at dairy operations in Minnesota and Vermont. In Minnesota, 114 organic farms add $78 million to Minnesota's economy annually and have created 660 jobs since 2008. "Over the past 30 years, dairy farmers have had a choice: either get big or get out," said Jeffrey O'Hara, agricultural economist for the Food and Environment Program at UCS and author of the report. "However, organic dairy production offers farmers another option – one that is better for the environment, produces a healthier product, and leads to greater levels of economic activity."
---
Website offers tool to create farm food safety plans

The new On-Farm Food Safety Project website includes a free, easy-to-use
online tool
for creating customized on-farm food safety plans. The tool is based on Harmonized GAP standards. The food safety plan/manual has been designed to help small and mid-scale produce growers develop a full set of record-keeping tools to document their food safety program and to provide training to their employees.
---
Take in a webinar, how-to video or other training this winter

The Internet provides many opportunities for farmers to add to their knowledge of farming practices in the "downtime" of winter.
Farm Commons
, a Wisconsin-based legal service for farmers, offers a webinar Dec. 18 on the legal aspects of operating a CSA.
ATTRA
continues to add to its webinar library, which includes the recent course on Organic Crop Rotations with MOSES Organic Specialist Harriet Behar. The
Cornell Small Farms Program
has 12 new 10-minute how-to videos on grazing topics. MOSES lists all
webinars
and
other resources
on the MOSES website to make them easily accessible to farmers.