MOSES Organic Link
---
MOSES Conference draws 3,400+ together to learn, grow inspired
Participants put thumbs up for the 25th MOSES Organic Farming Conference, which took place Feb. 27 to March 1 in La Crosse, Wis. The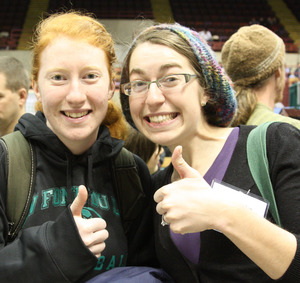 3,400+ attendees came from 43 states and 7 countries, making this truly an international event.

In case you missed them (or just want to feel the buzz again), you can watch the keynotes by Anna Lappé, Mark Shepard, and Alan Guebert on our conference webpage. The presentation by Theresa Podoll and David Podoll, two of the 2014 MOSES Organic Farmers of the Year, also is posted, along with our Executive Director Faye Jones talking about how the conference has grown over 25 years.

You can order audio recordings of workshops you missed by downloading Rhino Technologies' mail-in order form. The company offers CDs of individual workshops, an MP3 set of all workshops, or DVDs of the General Sessions.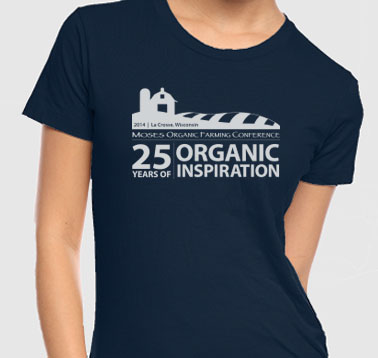 And, it's not too late to get those cool 25th anniversary T-shirts (women's and toddler sizes only), glass mugs, and Klean Kanteens—find them in our online store.

Thanks to all who helped make MOSES2014 so successful!

The 26th MOSES Conference will be Feb. 26-28, 2015 in La Crosse, Wis. Presenter proposals can be submitted by May 31 to Joe Pedretti.
---
Summit offers workshops, food, fun for beginning farmers
New and aspiring farmers can learn about both the field and financial sides of farming while making valuable connections at the two-day New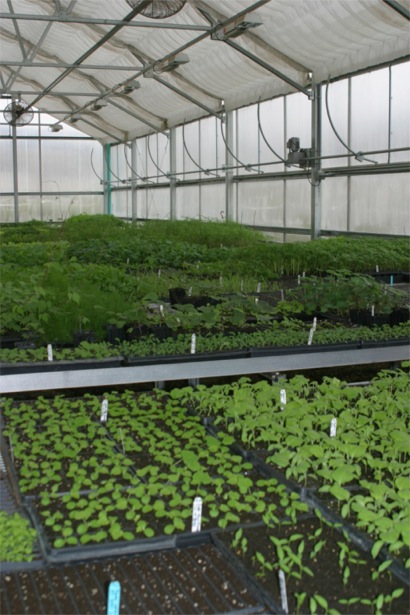 Farmer Summit April 4 and 5, 2014 at Primrose Valley Farm near New Glarus, Wis. The event includes two full days of practical workshops, large group sessions, a farmer panel, organic meals, a seed swap, and an evening barn dance with live music and a caller. An optional "behind-the-scenes" tour of three local, sustainable farms takes place April 3.
The New Farmer Summit is organized by MOSES and Renewing the Countryside (RTC), with funding from the USDA's Beginning Farmer and Rancher Development Program.
---
Free trainings teach conservation practices
The MOSES Rural Women's Project is partnering with Women, Food and Agriculture Network to offer free Women Caring for the Land trainings in Wisconsin to teach female non-operator landowners about conservation practices they can employ on their land.
April 22 in Dodgeville
April 23 in
Viroqua
April 24 in
Monroe
The agenda includes an informational session, lunch, and a bus tour of area farmland to see land conservation practices.

If you have neighbors who are non-operator landowners, please share this information with them.
---
Webinar encourages women to lead
A free webinar, "Invite a Woman to Run," shows how to get more women involved in leadership roles to change our nation's food system. The webinar, which takes place at 2:30 p.m. April 2, 2014, features Deb White from the New Leadership Institute in Moorhead, Minn., and Erin Vilardi from VoteRunLead, New York, N.Y. It is part of the Plate to Politics series organized by the MOSES Rural Women's Project and Women, Food and Agriculture Network.
---
New resources highlight organic research
Four new resources about organic agriculture have been released recently:
Information about current organic research also is available on the MOSES website.
---
NOSB seeks new members
An organic producer, organic handler, environmentalist, and retailer are needed to fill vacancies on the National Organic Standards Board (NOSB). The 15-member board reviews material and recommends changes to the National List of Allowed and Prohibited Substances and advises the Secretary of Agriculture on organic regulations. Appointees will serve a five-year term beginning Jan. 24, 2015. Individuals can nominate themselves for one of the appropriate slots. Nominations must be postmarked by May 15. For more information, contact katherine.benham@ams.usda.gov at the USDA.

The current NOSB meets April 29-May 1, 2014 in San Antonio, Texas. Public comments are allowed through April 8. Comments submitted for the cancelled October 2013 meeting will be carried over to this meeting, unless they apply to provisions that NOSB committees have revised. Find the agenda and comment information here.
---
New tool helps farmers measure soil organic matter
Researchers at Ohio State University have developed a new tool to help farmers evaluate the impact of selective crop residue removal on the long-term agronomic and environmental integrity of their farm's soils. The soil organic matter calculator is a spreadsheet-based tool considers factors such as crop rotation, yields, tillage type, tillage depth, erosion rate, manure applications and cover crops to calculate total active and passive soil organic matter, total nitrogen and change in organic matter over the simulation period. The tool also calculates the revenue from residue sales and the amount of carbon emitted as carbon dioxide to the atmosphere or sequestered yearly or over the evaluation period.
---
NRCS updates soil survey website
The USDA's Natural Resources Conservation Service (NRCS) has updated its free online soil survey. The website now includes soils data for the Continental U.S. that flows seamlessly across county lines and other political boundaries.
---
Report shows value of prairie strips
Iowa State University's STRIPS team and the Leopold Center for Sustainable Agriculture have published "Small Changes, Big Impacts: Prairie Conservation Strips," a report on their innovative research project which shows that strategically converting just 10 percent of a crop field into perennial prairie can reduce offsite sediment export by 95 percent, phosphorus loss by 90 percent and nitrogen loss by almost 85 percent. Additionally, the prairie patches create vital habitat for native plants, pollinators and birds. The prairie is planted along the contour of a slope, at the drainage site for a field's watershed, or other areas where crop yield already is low. Without affecting yield on the remaining 90 percent of a field, prairie strips improve the condition of waterways, cut back soil and nutrient loss, and revitalize Iowa's natural heritage by providing habitat for native species—including natural predators of crop pests.
---
Recordings available from cover crop conference
The SARE website has videos and PDFs from the National Conference on Cover Crops and Soil Health, which took place Feb. 17-19, 2014. In addition, the site has short videos of 10 innovative farmers describing their experiences with cover crops.
---
New short film explains "why organic?"
The Northeast Organic Farming Association of Vermont has created a nine-minute film, Organic Matters, that features certified organic farmers from Vermont talking about why they believe in certified organic, how it defines their approach to their land and to food production, and why organic is important to the overall food movement.
---
New grant program targets future organic farmers
The CCOF Foundation, UNFI Foundation, Driscoll's, Organic Valley, and Bradmer Foods have pooled resources to create the Future Organic Farmer Grant, which provides up to $50,000 in direct financial support for the education of future organic farmers and agricultural professionals. Grants will be awarded to individuals in three target areas: K-12 education, higher and vocational education, and disadvantaged communities.
---
Organic World Congress registration opens
Registration is open for the 18th IFOAM Organic World Congress coming to Istanbul Oct. 13-15, 2014. This congress takes place every three years. This year's keynotes include Anna Lappé, who just presented at the MOSES Conference, and Will Allen of Growing Power.
---
Webinar covers weed management
Martin Diffley, founder of Gardens of Eagan and Organic Farming Works, is one of the presenters for a free webinar, Different Approaches to Weed Management, offered
by Purdue and Ohio State universities Monday, March 17, 2014
at 11 a.m. Central. Organic farmers will discuss the strategies they've developed for managing weeds, their reasons for selecting those practices, and the conditions necessary for those methods to be successful.

Find more upcoming webinars on our Community Calendar page.
---
Looking for a farm internship or job? See our Job Postings.

See what's for sale and find other opportunities on our Online Classifieds.

Find suppliers, buyers and more through our Online Resource Directory.
March 2014