FDA's food safety rules undermine organic ag

The Food Safety Modernization Act (FSMA)
gives the Food and Drug Administration (FDA) broad new powers to prevent food safety problems. The FDA has submitted proposed rules for public comment through Nov. 15, 2013. The FDA's proposed rules do not affect meat, poultry, and egg products, which are under the U.S. Department of Agriculture's jurisdiction.
MOSES and our partners in the National Sustainable Agriculture Coalition (NSAC) believe the FDA's rules are impractical and burdensome for farmers who grow and sell fresh produce, and for businesses that process, pack, manufacture or store food. It is clear the FDA does not understand what a "farm" is or how fresh produce is grown and prepared for market. The proposed rules would be so difficult and expensive for small- to mid-sized farmers that many would likely give up farming.
NSAC has spent six months reviewing these complex rules, and has created a
list of the top 10 issues with the FDA's rules.
One issue is that the regulations restrict use of animal manures, pushing farmers instead toward chemical fertilizers, which the FDA considers safer. They also make it more difficult for farms to diversify or use conservation practices. The
NSAC food safety website
outlines the steps for submitting comments and offers suggestions for wording.
Please take the time to comment
-- the future of farming in the U.S. could be dramatically changed for the worse if these food safety regulations are implemented as proposed.
---
Government shutdown forces NOSB to cancel meeting

The National Organic Standards Board (NOSB) meeting, which was planned for Oct. 22-24, 2013 in Louisville, has been cancelled due to the government shutdown. It is unknown if a new date will be set for a meeting, or if agenda items will be held until the spring 2014 meeting. There are important issues that need timely attention, such as the removal or addition of materials on the National List. The National Organic Program offices and website are closed during the shutdown.
---
Government shutdown eclipses Farm Bill talks

It seems that discussion about the Farm Bill has been drowned out by the government shutdown and the looming debt limit crisis. The temporary extension of the 2008 Farm Bill expired Sept. 30, taking with it funding for conservation, export, and nutrition programs. The bigger problem is that dozens of programs, which received funding under previous Farm Bills and were to receive renewed funding under one or both of the pending Senate-passed and House-passed bills this year, were left out of the nine-month Farm Bill extension and have been stranded indefinitely. These stranded programs include major USDA programs for beginning farmers, minority farmers, specialty crop farmers, organic farmers, value-added farm enterprises, rural small business, and renewable energy and energy conservation. With the larger issues of funding the government, the debt ceiling and the budget, it is unclear when or if the Farm Bill will move forward. The one advantage this delay provides, though, is the opportunity to voice support for programs that support organic and sustainable farming practices.
The National Sustainable Agriculture Coalition's blog
explores "What's at Stake" and what can be done to move forward.
---
Shutdown impacts EQIP sign-up

Many Midwest states had announced an earlier-than-usual deadline of Nov. 15, 2013 to apply for
NCRS EQIP
conservation cost-share funds. It is unclear if this deadline will be extended with the government shutdown. The NRCS offices and websites are closed during the shutdown.
---
2014 MOSES Conference keynotes announced

Journalist Alan Guebert, food advocate/author Anna Lappe, and permaculture designer Mark Shepard will be the keynote speakers for the 25th anniversary of the MOSES Conference, Feb. 27-Mar. 1 in La Crosse, Wis. Anna and Mark, who are friends, will share the stage Friday morning. They'll talk about the impact of agribusiness on the climate and the powerful role sustainable food and farming plays in creating resilient communities, protecting biodiversity, and promoting health. Alan, who writes the syndicated ag column, "The Farm and Food File," will take the stage Saturday morning. He grew up on an Illinois dairy farm, and will weave his farm family's history of adapting to change into a message about what the next generation of farmers needs to succeed.

---
Workshops help farmers manage data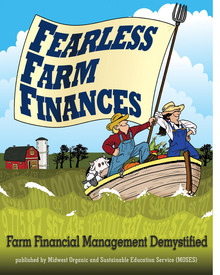 Authors of the popular book
Fearless Farm Finances
will present two
workshops
to help farmers learn to use farm data to improve profitability. The workshops take place Nov. 15-16, 2013 at the Best Western Riverfront Hotel in La Crosse, Wis., and Dec. 6-7, 2013 at Michael Fields Agricultural Institute in East Troy, Wis. The $125 registration fee covers a two-day workshop with organic meals, a copy of the book, and admission to the wrap-up program Jan. 10, 2014 at Badgerland Financial in Prairie du Sac, Wis.

Fearless Farm Finances
authors are Chris Blanchard, owner of Flying Rutabaga Works, an agriculture consulting and education business, Dr. Craig Chase, a farm management specialist at Iowa State University, Paul Dietmann, the Emerging Markets Specialist at Badgerland Financial, and Jody Padgham, farmer and Finance Director for MOSES. They'll explain systems for collecting and organizing farm data, and how to use these numbers to make decisions that improve the farm's profitability.
These workshops are jointly organized by MOSES, Badgerland Financial, Michael Fields Agricultural Institute, and UW-Extension.
---
MOSES staff to present at women's conference

The National Conference for Women in Sustainable Agriculture,
Nov. 6-8, 2013 in Des Moines, features workshops on production, marketing, and business development relevant to small-scale farming, plus sessions to build skills in advocacy and leadership. MOSES Executive Director, Faye Jones, joins board member Linda Halley and a panel of "lifers" in the organic community for "Lessons Learned from a Lifetime in the Field" on Friday morning. On Thursday morning, Luisa Gerasimo, MOSES Development Director, offers insights on working with a non-profit board. Lisa Kivirist, MOSES Rural Women's Project Coordinator, shares how to build grassroots networks in a panel session on Thursday afternoon. Registration deadline is Nov. 1.
---
Study needs organic soil samples
Researchers with the National Soil Project at Northeastern University need soil samples from organic farms to evaluate soil health and productivity against conventionally managed soils. The National Soil Project is collaborating with The Organic Center on this research with the goal of creating a reference database that proves the value of organic management for carbon sequestration and the long-term health of soils. The project needs 2 oz, air-dried organic top soil samples. See The Organic Center website for details and a sample submission form.
---
Webinars cover organic farming topics

---
Farmer shares high tunnel solutions for severe weather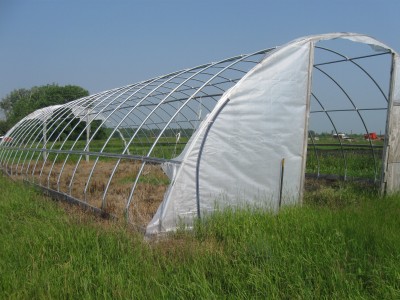 The University of Minnesota has posted
a case study on operating high tunnels in harsh conditions.
High tunnels can provide increased yields, a longer production season, and stronger plants. But, severe weather can challenge high tunnel growers, creating the need for heightened vigilance, hard work, and constant infrastructure maintenance and upkeep. In this case study, Northern Minnesota farmer Mike Klawitter shares his solutions to keep his high tunnel operational. Among his structural adaptations
---
Webinar focuses on CSA member retention

Small Farm Central is offering a
free "mini-webinar" for CSA farmers
on how to retain members from year to year. The 30-40 minute talks will be led by Simon Huntley, founder of Small Farm Central, who ran a 130-member CSA. Reserve a spot for one of these dates: Oct. 16, Oct. 22, or Oct. 24.
Small Farm Central also hosts a
CSA farmer Facebook group
with over 350 members. It's a place where farmers can poll their contemporaries and get answers to questions from people with CSA experience. The group is private, but farmers can join by logging into their Facebook account and clicking the "Join Group" button.