Farmers network at Field Days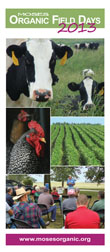 MOSES Organic Field Day season started last week with our Farm Hack event at Gardens of Eagan in Northfield, Minn. Farmers shared innovative tools they have "hacked" to work better for their farms. See
photos
of these creative designs.
A total of 13 Field Days and In Her Boots workshops are scheduled for this season. Click on the image here to download a PDF of the 2013 Organic Field Day brochure. Or, see our
Field Day page
with its new interactive map to help you quickly locate events in your area.
---
Nominate an inspiring farmer for award
Nominations are open now for the 2014 MOSES Organic Farmer of the Year. This award is presented annually at the MOSES Organic Farming Conference to a certified organic farmer or farm family that exemplifies outstanding land stewardship, farming innovations, and outreach. The award comes with a number of prizes, including VIP treatment at the MOSES Conference, a cash award and a substantial gift certificate to the conference bookstore.
To nominate someone you look to for inspiration in organic farming,
download and complete this form
, and send it to us by email or mail. If you don't have access to the Internet, call MOSES at 715-778-5775 to request a form. Nominations are due by Sept. 15, 2013.
---
What's in Senate Farm Bill for organics?
The Senate's 2013 Farm Bill, passed today, includes provisions for organic certification cost share, organic research, market data and organic crop insurance. Certification cost share melds the program that is currently only open to 16 states with the national program. The Organic Agriculture Research and Extension Initiative, OREI, was funded at $16 million per year, a cut of 20%. (The House ag committee version retains the full $20 million per year funding from the last Farm Bill.) The Organic Production and Market Data Initiative was funded by the Senate bill at $5 million over the life of this farm bill, to provide for segregated market data to aid the organic marketplace. The Senate also tackled crop insurance for organic farmers, mandating that organic producers could insure all their crops at the organic price, not just the few that are currently offered an "organic price selection." The Senate's bill funds the National Organic Program at the current level, with a onetime $5 million capital investment to modernize and improve their data systems.

Neither the Senate nor the House provided funding for a dedicated pool of money to support non-GMO seed research. Most of the federal dollars for seed development currently end up as patented GMO varieties that are not available to organic or other non-GMO farmers.

The next step in the process is for the House to debate its agriculture committee's Farm Bill sometime in the next two weeks. It is yet unclear how many amendments might be discussed by the full House that might address the differences between the Senate's final version and the House agriculture committee bill. There will most likely be a conference committee between the Senate and House to join the two versions into one bill, once the full House of Representatives passes its version.
---
Webinar shows results of soil-building trial
Cindy Daley, California State University, leads a free webinar June 27, 2013 on
"Amending Soils in the Organic Dairy Pasture,"
detailing results of the long-term soil remediation field trial at the University Farm studying the effects of a basic soil amendment program on forage quality and yield, with an emphasis on the economic return resulting from added milk production. The webinar is provided through the Cooperative Extension System. Dairy producers also may be interested in Extension's case studies,
Producer Profiles in Organic Dairy
, which track financials as dairy farms transitioned to certified organic production.
---
Webinar explains marketing via social media
MOSES and the Women Food & Ag Network host a free
Plate to Politics webinar
at 2 p.m. Tuesday, June 18. "Visibility" shows how urban and rural women farmers, landowners and community leaders are tapping into social media to better market themselves, their businesses, and their communities. Learn how to maximize the potential and minimize the risks of using social media.
---
Study shows advantages of organic farming
Results of a long-term study conducted by Iowa State University show significantly better soil quality on research plots managed with organic practices. Compared to conventionally managed plots, the organic plots had up to 40 percent more biologically-active soil organic matter for improved fertility and nutrient availability, as well as higher amounts of carbon, nitrogen, potassium, phosphorous, and calcium. The study,
the Long-Term Agroecological Research (LTAR) Experiment
, began in 1998 with support from the Leopold Center at the ISU Neely-Kinyon Research and Demonstration Farm near Greenfield. The study also has shown that organically managed soils hold more water and improve water infiltration, increasing a farm's resiliency to drought, heavy rainfall and extreme weather events.
---
New website bolsters local food systems
The new
Community and Local Food Resource website
provides tools and resources to help farmers, extension educators, and communities build or strengthen their local food system. For farmers, the site offers resources on marketing to a local system, production ideas, and good agricultural practices. This USDA SARE project was led by a collaboration of the University of Minnesota Extension's Regional Sustainable Development Partnerships, Buy Fresh Buy Local South Dakota; FARRMS (North Dakota), North Dakota State University Extension; and the Northwest Regional Partnership (Minnesota).
---
Organic fast food chain opens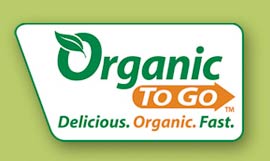 If you're heading to the West Coast this summer, check out
Organic To Go
, the nation's first fast ­food chain to be USDA-cer­ti­fied as an organic retailer. Based in Seattle, the chain also has cafes in Los Angeles, Orange County and San Diego.