Welcome to the Organic Link!

Wow! What a wonderful response we've received about the 2013 MOSES Organic Farming Conference. We so appreciate all the Tweets, blogs and notes from participants. You can see from the photos we've posted on Facebook that folks immersed themselves in "Organicland," as keynote speaker Jeremy Seifert termed the conference.
Please remember to complete the online evaluation. Your comments let us know what worked well, and what we can improve for next year.
Even if you didn't make it to the MOSES Conference, you still can look like you did -- we're selling conference T-shirts and tote bags in our online store! There's a discount for purchasing more than one of each item.
This edition of the Organic Link includes your link to the online version of the March/April issue of the Organic Broadcaster. See the gold column to the right -- it's packed with many other must-click links!


Learning opportunities abound
Did the MOSES Conference whet your appetite for learning about farming topics? You can find more workshops, webinars and other events listed on our website.
One such offering is the Midwest School for Beginning Apple Growers, sponsored by the UW-Madison Center for Integrated Agricultural Systems, March 15-17, 2013 in Bayfield, Wis. This workshop offers a comprehensive look at how to start and operate a business growing and selling apples, including varietal selection, orchard design, marketing, capitalization and labor.

Another opportunity is the online conference "CSA Expert Exchange," March 15, 2013. Use "MOSES2013" at checkout to get a $10 discount.
---
RMA changes organic crop insurance

USDA's Risk Management Agency announced it will remove the five percent premium surcharge assessed against all organic farmers seeking federal crop insurance, starting in 2014. Organic farmers will continue to receive conventional prices for some organic crops, although the USDA is working to add special "organic price selections" in the next two years for organic wheat, barley, oats, almonds, blueberries, and a few other fruits. RMA currently offers organic price selection for corn, cotton, and soybeans, as well as processing tomatoes, avocadoes, and fresh freestone peaches, fresh nectarines and plums in California. The farmer pays a higher insurance premium to receive these higher organic prices in case of crop failure. Organic farmers currently are required to share the organic inspection report with their insurance providers, so the provider can assess if good organic practices were used to grow the insured organic crop. For links to the RMA report, a Q&A about the changes, and more,
click here
.
---
Lawmakers' budget debate might offer bright spot for farmers

The continuing resolution (CR) being discussed in Washington could have a positive impact on farmers. According to the
National Sustainable Agriculture Coalition
, the CR would increase funding for direct farm operating loans and guaranteed farm ownership loans by roughly $200 million and $500 million, respectively. Farm loans are one of the most effective tools the USDA uses to help beginning and socially disadvantaged farmers and ranchers access farm land and equipment. Demand for these loans has far exceeded supply for several years. This funding increase could help meet that need.
---
Minnesota considers GMO labeling legislation
Right to Know Minnesota is expecting strong support for legislative bills (H.F. 850 and S.F. 821) to require packaging on foods containing genetically engineered ingredients to display the words, "Produced with Genetic Engineering." Genetically modified ingredients are present in 75 to 80 percent of conventional processed foods, mostly corn, soy, canola, and sugar beets.

Animal studies have linked consumption of GMOs to a host of health hazards, including allergies, organ disruption, cancers, infertility, and more. Environmental concerns include widespread pest and weed resistance, which has led to increased application of agrichemicals. Farmers' concerns include prohibitions against seed saving, lawsuits against farmers whose fields are subject to GMO contamination, and restricted availability of non-GMO seeds.
---
Project Produce reports on openings for local fruit, vegetable producers in food market
Project Produce
has published a local food prospectus showing opportunities for scaled-up fruit and vegetable production in the Tri-State region (Wis., Ill., and Iowa), resulting from changes in the food market due to rising gas prices and decreased subsidization. The project, funded by a USDA Rural Business Opportunity Grant, is a joint venture of Southwestern Wisconsin Regional Planning Commission, East Central Intergovernmental Association in Iowa, and the Tri-County Economic Development Alliance in Illinois.
---
NOP posts rulings on use of seed, feed, more
After reviewing public comments, the National Organic Program (NOP) just posted final guidance on four topics:
The Use of Kelp in Organic Livestock Feed (NOP 5027)
Seeds, Annual Seedlings, and Planting Stock in Organic Crop Production (NOP 5029)
Evaluating Allowed Ingredients and Sources of Vitamins and Minerals for Organic Livestock Feed (NOP 5030)
Responding to Results from Pesticide Residue
Testing (NOP 2613)
---
Specialty grants still available to farmers

While many grant programs for farmers have already closed applications for 2013, several funding opportunities still are open. For example, Iowa farmers can apply for grants to expand production of specialty crops such as fruits, vegetables, and nuts. Wisconsin farmers can request funds for technical assistance such as legal services or help with marketing and farm planning. To learn more about these and other funding opportunities, see
Funds for Farmers
.
---
Good Food Festival comes to Chicago
The Good Food Festival & Conference will take place in Chicago March 14-16. The event includes a Financing Conference, Trade Show, School Food and Food Policy summits, and a Saturday Festival that celebrates good food. MOSES Rural Women's Project Coordinator Lisa Kivirist will speak during a panel workshop. Lisa also will have a booth for MOSES at the festival on Saturday. Drop in if you're in Chicago!

Click to read the March/April
Organic Broadcaster online.




---


Liz Mcmann, Mississippi Market, writes about her MOSES Conference experience in the Market Musings blog. She says the overriding lesson for her was that sharing personal stories can further the organic movement.
Share your story on why you value organic on the Market blog
.
Read more blogs about the MOSES Conference!
---
---


Missed a workshop at the MOSES Conference?
Organic Voices recorded every workshop and created MP3 and CD versions you can listen to while working in the fields this spring. View the complete list here.



---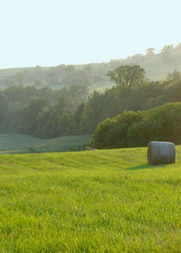 More than a dozen opportunities to buy or rent farmland are listed in Land Link-Up on the MOSES website. Find the acreage you need now.
---



The Land Stewardship Project (LSP) presents the play

Look Who's Knockin' March 22-23 in St. Paul, Minn. The play, written

by LSP organizer Doug Nopar, looks at what happens when an older couple wants to retire from farming. It has played

to packed houses in the Midwest over the past two years. After each performance, the audience has discussed the challenges of passing farms on to the next generation.