MOSES Conference registration opens Nov. 25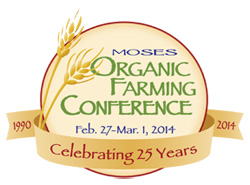 Registration for the 25th
MOSES Organic Farming Conference
opens Monday, Nov. 25. This is the country's largest event for organic producers and agriculture professionals with 3,000+ participants gathering at the La Crosse Center in La Crosse, Wis., Feb. 27-Mar. 1, 2014. Details about the conference are on the
new MOSES website
and in the
new MOSES Conference App
, which will be available Nov. 25 for smartphones, tablets, and computers.
Six workshops and several social activities will be geared especially to
New Organic Stewards
, a group for beginning farmers who aspire to be or who are currently involved in organic and sustainable farming.
MOSES
Organic University
offers 10 pre-conference courses Thursday, Feb. 27, 2014 from 10 a.m. to 5:30 p.m. Courses are:
Overcoming Weeds Organically
Improving Life Below Your Feet: Healthy Soils
Good Start: Organic Dairy Calves and Replacements
High Tunnel Issues and Opportunities
Making Your Market Farm Work for You
Five Ws of Transitioning Field Crops
Restoration Agriculture: Intro to Farm-Scale Permaculture
Organic Hog Production: Keys to Success
Understanding Your Farm's Finances
High Yield Organic Brambles and Berries
---
Research Forum poster submissions open
Government scientists, academic faculty and staff, students, and farmer researchers can submit poster proposals for the
Organic Research Forum
at the MOSES Conference Feb. 28 and March 1, 2014. The poster session will document on-going and completed research projects related to organic agriculture. Email poster proposals to MOSES Organic Specialist
Joe Pedretti
by Jan. 10.
The Organic Research Forum includes seven workshops in which researchers present their findings, and a poster display, which gives farmers, researchers and students the chance to discuss current organic ag research topics.
---
Ask Congress to support organic farming
Senators and Representatives are currently in "conference" debating what stays in and what gets tossed out of the Farm Bill. Organic certification cost share, organic production and market price data, and organic research are all on the line. A quick phone call telling your Senators and Representative that these programs are important to you could make the difference in continued funding.
Learn more and see who's on the Farm Bill conference committee.
---
NOSB reschedules canceled meeting to April

The meeting of the National Organic Standards Board (NOSB) scheduled for October was cancelled due to the government shutdown. The NOSB will meet for its next public meeting in San Antonio, Texas the week of April 28, 2014. Subcommittees are reviewing written comments submitted by the public during the fall 2013 comment period. If a subcommittee decides to modify a previously posted discussion document or proposal as a result of fall 2013 public comment, that revision will be posted for another round of public comments before the spring 2014 meeting. Anyone who signed up to give an oral public comment for the fall 2013 meeting will need to sign up again to make an oral public comment in the spring.
---
Farm Transitions Toolkit now online

The new online
Farm Transitions Toolkit
helps owners of farmland plan to leave their farms to the next generation. This comprehensive resource was created by the Land Stewardship Project (LSP) and the Minnesota Institute for Sustainable Agriculture (MISA). The Toolkit contains resources, links to services and practical calculation tables to help landowners establish a commonsense plan. It also features user-friendly resources on the economic, legal, governmental, agronomic, ecological and even social issues that must be considered.
Farmers who are considering how to maintain the organic integrity of their land may also be interested in the MOSES fact sheet: Estate Planning and the Sustainable or Organic Farm, which is available on the
new MOSES website
.
---
Drake puts Legal Guide for Direct Farm Marketing online
The Drake University Agricultural Law Center recently created an online version of "
The Legal Guide for Direct Farm Marketing
," a 1999 publication by Professor Neil Hamilton. It has new content within the guide as well as an extensive checklist, video interviews with farmers and other direct marketing experts, an interactive "Ask Drake" feature, and a state-by-state listing of organizations and agencies that can provide more information. The update and website have been made possible with funding from the USDA Risk Management Agency.
---
Blobaum recognized for contributions to organic ag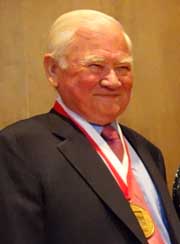 Roger Blobaum, MOSES board member and long-time organic agriculture advocate, was recently honored by the University of Wisconsin-Madison College of Agricultural and Life Sciences (CALS) with an Honorary Recognition Award. Roger has worked within the organic and sustainable agriculture field since the early 1970s, and has been a leader in research, education, advocacy and policy-making. Roger initiated the MOSES Farmer-to-Farmer Mentoring Program and the day-long, pre-conference Organic University program. Roger and five other awardees were honored at the CALS banquet Oct. 17, 2013.
---
Whole Food supports local farmers with loans
Whole Foods Market's
Local Producer Loan Program
offers low-interest loans to independent local farmers and food artisans. Farmers can apply for amounts between $1,000 and $100,000 (maximum $25,000 for start-ups) at fixed interest rates (currently between 5% and 9%). Loan amounts cannot exceed 80% of total project costs. The Producer Loan Program reinforces Whole Foods' commitment to environmental stewardship, while expanding the availability of high-quality local products for its customers.
---
USDA creates grass-fed beef market report

The USDA Agricultural Marketing Service now offers a
market news report about grass-fed beef
. The report includes market commentary, prices paid for live cattle, wholesale beef prices, and direct-market beef prices. The first monthly grass-fed beef report was issued in late September.
---
Webinars focus on legal issues for farmers
Farm Commons hosts
eight free webinars
this winter about a variety of legal issues faced by farmers who sell direct to consumers. Topics include:
Overview of Farm Legal Issues | Dec. 2, 2013
Community Supported Agriculture Legal Issues | Dec. 17, 2013
Hosting On-farm Events | Jan. 13, 2014
Workers and Employees | Jan. 28, 2014
Selling Products to Larger Buyers | Feb. 10, 2014
Starting a Farm | Feb. 25, 2014
Adding Value to Farm Products | March 10, 2014
Food Safety Liability and Regulations | March 25, 2014
---
Help a fellow farmer score a Super Bowl ad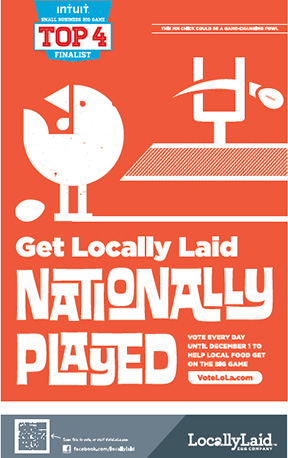 Jason and Lucie Amundsen of Locally Laid Eggs, a start-up farm near Duluth, Minn., have a shot at a free commercial during the Super Bowl through a national "popularity" contest. Jason attended MOSES Organic University's pastured poultry course in 2012, when he was just starting the Locally Laid business. The couple entered Intuit's Small Business Big Game contest in September, and made it to the top four finalists from over 30,000 entries.
"I'm looking at it as this chance to take Real Food out of some tucked-away section of your grocery, and give it the same stage as a ... Dorrito," Lucie said in her
blog
. "It could be a real 'teachable moment' for America about pasture-raised foods and how important it is that animals be allowed to forage and exercise. That it's good for the animal and that benefit passes into the food products they produce."
To win the contest, Locally Laid needs
daily votes
now through Dec. 1.