Johnson hosts crop field day July 25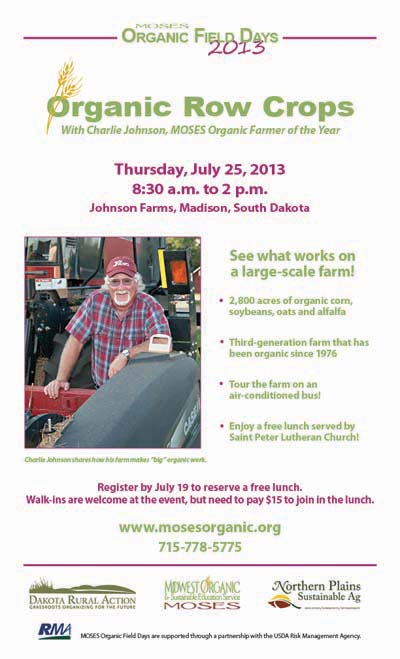 The next MOSES Organic Field Day showcases large-scale organic ag -- Charlie Johnson, the 2013 MOSES Organic Farmer of the Year, and his family will show us how they manage 2,800 acres of crops and livestock. Click on the flyer for details and to register for the free lunch!
The season continues with three
In Her Boots
workshops for women involved in sustainable ag: Aug. 4 at Canoe Creek Produce in Decorah, Iowa; Aug. 8 at Dancing Winds Farm in Kenyon, Minn.; and, Aug. 18 at Scotch Hill Farm in Brodhead, Wis. See our
Field Day page
for information about these events and more.
---
What's next for the Farm Bill?
After the US Senate approved a Farm Bill in early June, the House voted down its version. The defeat was attributed to last-minute floor amendments that would have cut food stamp eligibility for millions of people. Some Republicans voted against this because they thought the cuts were not big enough, and many Democrats voted against this because they thought the cuts were too deep.
The path forward is not clear, but one suggestion has been to split the Farm Bill from the nutrition programs, which include the food stamp or SNAP program. The National Sustainable Agriculture Coalition, which includes MOSES, argues against that path in this
blog post.
---
NOP hopes to lessen certification paperwork
The National Organic Program has heard the complaints of organic producers about the burdensome paperwork they must complete for certification. In response, the NOP has created "Sound and Sensible," an initiative to reduce certification paperwork while still protecting organic integrity. The agency is working with Accredited Certifiers Association, which has assembled a committee of stakeholders -- MOSES Organic Specialist Harriet Behar has been serving on this committee.
Through Sound and Sensible, NOP is collecting
public comment
through Aug. 27, 2013, to estimate how much time organic stakeholders spend on recordkeeping and related tasks.
"They're working on policies that will free up organic producers to concentrate on quality organic production, rather than documenting every little thing they do," Harriet said. "Take a minute to send your comments--they can make a difference!"
---
Program teaches conservation practices to women who own farmland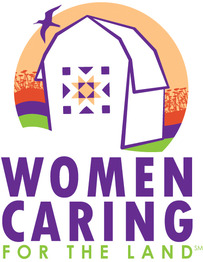 The Women, Food and Agriculture Network hosts free Women Caring for the Land℠
meetings
for women who own or manage farmland. Topics include soil and water conservation, wildlife management, government cost-share programs and more. Meetings include lunch and and an afternoon bus tour to see conservation practices "on the ground." The schedule: July 18 at Red Cedar Lodge in Downsville, Wis.; July 19 in Baraboo, Wis.; July 22 in Lamberton, Minn.; July 23 in Northfield, Minn.; July 30 in Waukon, Iowa; Aug. 1 in Cresco, Iowa; and, Aug. 2 in Indianola, Iowa.
---
Morris research center studies dairy profitability
The University of Minnesota's West Central Research and Outreach Center near Morris is in the midst of a four-year study aimed at helping the growing organic dairy industry become more profitable. Focus is on cow health and pasture quality. One novel idea on the farm is sending cows through a Cow Vac, a device that quickly sucks off irritating flies that can decrease milk production, reduce cows' food intake, and spread disease. The
U's website
shows the Cow Vac in action.
---
Publication highlights findings from food system research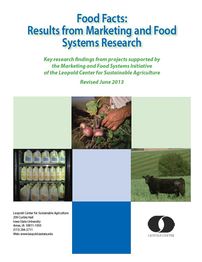 The Leopold Center for Sustainable Agriculture recently updated
Food Facts,
with key findings from marketing and food systems since 2000. The 30-page document provides research-based statistics farmers can use for marketing their products. It also contains a list of online tools and resources regarding food systems.
---
USDA examines local meat processing
The USDA just released an
Economic Research Report
on locally processed meat and poultry. The report uses case studies of successful meat and poultry processors to illustrate the commitment needed between producers and processors for local processing to be viable.
---
USDA approves Non-GMO label for meat
The USDA's Food Safety and Inspection Service recently approved the
Non-GMO Project Verified label
for meat and liq­uid egg prod­ucts, marking the first time the agency has approved a non-GMO label claim. To merit the label, animals must have been fed verified non-GMO feed. The label will include text that clar­i­fies how ani­mal prod­ucts meet the Non-GMO Project standard.
---
Eat, sleep at sustainable spots while traveling

Renewing the Countryside has created a website,
Green Routes,
that helps travelers in the Midwest find lodging and restaurants that have a sustainable focus (local food, organic food, water conservation, etc.). The site also lists farms open to visitors, and some that offer on-farm lodging. Maintain your principles on your next vacation by traveling the "Green Route!"