Act soon to secure spot in Mentor Program

The popular
MOSES Farmer-to-Farmer Mentoring Program
is accepting applications for 2014. The program pairs experienced organic farmers with either those new to farming (with at least one year's experience) or those new to organic production. The goal is to help mentored farmers master organic practices, focus on goals and priorities, and lay a strong foundation for future success.
The Mentor Program consistently gets enthusiastic evaluations from participants. Mentees say their operations mature much faster under the tutelage of a farmer mentor, while mentored farmers say they find the experience of teaching another farmer about organic production gives them unexpected insights.
The program runs from December through the 2015 MOSES Conference. Participants receive free registration to the 2014 and 2015 MOSES Conference, plus a 2014 Organic University pre-conference course. Mentored farmers pay $200, while mentors receive a stipend. Applications must be submitted by Nov. 15, 2013.
---
Final field days cover alternative energy, diversification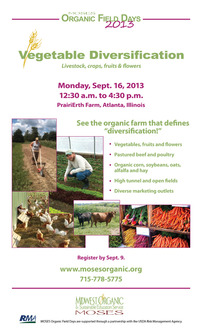 Our last two field days take place in the next few days.
Harvesting Energy: Wind and Solar Power
runs from 2 to 5 p.m. Saturday, Sept. 14 at Radiance Dairy near Fairfield, Iowa. Francis and Susan Thicke, the 2012 MOSES Organic Farmers of the Year, will show how they've put alternative energy to use on their farm. On Monday, Sept. 16, we'll be in the Bloomington, Ill. area to visit the
Bishop family's PrairiEarth Farm
from 12:30 to 4:30 p.m. The farm is a diverse operation with vegetables, fruits, flowers, livestock, crops, high tunnels -- we'll see it all!
Both events are free, and open to farmers to register onsite.
---
Conference focuses on women in farming

The National Conference for Women in Sustainable Agriculture
takes place Nov. 6-8, 2013 in Des Moines. Keynote presenters are Danielle Nierenberg of FoodTank, Pakou Hang of the Hmong American Farmers Association, and Kari Hamerschlag of Environmental Working Group. The conference will include workshops and panels on topics ranging from CSA management to farm bill advocacy, plus field tours to women-owned farms. MOSES is a conference sponsor, and a resource for workshop presenters: Faye Jones, Luisa Gerasimo, Lisa Kivirist and MOSES Board Member Linda Halley will speak on leadership, farming, diversification, global trends and more. Early bird registration deadline is Oct. 1.
Scholarships
are available for beginning farmers and students until Sept. 15.
---
Study shows advantages of prairie strips
A new study by Iowa State University suggests that establishing strips of prairie amid row crops may be one of the most cost-effective, low-effort conservation practices available to farmers in the Midwest. The innovative practice converts one tenth of a row-cropped field to perennial prairie, resulting in more than a 90 percent reduction in soil and nutrient runoff from the entire field. The average cost to treat runoff from an acre of corn or soybeans is just $24 to $35 per year. "
The Cost of Prairie Conservation Strips
," a two-page fact sheet from the Leopold Center, summarizes the results of this 15-year land management study. This report includes the cost of land conversion and maintenance, and the opportunity cost of lost revenue or rent from acreage taken out of crop production.
---
Groups take sides on organic check-off
The yet-to-be-passed Farm Bill allows for an organic producer vote on a possible organic check-off to fund organic research and promotion. Supporters of the check-off see it as an opportunity to educate consumers about the benefits of organic agriculture and a way to fund research on organic production practices in order to stimulate growth in the organic sector. The Organic Trade Association (OTA) has a website,
United for More Organic,
dedicated to the check-off that discusses how it might be managed, and how the money might be allocated. Several organic farmer organizations are working together to oppose a Federally managed check-off, and have created a petition for its removal from the Farm Bill. Farmer concerns include the poor record of many of the current commodity check-offs in protecting pay price for family farmers, as well as the promotional limitations a government-managed program would have. The
NODPA website
explains the issues with a federal check-off as it currently is written in the Farm Bill.
---
Comments accepted prior to October NOSB meeting
The National Organic Standards Board (NOSB) meets Oct. 22-24, 2013 in Louisville, Ky., to review proposed changes to the National List of approved and prohibited substances. The public can comment on proposed changes either in person or by
submitting a comment online
. The deadline to submit a comment or
schedule a speaking slot
is Oct. 1. Proposed changes are listed under "Subcommittee Proposals" on the
USDA NOSB website
.
---
NOP considers allowing mulch film to remain in field

The National Organic Program (NOP) is considering a proposal to allow farmers to leave biodegradable biobased mulch film in the field at the end of the growing season, reducing waste and farm worker labor costs. The mulch couldn't contain genetically modified ingredients and would need to meet other requirements. The NOP is accepting
public comments
through Oct. 21, 2013.
---
Deadline for comments on Egg Safety Rule nears
The deadline to
comment
on the U.S. Food and Drug Administration's Egg Safety Rule is Sept. 23. Following concerns from organic producers, the FDA worked with the National Organic Program to create
draft guidance,
issued in July. This guidance provides suggestions on how egg producers with 3,000 or more laying hens (smaller producers are exempt) can protect their poultry from predators, pests, wild birds and other animals and comply with the new egg regulation, yet still provide hens outdoor access. Highlights include clarifications that open outdoor areas aren't part of the poultry "house" and are therefore exempt from the housing requirements, and that it is not necessary to cover the entire open outdoor area with netting.
---
Grants available to farmers, ranchers

The North Central Region - Sustainable Agriculture Research and Education Program (NCR-SARE) has opened its
Farmer Rancher Grant Program
, a competitive grants program for farmers and ranchers who want to explore sustainable solutions and innovative ideas to farming issues through on-farm research, demonstration, and education projects. Individual, partner, and group grants are available, ranging from $7,500-$22,500. NCR-SARE expects to fund 45 projects within the 12-state region. Proposals must be submitted by Nov. 14, 2013. NCR-SARE has added an online submission system this year.
---
Online GAPs course offered for growers, processors

Cornell University offers two sessions of
Implementing GAPs: A Key to Produce Safety
,
a self-directed online course on Good Agricultural Practices. The sessions are Sept. 18-Oct. 10 and Oct. 23-Nov. 12, 2013. The course typically takes 15-20 hours to complete. Course fee is $190.
---
USDA maintains directory of farmers markets

The
USDA National Farmers Market Directory
provides access to information about U.S. farmers market locations, directions, operating times, product offerings, and accepted forms of payment. If the markets you sell at aren't listed, send details to: directoryupdates@ams.usda.gov.