MOSES Organic Link
---
New Farmer Summit gives beginning farmers food for thought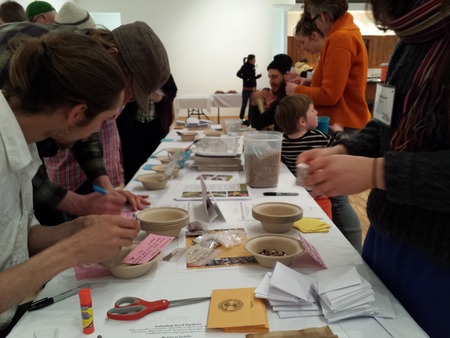 Over 150 new and aspiring farmers took part in the New Farmer Summit April 3-5 at Primrose Valley Farm in Belleville, Wis. MOSES partnered with Renewing the Countryside, the National Young Farmers Coalition, Agrarian Trust, and the USDA to put on this well-received event. Participants chose six workshops from a list of 24 topics that covered everything from land access to organic pest management, prompting several to call the event a "mini-MOSES Conference." In addition to presentations, the summit included a square dance, a seed swap (shown above), and optional tours of nearby organic farms.
---
Disaster assistance sign-up opens April 15
The USDA will open sign-up for disaster assistance programs Tuesday, April 15, 2014. Note that these programs provide payments based on non-organic prices. To see what's covered, visit the USDA Farm Service Agency website.
---
Events, webinars focus on organic ag
MOSES' online Community Calendar provides a gateway to events, webinars, and workshops happening in the Midwest that are focused on sustainable and organic farming. Bookmark the Community Calendar to find activities to help you grow organic.
Highlighted events in April:
Farmer Veteran Events
Apr. 10 & 12 | 8:30 a.m. to 5 p.m.
The Farmer Veteran Coalition and Drake University Agricultural Law Center host free events for veterans to learn about careers in farming: April 10 at the Organic Field School in Northfield, Minn. and April 12 at Growing Power Farms in Milwaukee, Wis.

Introduction to Small Ruminant Husbandry
Apr. 26 | 1-5 p.m. | Ashby, Minn.
The Sustainable Farming Association puts on this workshop at Paradox Farm. Cost is $80.

Thrive Sustainability Series: Grass-Fed Beef
Apr. 28 | 7 p.m. | Chowgirls Parlor, Minneapolis, Minn.
Todd Churchill from 1000 Hills Cattle Company talks about raising beef using no grain, no antibiotics, and no artificial hormones. Cost is $10.

Upcoming Webinars:
On-Farm Food Safety and Conservation
Apr. 15 | 4 p.m.
Learn how pathogens get on the farm, and a multi-barrier approach to minimize food safety concerns through conservation practices and Good Agricultural Practices (GAPs). USDA NRCS webinar.

Selecting and Working with a Distributor or Broker
Apr. 15 | 4:30 p.m.
Jane Hawley-Stevens and Dana Rogers present the pros and cons of working with distributors and brokers. From the School for Organic Processing Entrepreneurs.

Getting your Food Product Into Retail Stores
Apr. 22 | 4:30 p.m.
The School for Organic Processing Entrepreneurs continues as Matt D'Amour and Adrian Reif talk about working with a distributor or direct marketing your product.

Urban Farms: Commercial Farms or Socially Minded Operations?
Apr. 29 | 12 p.m.
Researchers at NYU, Penn State, and NCAT-ATTRA analyze the differences between nonprofit and commercial urban farms.
---
Save 25% on books about food, farming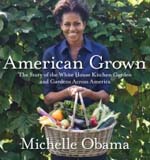 If you missed the sale table at the MOSES Conference Bookstore, here's your chance to shop our book sale. Choose from more than 70 titles about sustainable living, real-food cooking, gardening, and organic farming. Shipping is free on orders over $50. Purchases help fund programs that improve farmers' success in sustainable, organic production.

---
Free manuals cover organic plant breeding
Organic Seed Alliance just published four organic plant breeding manuals to encourage organic farmers to participate in developing varieties suited to organic systems. The manuals include an introduction to plant breeding and three crop-specific manuals (tomatoes, carrots, and sweet corn) that provide step-by-step instruction for identifying good breeding material and maintaining a new variety for quality and uniformity.
---
Report provides examples of SARE-funded projects
SARE's biennial Report from the Field profiles grant recipients and projects to improve the sustainability of American agriculture. The free report includes examples of SARE-funded projects on soil health management, local and regional food systems, specialty crop diversification, season extension, and more. It also includes updates on funding allocations and priority activities in each of SARE's four regions.
---
Online registries help farmers avoid pesticide drift on fields
The DriftWatch Specialty Crop Site Registry has expanded to include 11 states (all Midwestern states except Iowa and the Dakotas). The mapping tool provides a way for organic and specialty crop farmers to identify fields they want to protect from pesticide spraying. Beekeepers also can mark the locations of beehives. Applicators who register with the site receive email notifications with map updates. It is free to use this service.
Farmers in states not served by DriftWatch can register fields/hives through state ag departments in Iowa, North Dakota, and South Dakota.
---
Website gives tips for controlling wildlife pests
The website Creative Critter Control provides non-toxic, humane methods for controlling pests such as gophers, moles, deer, squirrels, raccoons, skunks, mice, rats, rabbits, wild turkeys and more. Controls are based on animals' activities, food sources, and life cycles. Before using any materials recommended on the site, check with your organic certification agency for approval.
---
Programs help people decide if farming
is a fit
New farmers who are curious if farming could be a viable career have a couple of options to help them figure that out. They can take a free online tutorial through the National Center for Appropriate Technology. Getting Started in Farming: An Introduction to Farm Business Planning is a free, eight-lesson online course that guides students through the process of imagining and planning a successful farming enterprise. The Land Stewardship Project (LSP), based in Minnesota, also offers an exploratory workshop designed to help people who are seeking practical, common sense information on whether sustainable farming is the next step for them. The next half-day Farm Dreams workshop is April 27 in Menomonie, Wis. The cost is $20 for LSP members, $40 for others.
---
Expo highlights organic products in Wisconsin
The Natural & Organic Expo takes place May 3 in Oshkosh, Wis. The event includes a trade show with farming equipment and supplies, including organic seedlings. The event also includes an on-site farmers' market and organic food court. Representatives from the state will be on hand to discuss farm-to-school initiatives and programs that support organic farming.
---
Land Link-Up connects buyers, sellers
MOSES' online Land Link-Up provides free listings to help connect farmers with farmland. Here's a sample:

FOR RENT: Bluefield Farm is available for rent to an individual, couple, family or group with sustainable farming experience. This is a unique opportunity located near North Manchester, Ind. Includes a 3 BR home, 1.5 acre chem-free market gardens and a pole barn. Organic gardening experience & references are required. Contact Sharon at awakentograce@gmail.com or 870-867-2058.
---

April 2014








Education, resources, and expertise to help farmers grow organic.