Welcome to the Organic Link!

This is the start of a new fiscal year at MOSES. It's time we both harvest and cultivate -- as we wrap up the MOSES Organic Field Days, we're harvesting good ideas for next year's topics, while we're also busy cultivating the workshop seeds planted in June, ensuring those "seed" topics grow into fruitful sessions for you at the 2013 MOSES Organic Farming Conference. Hope you have Feb. 21-23 marked on your calendars!
It is a busy time of year not only here at MOSES and for our farmers in the fields, but also for the organic community as a whole. This Organic Link connects you with news about the Farm Bill, the Stanford study, Proposition 37 to label GMOs and much more news of interest to the organic community.
---

Representatives drop ball on Farm Bill
Rather than addressing much-needed reform and providing immediate relief for drought-stricken farmers, House leadership left town without addressing the Farm Bill passed by their own House Agriculture Committee on a bipartisan vote. An extension is in place so a lame-duck session in November and December may address the bill. On Oct. 1, conservation and dairy support programs will expire. The lack of a Farm Bill will cause uncertainty for farmers who start planning for the next crop season even before this year's crops are harvested.
Please take 5 to let your representative know your thoughts. Help us push for organic certification cost-share, organic research, and conservation programs, and a vote on the Farm Bill in November/ December. The National Sustainable Agriculture Coalition, which includes MOSES, has written an
FAQ-style blog
on the status of the Farm Bill.
---
MOSES Organic Field Days yield good responses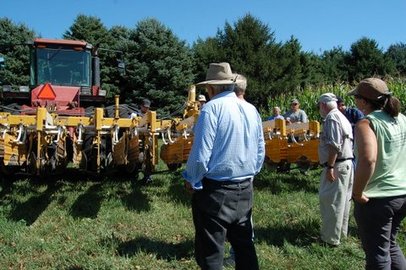 We don't often see equipment this size on an organic farm. So attendees to the MOSES Organic Field Day Sept. 6 had lots of questions for hosts Aaron and Paul Butler.
More than 500 farmers joined us for various MOSES Organic Field Days in Iowa, Illinois, Wisconsin and Minnesota this summer to learn about new ideas in organic farming. We appreciate all the hosts and presenters who gave informative, engaging presentations--with discussions so lively, we often stayed well beyond "closing time."
Attendees dutifully filled out evaluations, providing great positive feedback that will help us plan next year's events. If you have a particular topic you'd like to see covered in a field day, please send a note to angie@mosesorganic.org.
---
NOP allows limited use of methionine for poultry
The National Organic Program (NOP) has issued a final rule extending the
use of synthetic methionine
at limited levels for organic poultry production. Beginning Oct. 1, producers can use up to 2 pounds per ton of feed for laying and broiler chickens, and up to 3 pounds per ton of feed for turkeys and all other poultry. Methionine is an essential amino acid for poultry, necessary for proper cell development and feathering. The National Organic Standards Board determined that while wholly natural substitute products exist, they are not presently available in sufficient supplies to meet poultry producer needs.
---
Guide helps small-scale producers in Iowa
The Leopold Center for Sustainable Agriculture and the Iowa Local Food and Farm Initiative recently published Iowa Food Marketing Regulations: A Guide for Small-Scale Producers. The guide provides information about state regulations governing food sales based on type of food, where it is sold, how it is processed, scale of operation and type of customer. The guide also lists agencies to contact with specific questions and the process for obtaining each license. It is available as a free download.
---
Stanford study fuels dialog about organics

A much-talked-about study published by Stanford researchers on the nutritional value of organic versus conventional food is still generating debate. When the study initially appeared Sept. 4 in the Annals of Internal Medicine, MOSES responded by creating a web page with links to the mainstream articles along with synopses of responses from organic supporters.Check out the responses to the Stanford study on
Organic is Better for Health
. Watch for the Nov/Dec
Organic Broadcaster
for more clarification about the value of organic ag from MOSES Organic Education Specialist Joe Pedretti.
---
Funds available for value-added grants

USDA Rural Development has published the Notice of Funds Availability (NOFA) for the Value Added Producer Grant (VAPG) program. The Application deadline is Oct. 15, 2012. Agricultural producers or producer groups may apply for either a feasibility study grant (maximum $100,000) or a working capital grant ($300,000 maximum). Eligible activities must be related to the processing and/or marketing of valued-added agricultural products.
The National Sustainable Agriculture Coalition (which includes MOSES) created the Farmers' Guide to Value-Added Producer Grant Funding with details on the program and hints to improve your chances of being funded. It is free to download.
---
USDA streamlines organic resources

The USDA National Organic Program (NOP) launched an
Organic Literacy Initiative
in September. The initiative is designed to connect current and prospective organic farmers, ranchers, and processors with appropriate USDA resources. The main feature is the free 45-page USDA Organic Resource Guide (PDF) which describes USDA programs and provides contact information. There's also a 9-page brochure, Is Organic an Option for Me?
NOP is updating/simplifying other training and outreach materials to help farmers understand what the organic label means and how certification works. (See the updated fact sheet to the right.) The NOP website has been streamlined to make it easier to find resources. There's also an
Organic 101 blog series
that explains different aspects of the certification process.
---
California's Prop 37 could pave way for GM labeling
More than a million people have asked the U.S. Food and Drug Administration to label GMOs. This election, Californians are voting on Proposition 37, the Right to Know law. Why should you care? If Prop 37 passes, it paves the way for other states to pass similar laws to allow people to, at the very least, know if the food they eat has been genetically modified -- something that 50 other countries already require.
French researchers just released results from the first long-term study of GM corn, which showed rats fed GM corn and water with "safe" amounts of Roundup grew tumors, had kidney and liver damage and died earlier than the control group. Environmental problems associated with genetically engineered crops are well documented, including biodiversity loss, an overall increase in pesticide use, the emergence of super weeds and super bugs that are threatening millions of acres of farmland, and the unintentional contamination of organic and non-GM crops.
Just Label It and Right to Know have more details about the concerns over GM foods. Also, this LA Times story says Prop 37's strong voter support could be threatened by a new ad campaign claiming the law would send food prices spiraling upwards.
---
---


Need more frequent updates on happenings in the organic community?
Follow MOSES on
Facebook and
Twitter!

Facebook note:
Even if you've "liked" MOSES, you might not see our posts in your news feed. To ensure you do, hover over the "Liked" button on the MOSES
Facebook page near the cover photo. A menu will appear. Select "show in news feed."
NOW you're connected!
---
---
---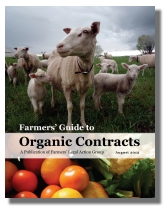 Farmers' Legal Action Group (FLAG) just published the
Farmers' Guide to Organic Contracts.
It's free to download.
---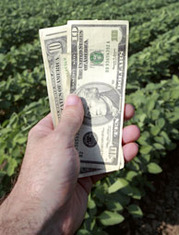 Lisa Kivirist, MOSES Rural Women's Project Coordinator, has written 5 Steps to Writing a Farm Grant for HobbyFarms.com. She suggests ideas to help farmers find money to pursue farm improvements.



---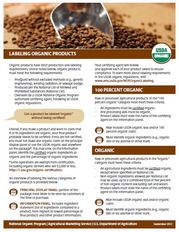 The National Organic Program recently updated its free fact sheet on Labeling Organic Products, explaining when the USDA organic seal and "organic" may be used.