Ready for the 25th MOSES Conference?

In just two weeks, we'll all be heading to La Crosse for our annual "re-invigoration," the chance to nourish our minds with knowledge, our hearts with support, and our bellies with the fruits of our farming labors: good-for-the-body-and-soul organic food.
Online registration
closes at midnight Friday, Feb. 14. Mail-in forms should be postmarked by then, too. Interest has been high for this 25th anniversary conference—on-site registration will be limited.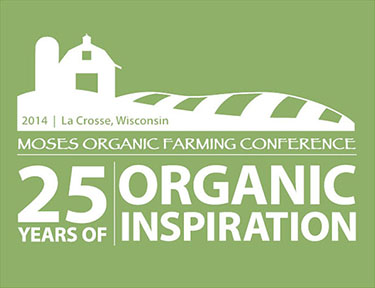 Add an all-day course to your conference trip!
---
Get notices in new MOSES Conference App

The fun, new
MOSES Conference App
lists all the workshop descriptions, presenter information, details about exhibitors, and much more. We'll also post schedule updates during the conference directly to the app. Use it to create your own conference schedule so you can take advantage of every minute—this conference is BURSTING with activities!
---
Exciting time for research
The Poster Gallery for the 5th Annual Organic Research Forum, which takes place Friday and Saturday at the MOSES Conference, is 47% bigger than just last year! A total of 50 posters will be featured in this juried show. The poster presenters will be in the Gallery from noon to 1:30 p.m. both days to answer questions.

---
Support organic farming at benefit dinner
Enjoy a great night out by getting a ticket to the Wine & Dine benefit at The Waterfront Restaurant and Tavern. You'll be supporting MOSES' programs that help organic and sustainable farmers grow successfully. If you've already completed your conference registration, just call us to add a ticket to the Wine & Dine: 715-778-5775.
---
Thanks to our Blazing Star Sponsors: