---
Early registration ends Jan. 16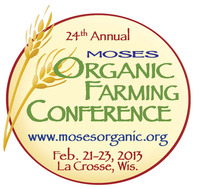 Less than two weeks are left to take advantage of the early registration prices for the MOSES Organic Farming Conference and MOSES Organic University. Register quickly and securely
online
.
Our workshop and Organic University presenters are well known in their fields. Several have written books recently, which should be published in time for the conference. Among the titles are the second edition of Ross Conrad's
Natural Beekeeping,
John Navazio's new book
A Farmer's Guide to Vegetable Seed Production,
and Mark Shepard's new book
Restoration Agriculture.
Ross and John will teach full-day courses in the pre-conference Organic University, while Mark leads a permaculture workshop during a Friday session. See the full list of workshops with links to descriptions
here
.
In addition to a slate of great workshops, the MOSES Conference includes an expanded
Exhibit Hall
with more than 170 exhibitors. This info/service/product-packed venue is open exclusively to registered conference attendees.
Exhibitors please note:
The Exhibit Hall is FULL for the 2013 conference. Please contact us after April 1 if you want to be considered for the
waiting list
for the 2014 MOSES Conference.
---
Farm Bill mutilated by 'fiscal cliff' deal
A deal struck between Vice President Joe Biden and Senate Minority Leader Mitch McConnell to address the fiscal cliff ignored the bi-partisan agreement between the leaders of the House and Senate agriculture committees which would have extended the 2008 Farm Bill with subsidy reforms and funding for organic, local, beginning farmer and conservation programs. In the early hours of Jan. 1, the House and Senate passed a nine-month extension of the 2008 Farm Bill that eliminated mandatory funding for critical organic programs including the organic data initiative, organic research and extension initiative, and certification cost-share. Instead, the deal provided $5 billion to fund direct commodity payments to producers, an "unnecessary, antiquated" program slated for elimination by both draft bills from the full Senate and the House Agriculture Committee.
"The new congress will need to address a new farm bill in the coming months," said Harriet Behar, MOSES Organic Specialist. "There is an opportunity to re-fund these programs if congress hears loud and clear from their constituents that they are needed." Harriet heads to Washington Tuesday with the National Organic Council to meet with
Agriculture Secretary Tom Vilsack
. Watch for updates on that meeting and more
here
.
Programs without mandatory funding in Fiscal Year 2013:
Specialty Crop/Horticulture Title:
Farmers Market Promotion Program, Clean Plant Network, Organic Cost-Share, Organic Data Collection
Conservation Title:
Voluntary Public Access ("Open Fields"), Watershed Rehab, Desert Terminal Lakes, Rural Development Title, Rural Micro-entrepreneur Assistance Program (RMAP), Value-Added Producer Grants (VAPG)
Research Title:
Organic Research and Extension Initiative (OREI),Specialty Crop Research Initiative (SCRI), Beginning Farmer and Rancher Development Program
Forestry Title:
Healthy Forest Reserve Act
Energy Title:
Bio-based Markets Program, Bioenergy Program for Advanced Biofuels, Biodiesel Fuel Education Program, Rural Energy for America Program (REAP), Biomass Research and Development Program, Biorefinery Assistance Program, Biomass Crop Assistance Program (BCAP)
Miscellaneous Title:
Section 2501 Outreach for Socially Disadvantaged Farmers & Ranchers
---
Census provides opportunity to count organic

The USDA's 2012
Census of Agriculture
offers a chance to show how much acreage is being managed organically and sustainably. Forms are due by Feb. 4. The USDA conducts a census every five years. The data collected is used to help leaders in government and business make funding decisions for policies as well as research projects. Organic and sustainable farmers should participate in the census to ensure their voice is heard in an environment that "favors large-scale, conventional agriculture," said Beth Osmund of Cedar Valley Sustainable Farm in Ottawa, Ill.
---
USDA creates guides for organic producers

The USDA launched its
Organic Literacy Initiative
last September to help connect current and prospective organic farmers, ranchers, and processors with USDA resources. As part of this initiative, the National Center for Appropriate Technology (NCAT) has partnered with the National Organic Program (NOP) on four new guides with information about organic requirements, best practices, and the certification process. The guides can be downloaded free from the
ATTRA website.
---
Webinar explains USDA discrimination settlement for women, Hispanics
Women, Food and Agriculture Network will host a
free webinar
Jan. 8 to explain the USDA's women and Hispanic discrimination settlement process. This class-action suit covers for women and Hispanic farmers who experienced discrimination by the USDA when making or servicing farm loans during certain periods between 1981 and 2000. Those who qualify and submit a claim by March 25 could receive a cash award of up to $50,000.
---
Wisconsin's draft budget ignores programs that help state's farms
Two effective and important agricultural programs have been cancelled in the draft budget of Wisconsin Secretary of Agriculture Ben Brancel. Both the Agricultural Diversification and Development (ADD) and the Buy Local Buy Wisconsin programs have provided small grants to support a variety of alternative agricultural enterprises. The ADD grants have been funded since the early 1990s--Organic Valley received a couple of early grants. The Buy Local program has facilitated interaction between Wisconsin-based buyers and sellers of agricultural products. If you live in Wisconsin and these programs matter to you, please contact your state representatives to request that these programs be put back into the budget to enhance the growth and health of agriculture and rural communities.
---
States offer GAP, GHP cost-share funds

Agriculture departments in both
Minnesota
and
Wisconsin
reimburse farmers for 75% of the cost to participate in the USDA's voluntary audit programs for Good Agricultural Practices (GAP) or Good Handling Practices (GHP). The audits provide an unbiased review of growers, handlers, or receivers' practices to minimize food safety hazards. They are not mandated by state or federal regulation. Check with your state's Department of Agriculture to see if a similar program is available where you farm.
---
Project gives grants for farm improvements that benefit livestock

Food Animal Concerns Trust (FACT) is accepting grant applications for its Fund-a-Farmer Project, which provides small grants to farmers who want to improve the welfare of their farm animals. Grants of up to $1,500 will be awarded for projects that (1) help farms transition to pasture-based systems, (2) improve the marketing of their humane products, or (3) more generally enrich the conditions in which farm animals are raised. Working, independent family farmers that raise pigs, broiler chickens, laying hens, dairy cows and/or beef cattle are eligible to apply for any of the three types of grants. Projects involving goats and sheep are only eligible for marketing grants. View
guidelines
or
apply
online by May 1, 2013 for awards made in August 2013.
---
Website offers centralized seed sourcing
The Organic Seed Alliance partnered with the Association of Official Seed Certifying Agencies (AOSCA) to develop the online
Organic Seed Finder
, released late last year. The centralized database offers a way for organic growers to find reliable sources for organic seed. Seed vendors pay a fee to post on the site, which provides free access to growers. The site was created to make it easier to find certified organic seeds and to expand overall organic production
.


Growers also have a couple of opportunities to learn more about selecting, saving and breeding seeds at the MOSES Organic Farming Conference Feb. 21-23. Members of the Organic Seed Alliance present a pre-conference Organic University course, "
Art and Science of Organic Seed Production
," and a Saturday workshop, "
Growing Seed Crops for the Upper Midwest
."
---
MOSES specialist presents workshops
MOSES Organic Specialist Harriet Behar will teach two workshops at the
Minnesota Organic Conference Jan. 11 & 12 in St. Cloud: one on organic rules and one on pesticide drift
. MOSES board member Atina Diffley also presents at the Minnesota conference. She's talking about soil-building rotations for vegetable crops.
In addition, Harriet will lead a
free one-hour webinar
Jan. 31 through ATTRA to teach agricultural professionals how to become Technical Service Providers for the NRCS and write conservation plans for farmers who are transitioning to organic.