Fine Dressing, Fine Dining, Fine Opera:
Auction of Arias 2012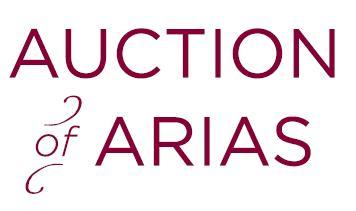 Opera Idaho's first fundraiser of the year, Auction of Arias, is always a big hit amongst our patrons. This event offers a cocktail hour, scrumptous dinner, great socializing and unbeatable arias. The biggest draw to this event is being in close proximity to some of the country's finest singers while they perform their best arias.
October 12th, 2012
6pm-10pm
Boise Philharmonic Reception Room, 516 S. 9th Street
$80 for dinner, dessert & arias
$30 for wine & arias
To purchase tickets please visit our
website
or call 345-3531 x2.
---
Please RSVP for Annual Volunteer Luncheon!

The Volunteer Luncheon is a great event to attend to get more information about existing volunteer opportunities, meet other volunteers, get a preview of our 2012-13 season and pick which events you'd like to help us with! Lunch provided by the Opera Idaho staff. We'll have two mezzo-sopranos and one baritone, all new to the Resident Company in the last year, each singing an aria for your enjoyment.
If you plan on attending, please RSVP by Wednesday (tomorrow) at 5pm by e-mailing Janessa@operaidaho.org!
September 13th
12:00pm - 1:30pm
513 S. 8th Street
FREE
_________________________
Opera Idaho's 2012-13 Season

Verdi's
Falstaff
Friday, October 26
Sunday, October 28
The Egyptian Theatre

Humperdinck's
Hansel & Gretel
December 28-30
Boise Contemporary Theater

Lauren Edson & Jason Detwiler in
The Winterreise Project
Friday, February 1
Sunday, February 3
The Egyptian Theatre
Leoncavallo's
Paglacci with
Stravinsky's
Pulcinella Suite
Friday, March 1
Sunday, March 3
The Egyptian Theatre
Floyd's
Susannah
Friday, May 17
Sunday, May 19
The Egyptian Theatre

Rodgers & Hammerstein's
The Sound of Music in Concert
Friday, July 19
Sunday, July 21
To subscribe to or purchase single tickets for our 2012-13 Season please visit our website at www.operaidaho.org!
Don't Miss Your Chance to Be Part of Something Larger than Yourself!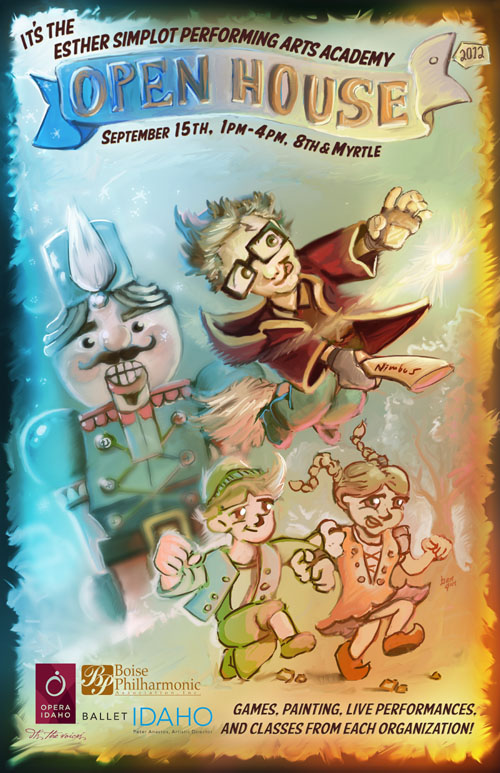 This Saturday, September 15th marks the second annual Esther Simplot Performing Arts Academy Open House, put on by Ballet Idaho, Boise Philharmonic & Opera Idaho (the three organizations that make up the Academy).

Our Open House features mini-dance lessons by Ballet Idaho, short performances by the Boise Philharmonic String Section, a short chorus demonstration by Linda Berg, a season preview by Opera Idaho's Resident Company, games by Boise City's Mobile Rec Van, a community mural kids are encouraged to paint on, cotton candy, popcorn and more! Bring your family down to our Academy (between 8th and 9th, Myrtle & Fulton streets) to partake in the myriad of events we'll be offering!
ESPAA Open House
September 15th
1pm-4pm
513 S. 8th Street
FREE
---
Our First Art Song Recital Is Just Around the Bend!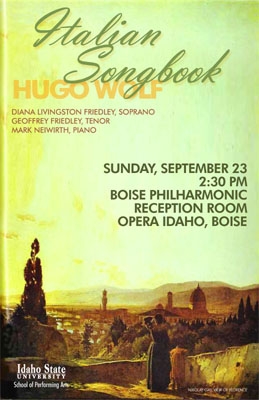 Save the date for our first recital in this season's Art Song Series, Hugo Wolf's "Italian Songbook". This recital will be performed by a couple of very talented vocalists, Diana Livingston Friedley and Geoffrey Friedley.
Sunday, September 23rd at 2:30pm
Location: 516 S. 9th St., Boise Phil. Reception Room
All events followed by a reception
FREE

Other concerts:
November 18: A Visit From the East (of Idaho)
April 7: Love in the Afternoon
May 5: The Birds and the Bees
June 2: Anything Goes

For more information please visit our website.
____________________________________________

Update: Children's Choruses

The Children's Choruses had incredible turnout for auditions. For the first time in many years, our choruses are FULL! We accepted 38 new members audition and have a total of 87 choristers. Look forward to an outstanding year of Children's Choruses performances!