Children's Choruses Auditions This Week

The opera's doors are open this week to audition for the Children's Choruses led by Linda Berg. These incredible ensembles will participate in a multiplicity of events this year including the main stage operas Falstaff, Hansel & Gretel and Susannah as well as the annual participation in Ballet Idaho's The Nutcracker, and a mini production of The Pirates of Penzance.

If your child is interested in being a part of our ensemble, please e-mail fernando@operaidaho.org to schedule a time. More information available on our website.
---
'Lunch on Us' for Annual Volunteer Luncheon!

Ever had a desire to give back to the community by donating your time? Opera Idaho is a great nonprofit to gift that time to, and we make it a lot of fun! From ushering to mailings, we need your skills to help our events go off without a hitch!
The Volunteer Luncheon is a great event to attend to get more information about existing volunteer opportunities, meet other volunteers, get a preview of our 2012-13 season and pick which events you'd like to help us with! Lunch provided by the Opera Idaho staff. We'll have two mezzo-sopranos and one baritone, all new to the Resident Company in the last year, each singing an aria for your enjoyment.

September 13th
12:00pm - 1:30pm
513 S. 8th Street
FREE*

*Please RSVP by e-mailing janessa@operaidaho.org.
_________________________

Opera Idaho's 2012-13 Season

Verdi's
Falstaff
Friday, October 26
Sunday, October 28
The Egyptian Theatre

Humperdinck's
Hansel & Gretel
December 28-30
Boise Contemporary Theater

Lauren Edson & Jason Detwiler in
The Winterreise Project
Friday, February 1
Sunday, February 3
The Egyptian Theatre
Leoncavallo's
Paglacci with
Stravinsky's
Pulcinella Suite
Friday, March 1
Sunday, March 3
The Egyptian Theatre
Floyd's
Susannah
Friday, May 17
Sunday, May 19
The Egyptian Theatre

Rodgers & Hammerstein's
The Sound of Music in Concert
Friday, July 19
Sunday, July 21
To subscribe to our 2012-13 Season please visit our website at www.operaidaho.org!
Join Ballet Idaho, Boise Philharmonic and Opera Idaho for the ESPAA Open House!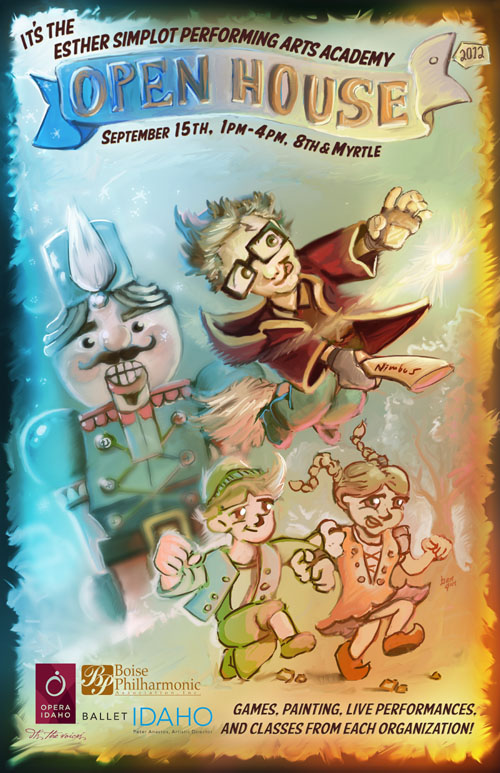 September 15th marks the second annual Esther Simplot Performing Arts Academy Open House, put on by Ballet Idaho, Boise Philharmonic & Opera Idaho (the three organizations that make up the Academy).

Bring your family down to our Academy (between 8th and 9th, Myrtle & Fulton streets) to partake in the myriad of events we'll be offering: free mini-demonstrations and classes hosted by each organization, a community mural the kids can partake in, free popcorn and cotton candy, live mascots and more!


September 15th
1pm-4pm
513 S. 8th Street
FREE
---
Get Ready for This Season's Art Song Recital Series!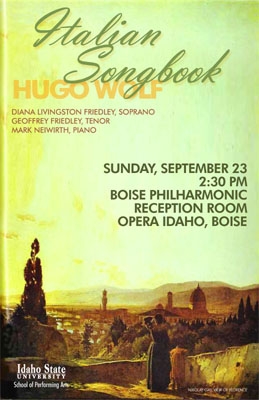 Last year was the first year we experimented with a free series of Art Song Recitals; a type of operatic song, usually based on poetry, that is sung in a concert setting. We had tremendous turn-out for all our recitals, and we're excited to start the series back up!

Our first in the series will be performed by a couple of very talented vocalists, Diana Livingston Friedley and Geoffrey Friedley, who will be singing Hugo Wolf's "Italienisches Liederbuch".
Sunday, September 23rd at 2:30pm
Location: 516 S. 9th St., Boise Phil. Reception Room
All events followed by a reception
FREE

Other concerts:
November 18: A Visit From the East (of Idaho)
April 7: Love in the Afternoon
May 5: The Birds and the Bees
June 2: Anything Goes

For more information please visit our website.
____________________________________________

Update: Resident Company

The Opera Idaho Resident Company is a group of vocalists who participate as the chorus and small to major leads in our main stage operas. The group is a mix of college students, professionals and part-time vocalists.

Recently, the Resident Company elected new officers. The company re-elected Michael Jarolomik as President and newly elected Jason Detwiler as Vice-President.

Last week, Opera Idaho had auditions for the Resident Company and had a great turn-out: about twenty auditions and brought in seven new members! Watch for new faces in our 2012-13 season.