2013-2014 Season Subscriptions on Sale Now!
Opera Idaho's
2013-2014 Season
Wolfgang Amadeus Mozart's
The Marriage of Figaro
2013
Friday, November 8th at 7:30pm
Sunday, November 10th at 2:30pm
The Egyptian Theatre

Georges Bizet's
Carmen
2014
Friday, February 28th at 7:30pm
Sunday, March 2nd at 2:30pm
The Morrison Center

Giacomo Puccini's
Gianni Schicchi
and
Leonard Bernstein's
Trouble in Tahiti
2014
Friday, April 11th at 7:30pm
Sunday, April 13th at 2:30pm
The Egyptian Theatre
As a season ticket holder you will be given 20% off the ticket price for added A la Carte Productions when we announce them. You will also be given first pick of preferred section, performance dates, seat selection, discounted parking passes, and guaranteed entrance to our sold-out performances!

Your season tickets will be mailed to you by September 15, 2013. As a subscriber, should you wish to exchange your tickets for another performance of the same opera, you may do so at any time after receiving your tickets. As a benefit to season subscribers, additional single ticket purchases will be 10% off mainstage productions.

Single ticket orders for ALL performances will begin September 30. We encourage you to visit our web site at to learn more about the season, casting as it becomes known and other information.

Thank you for your continued support of Opera Idaho!

For more information or to purchase your subscription contact Fernando Menendez 208.345.3531 ext. 2 fernando@operaidaho.org
---
Opera Idaho at the
Boise Sesqui-Party!
Join Opera Idaho and many others on Sunday, July 7th from 12 to 5pm* at Julia Davis Park to help celebrate Boise's 150th Anniversary! Music, performance, and entertainment at the Gene Harris Bandshell and at four other locations throughout the park - three Sesqui-Scenes and the Global Lounge Stage.
Noon
– Opera Idaho singers Jason and Michele Detwiler will sing opera favorites. The Detwilers reside in Boise but sing with opera companies nationwide and most recently were noted for their performances of the Serbian National Anthem at the Davis Cup Tennis tie in Boise. With Opera Idaho they've performed in numerous operas over the last several seasons:
Madama Butterfly
,
The Ballad of Baby Doe
,
La Cenerentola
,
Faust
, and others. Next season the Detwilers, married in real life, will take the roles of husband and wife in Leonard Bernsteins'
Trouble in Tahiti
; Jason will also perform roles in Puccini's
Gianni Schicchi
and Mozart's
The Marriage of Figaro
.
4:30PM
– Featured are singers from Opera Idaho's Children's Choruses who play the roles of the von Trapp children in Opera Idaho's performances later this month of
The Sound of Music in Concert
. The two choruses were formed in 1993, currently have 90 members ranging in age from 8 - 18, and are led by founding director Linda Berg. The performances of
The Sound of Music in Concert
are July 19th (Idaho Botanical Gardens) and 21st (Woodriver Cellars, Eagle).
For location information and
for more information about the
Boise Sesqui-Party click HERE
.
---
The Hills are Alive... with The Sound of Music in Concert!
Boise, Idaho - Opera Idaho's 2012-2013 season wraps up in July with its summer musical The Sound of Music in Concert performing on Friday, July 19th at the Idaho Botanical Gardens in Boise at 7:00pm and Sunday, July 21st at Woodriver Cellars in Eagle at 7:00pm. This is the fourth in an annual series of musicals performed by Opera Idaho vocalists in an outdoor setting.

The well-known Rodgers and Hammerstein musical tells the story of Maria, a nun turned nanny in Austria, and her influence on the Von Trapp family during the time of World War II. The story was made famous by the 1965 film of the same name starring Julie Andrews.

Stuart Weiser returns to conduct again this season and Linda Berg will direct the Children's Choruses. Opera Idaho's cast has also been announced as following:

Courtney Ruckman - Maria Rainer
Jim Poston - Captain Georg von Trapp
Tiffany Calas - Mother Abbess
Melissa Hamilton - Elsa Schraeder
Douglas Rowland - Max Detwiler
Rachael Griffith - Sister Bertha
Heather Foutz - Sister Margaretta
Tess Worstell - Sister Sophia

Children's Friday Night Cast:
Olivia Niederer - Liesl von Trapp
Quinten Loveland - Friedrich von Trapp
Elke Myers - Louisa von Trapp
William Thompson - Kurt von Trapp
Micki Leibow - Brigitta von Trapp
Cynthia Narkin - Marta von Trapp
Jessica Byres - Gretl von Trapp
Nick Cravens - Rolf Gruber

Children's Sunday Night Cast:
Joanna Hancock - Liesl von Trapp
Gabe Stump - Friedrich von Trapp
Allie Ogden - Louisa von Trapp
David Hansen - Kurt von Trapp
Lauren Caldwell - Brigitta von Trapp
Joshalyn Smith - Marta von Trapp
Salma Schwartzman - Gretl von Trapp
Cody Stump - Rolf Gruber
Both outdoor venues are picnic-style and family friendly. At both venues, patrons are welcome to bring their own meals and sealed beverages. However
, at Woodriver Cellars only sealed non-alcoholic beverages are allowed to be brought in from outside the grounds
. Additional food and drink items including wine and beer will be available for sale at both venues.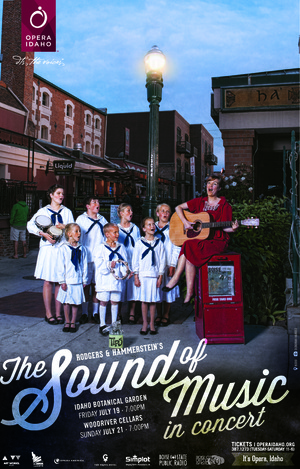 For more information about the performances of
The Sound of Music in Concert
, including cast bios and photos, updated synopsis, and production details please visit our website at
www.operaidaho.org
or call 208.345.3531.
---
Volunteer Opportunities at
Opera Idaho
In the coming weeks and months, Opera Idaho has various volunteering opportunities. Please contact Fernando Menendez at fernando@operaidaho.org or 208.345.3531 ext. 2 if you are interested in learning more!