The First Art Song Recital of 2013!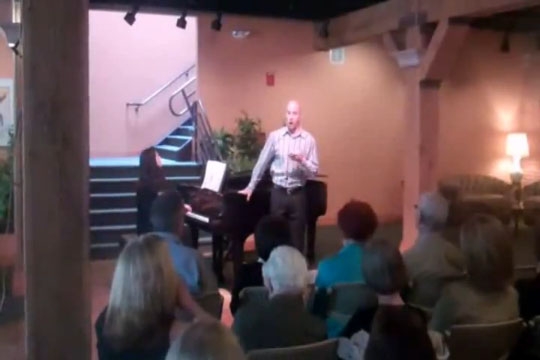 Join Opera Idaho's Resident Company singers in the first of the 2013 series of free recitals dedicated to the form of under-produced music called art songs. These non-staged songs often incorporate well-known poems and seasonal themes with complex music and piano. The theme for this recital is "Love in the Afternoon."
"Love in the Afternoon"
Victoria Arriero
Jennifer Burke
Michele Detwiler
Suzanne Hansen
Michal Jarolimek
Alla Markovich
Sean Rogers (accompanist)

Sunday, April 21 at 2:30pm
Opera Idaho Studio
513 South 8th Street
Boise, ID 83702
FREE to the Public
Click
HERE
to visit our website.
---
Final Met Live In HD Performance of the 2012-13 Season Followed by a Celebration!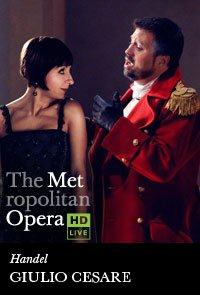 Following the Met Live in HD performance of Giulio Cesare, join Opera Idaho at Johnny Carino's to celebrate the season of beautifully produced opera!

Met Live in HD Season After-party!

Saturday, April 27, 2013
Johnny Carino's
1700 S Entertainment Ave Boise, ID 83709



Food and Drinks will available for purchase.

Handel's
Giulio Cesare
Approximate run time: 4:30
The opera that conquered London in Handel's time comes to the Met in David McVicar's witty and effervescent production. The world's leading countertenor, David Daniels, sings the title role opposite Natalie Dessay as Cleopatra. Baroque specialist Harry Bicket conducts.
Synopsis
available in English, French, German, Italian, Japanese, Portugese, Russian, and Spanish
Learn more about Giulio Cesare at the Met
Edward's 21
7701 W. Overland Rd., Boise, ID
Showing:
Saturday, April 27, 2013
10:00am

Encore:
Wednesday, May 15, 2013
6:30pm
New this season:
Edward's Downtown
760 Broad St., Boise, ID
Showing:
Saturday, April 27, 2013
10:00am

Encore:
Wednesday, May 15, 2013
6:30pm
---
Opera Idaho's 2012-13 Season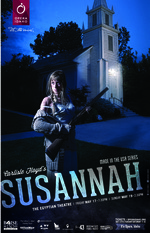 Floyd's
Susannah
Friday, May 17
Sunday, May 19
The Egyptian Theatre

Rodgers & Hammerstein's
The Sound of Music in Concert
Friday, July 19
The Idaho Botanical Gardens
Sunday, July 21
Woodriver Cellars

To purchase tickets to a show in our 2012-2013 season, please visit our website at www.operaidaho.org!
Susannah and Sesqui-Speaks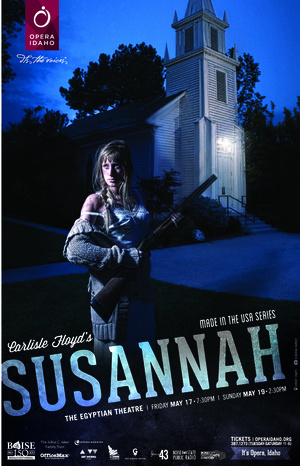 This Thursday, April 18, be sure to check out Opera Idaho General Director Mark Junkert's talk about Carlisle Floyd's opera
Susannah
as a metaphor for McCarthyism, a period of intense fear of communism in America during the early 1950s as part of the Boise Sesqui-speaks Series.
The opera premiered in 1955, which was also the year of the "Boys of Boise" sex scandal that brought Boise to national attention as an anti-homosexuality frenzy gripped the city and destroyed lives and reputations. Mark will delve into the connection between what happened in Boise in 1955 and what was happening nationally at that time, and take a look at these issues in 2013. With live and recorded musical selections from the opera.
Sesqui Speaks! Susannah, McCarthyism and the Boys of Boise
Thursday, April 18 at 7:00pm
Boise 150 Pop-Up Shop
1008 Main St., Boise
FREE to the public

Click HERE for more information.
Floyd's Susannah is a continuation of the Made in the USA series-operas written by American Composers, set in America, touching on an American theme. This is the most often performed American opera and is a metaphor for McCarthyism. Set in a small mountain village in the 1950's, the opera focuses on Susannah, a young woman isolated by her zealous community. Conductor Sara Jobin will return to continue conducting the Made in the USA series. Director Elise Sandell is Opera Idaho's first nationally recognized professional female opera director.
Carlisle Floyd's
Susannah
Friday, May 17 at 7:30pm
Sunday, May 19 at 2:30pm
The Egyptian Theatre

Click HERE to read more about Susannah and to purchase tickets.
---
The General Director's Corner:
With Guest Writer,
Yvonne McCoy*,
"I Love Opera For the Surprises!"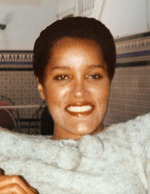 Opera is the only performance art that has everything – vocal and orchestral music, sometimes ballet, and theater. And there's something for everyone, whether it's great love stories, fairy tales, epic dramas, history, tragedy, or comedy.

I've been going to the opera since I was in elementary school and saw my very first, Gian Carlo Menotti's Amahl and the Night Visitors, which became a family tradition during the Christmas holidays. After that I listened to the Metropolitan Opera every Saturday on the radio and eagerly looked forward to my next live performance.

Like all opera lovers, I look forward to attending the most popular ones, e.g., Carmen, La bohème, Marriage of Figaro, Aida, Tosca, The Magic Flute, and others, including anything by Wagner. One might think, after all these years and many, many performances, there would be no more surprises. But there are special surprises all the time, especially since I've begun to enjoy more modern opera, e.g., The Cunning Little Vixen by Janacek, Satyagraha by Philip Glass, and Doctor Atomic by John Adams.

Last season, my husband and I experienced a great surprise when we went to see Opera Idaho's production of the modern opera The Ballad of Baby Doe by Douglas Moore. It is based on the lives of actual historical figures Horace Tabor and his second wife Elizabeth "Baby" Doe Tabor. However, because of Michele Detwiler's very arresting performance of Tabor's first wife Augusta, the title of the opera could rightfully have been changed to "The Ballad of Augusta."

In February, we encountered another surprise when we had the pleasure of hearing and seeing Opera Idaho's The Winterreise Project at the Egyptian Theater. As he always does, baritone Jason Detwiler sang masterfully an achingly beautiful song cycle by Schubert in collaboration with exquisite modern ballet choreographed by Lauren Edson (formerly of the Trey McIntyre Project), and danced by Jason Hartley, Sayoko Knode, and Libby Schmoeger. The scenery was spare and made use of winter scenes in black & white video and still photography projected at the back of the stage, which fit the music and dance perfectly. It was a brilliantly performed collaboration that one might have found in major cities like New York, Paris, or London, but which we were so lucky to have for too short a run here in little ol' Boise.

Another wonderful surprise was the recent Opera Idaho production of Leoncavallo's Pagliacci and Igor Stravinsky's Pulcinella Suite. These had the perfect blend of affecting and recognizable music, compelling stories, and beautiful dance performed by Ballet Idaho. All the principal singers were excellent, but Christopher Bengochea in the role of the tragic clown, Daniel Scofield, and Lucas Goodrich were particular surprises. And, all in the name of collaboration, Daniel Scofield stayed on to bring the Boise Baroque Orchestra's audience to their feet with an unexpected performance of Verdi's "Di provenza il mar" from La Traviata at one of their recent concerts.

We were surprised again this past Sunday when we attended a Davis Cup singles tennis match between the United States and Serbia. Our own Jason Detwiler, in his mellifluous operatic baritone, sang the Serbian national anthem … in Serbian … from memory! And he sang it with passion and beauty. Even the Serbian team, among them no. 1 world champion Novak Djokovic, was dazzled!

Opera is considered by some to be a rarified performance art, but I hope music lovers in our community will keep your minds—and your eyes and ears—open for every opportunity to hear great voices in the performance of opera at its best! You'll find wonderful surprises around every corner!

*Yvonne McCoy is a Resident Company member, an Opera Idaho Board Member, and currently serves as Board Secretary. From time to time we will have a guest writer for this column.
---
Opera Idaho at the Davis Cup Singers
Michele and Jason Detwiler Wowed the World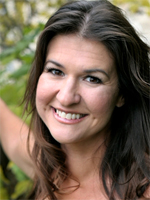 As we're sure you have already heard, The Davis Cup was held in Boise April 5-7. Opera Idaho's own Michele and Jason Detwiler were tapped to participate by singing the Serbian National Anthem. Click here to read what the Idaho Statesman had to say. Michele and Jason have been receiving messages from all over the world thanking them for their beautiful renditions of the Serbian National Anthem. Also, Resident Company Singer Tess Greg sang the American National Anthem at one of the sessions. Great work everyone!