Fine Dressing, Fine Dining, Fine Opera: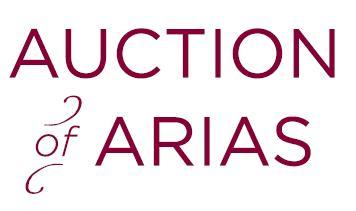 Opera Idaho's first fundraiser of the year, Auction of Arias, is always a big hit amongst our patrons. This event offers a cocktail hour, scrumptous dinner, great socializing and unbeatable arias. The biggest draw to this event is being in close proximity to some of the country's finest singers while they perform their best arias.
6pm-10pm
Boise Philharmonic Reception Room, 516 S. 9th Street
$80 for dinner, dessert & arias
$30 for wine & arias

To purchase tickets please visit our call Fernando, 345-3531 x2.
---
Opera Idaho's 2012-13 Season
Verdi's
Falstaff
Friday, October 26
Sunday, October 28
The Egyptian Theatre

Humperdinck's
Hansel & Gretel
December 28-30
Boise Contemporary Theater

Lauren Edson & Jason Detwiler in
The Winterreise Project
Friday, February 1
Sunday, February 3
The Egyptian Theatre
Leoncavallo's
Paglacci with
Stravinsky's
Pulcinella Suite
Friday, March 1
Sunday, March 3
The Egyptian Theatre
Floyd's
Susannah
Friday, May 17
Sunday, May 19
The Egyptian Theatre

Rodgers & Hammerstein's
The Sound of Music
in Concert
Friday, July 19
Sunday, July 21
To subscribe to or purchase single tickets for our 2012-13 Season please visit our website at www.operaidaho.org!
Our First Art Song Recital is This Sunday, September 23, 2012!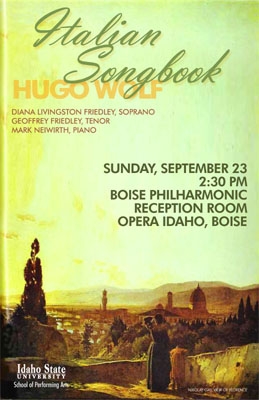 Join us for our first recital in this season's Art Song Series, Hugo Wolf's "Italian Songbook". This recital will be performed by Diana Livingston Friedley and Geoffrey Friedley, voice professors at Idaho State University, accompanied by Mark Neiwirth.
This Sunday, September 23rd at 2:30pm
Location: 516 S. 9th St., Boise Phil. Reception Room
FREE ADMITION

Other concerts:
November 18: A Visit From the East (of Idaho)
April 7: Love in the Afternoon
May 5: The Birds and the Bees
June 2: Anything Goes

For more information please visit our website.
---
We Invite You to
Opera Idaho's Annual Meeting
Tuesday, September 25, 2012 at 5:30pm
Location:
Opera Idaho,
513 S. 8th Street, Boise
So, the big hockey game has been cancelled Tuesday Night due to the NHL lockout. What to do? Come to Opera Idaho's Annual Meeting. No checking, no fights! But, a fabulous performance by our own Jason Detwiler (Baritone), accompaniment by John Bostron, light hors d'oeuvres, desserts, and libations. There will also be board member elections and a brief look at how we're doing.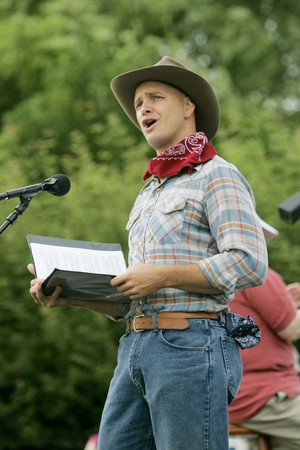 Jason Detwiler as Curly in Oklahoma! in Concert
Please RSVP to Fernando Menendez at 208-345-3531 ext. 2 or fernando@operaidaho.org.
All attendees will be entered automatically into a drawing for a very special door prize!
We hope you can join us.