Reserve Your Tickets for
Hansel and Gretel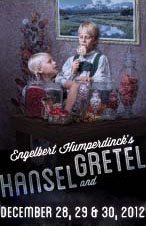 Hansel and Gretel,
starring Melina Pyron as Hansel, Amanda Gardner-Porter as Gretel, Michele and Jason Detwiler as the parents, Victoria Arriero as the Sandman/Dew Fairy, and Suzanne Hansen as the Witch, will be performed December 28, 29, and 30. Be sure to reserve your tickets to this family-friendly opera as soon as possible as they are selling quickly!
Boise Contemporary Theater
854 Fulton Street
Boise, ID 83702

Friday
December 28, 2012
2:30pm and 7:00pm

Saturday
December 29, 2012
2:30pm and 7:00pm

Sunday
December 30, 2012
2:30pm
For more information about the show or to purchase tickets log-on to:
---
Opera Idaho Around Town
Opera Idaho will be out and about all over town this weekend, be sure to catch us at one of these events!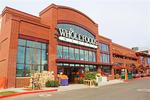 Whole Foods

Opera Idaho will be singing Christmas Carols at the new

Whole Foods
201 S. Broadway
Boise, ID 83702

Saturday, December 15th
3:00pm-4:00pm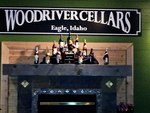 Wood River Cellars

Opera Idaho will be singing Chirstmas Carols at

Wood River Cellars
3705 N. Highway 16
Eagle, ID 83616

Saturday, December 15th
3:00pm-5:00pm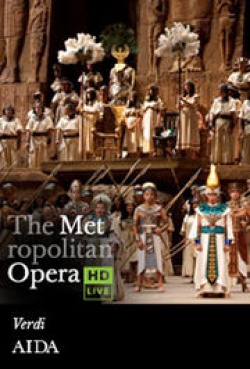 Coffee and Conversations Downtown

Opera Idaho General Director, Mark Junkert, will be hosting Coffee and Conversations before the Met - Live in HD performance of Verdi's Aida at

Edwards Downtown
760 Broad Street
Boise, ID 83702
10:15am
The Verdi Year Ahead
Aida begins at
10:55am
---
Opera Idaho's 2012-13 Season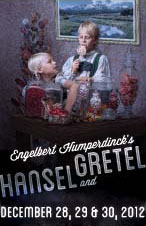 Humperdinck's
Hansel & Gretel
December 28-30
Boise Contemporary Theater

Lauren Edson & Jason Detwiler in
The Winterreise Project
Friday, February 1
Sunday, February 3
The Egyptian Theatre

Leoncavallo's
Pagliacci with
Stravinsky's
Pulcinella Suite
Friday, March 1
Sunday, March 3
The Egyptian Theatre

Floyd's
Susannah
Friday, May 17
Sunday, May 19
The Egyptian Theatre

Rodgers & Hammerstein's
The Sound of Music in Concert
Friday, July 19
Sunday, July 21
The Idaho Bontanical Gardens

To purchase tickets to a show in our 2012-2013 season, please visit our website at www.operaidaho.org!
Save-the-Date
Mardi Gras 2013 Celebration!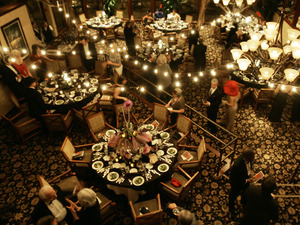 An International Gala
Saturday, February 9, 2013
The Arid Club
6:00pm Full Event - $150
9:30pm Dessert, Dancing and Wine - $50

To reserve your tickets
Click Here
or contact Fernando at
208.345.3531 ext. 2 or fernando@operaidaho.org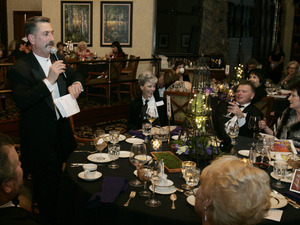 ---
The General Director's Corner: Our Civic Side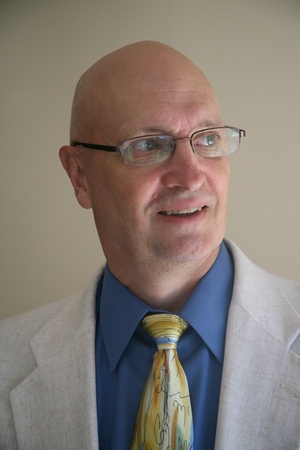 The arts community has long argued that a vibrant arts scene makes communities healthier and livelier. Arts-strong communities attract new business and draw increased revenue from cultural tourism. But, the value that the performing arts bring to communities is being challenged from multiple sides. Charitable giving incentives are being challenged in Congress. Additionally, the FY13 House Budget Resolution stated the funding from the National Endowment for the Arts (funding that through the Idaho Commission on the Arts helps support Opera Idaho) is "generally enjoyed by people of higher income levels, making them a wealth transfer from poorer to wealthier citizens."
Opera Idaho and its predecessor organizations Boise Opera and Boise Civic Opera have been producing opera in The Treasure Valley for nearly 40 years. What difference has it really made in the life our community? Do we only exist to give our wealthier citizens some occasional entertainment?
All great art, opera included, is created to make a statement, generate emotion, encourage thinking or call others to action. Or, to quote President Obama in 2009, "In times of war and sacrifice, the arts … remind us to sing and to laugh and to live. In times of plenty, they challenge our conscience and implore us to remember the least among us. In moments of division or doubt, they compel us to see the common values that we share; the ideals to which we aspire, even if we sometimes fall short. In days of hardship, they renew our hope that brighter days are still ahead." At our best, Opera Idaho does all this.
Many new or relatively new American operas focus on contemporary issues. This season's final mainstage production Susannah was written in 1955 as a metaphor for McCarthyism -- through workshops, film showings and the like we will look at Boise's unwanted leap into national prominence in that same year with what has come to be known as The Boys of Boise scandal. We'll look at where we are today in Boise in our treatment of those espousing different sexual preferences, an issue much in the news with the City Council's passage just last week of a non-discrimination ordinance.
Beyond our main stage productions, there are many ways Opera Idaho contributes to our community. In January we will perform an abridged version of Hansel and Gretel in twenty schools in The Treasure Valley at no charge to schools, giving students a glimpse of how art can impact them. We performed last month at the St. Luke's Hospital Volunteer Luncheon, thus supporting the recognition efforts of another valued local nonprofit. In April I will lead three sessions for Boise State University's Osher Institute exploring the topic "Opera and Politics," looking deeply into opera's relevance to the issues of the day.
Ultimately others like you will judge our success in adding public value through our existence and work. But, you can rest assured that as we plan our operas and consider our mission, we always ask, "Why?" What conversation will this start in our community? What statement are we making by producing this work? How does this make our community healthier?
Contact your state legislators about effecting positive legislation for the arts
Donate to Opera Idaho now by clicking here to help us continue doing the great work that we do.
[These thoughts are adapted from those of Brandon Gryde, Director of Government Affairs, Opera America.]
---
Children's Choruses Preformance Raises $800 for The Idaho Food Bank!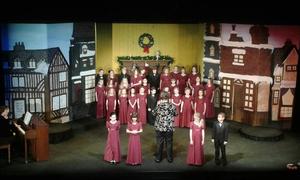 On Saturday, December 8, 2012, Opera Idaho Children's Choruses held their annual Holiday performance at the Boise Little Theater and directed by Linda Berg. In the spirit of the season, the concert was free to the public with a request for a donation to the Idaho Food Bank.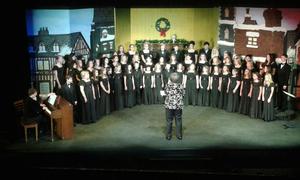 In addition to the concert being a terrific success, we are happy to report that the concert raised $800 for the Idaho Food Bank. We are so proud of Linda Berg and the Children's Choruses for not only their beautiful music, but their generous hearts as well.