---
July is
Bring-A-Friend
Month!
During the month of July, bring a friend that has never been to Cross Roads Summer Camp before and you BOTH get
$25 OFF!
Summer Schedule:
Youth Camp 1
- July 10 - 16
Youth Camp 2 - July 17 - 23
Holdover/Family Weekend
- July 23 - 24
Youth Camp 3 - July 24 - 30
Senior High Week - July 31 - August 6
Youth Camp 4 - August 7 - 13
Holdover Weekend - August 13 - 14
Youth Camp 5 - August 14 - 20
Giant Church Picnic - August 21
Family Camp - August 21 - 26


Youth Leadership Programs!
If you are looking for something more this summer, check out our summer youth leadership programs!

S . E . E . K .
SERVICE. EXPLORATION. EXCELLENCE. KNOWLEDGE.
Dates: July 10 – 23, 2016
This new two-week program is designed to help youth who have just graduated 8th and 9th grades develop life and leadership skills.
Program components will include:
• Leadership style assessment

• Intensive Low and High Ropes experiences

• Coaching in contemporary personal and business etiquette

• Opportunity to serve our local community through service projects.


Leaders-In-Training
Dates: July 10 – August 21, 2016
Leaders-in-Training are experienced campers who are active in their church, love God, like working with kids, and want to work at camp in the future. The Leaders-in-Training experience equips older high school students to be leaders at camp, in their home congregations, and in their communities. They will
learn all aspects of camp life, from leading activities and Bible studies to certification in first aid, CPR, and life-guarding.


---
The Social and Emotional Long-Term Benefits of Summer Camp:
"
Children spend up to 180 days in school, not counting weekend functions, school-sponsored extra-curricular activities and socializing with friends. For most kids, it's a huge part of their world.
Camp offers your child a different environment in which to grow their social skills and expand their friendship circle..."

---
Summer Camps Make Kids Resilient:
"S
ummer camps are places where children get the experiences they need to bolster their range of coping strategies. There are the simple challenges of learning how to build a
fire, going on a hike, or conquering a high ropes course. There are the much more complex challenges of getting along with a new group of peers, learning how to ask for help from others, or taking manageable amount of risks without a parent following after you..."

---
Your in-kind donations help us to stretch our dollars to serve more campers and retreat participants. So make a difference today by donating a piece of equipment in new or nearly new condition:
Mini/Passenger Vans
Commercial Washer and Dryer
Sport Equipment
Commercial Log Splitter
Contact our office to donate today!
OfficeManager@CrossRoadsRetreat.com

Work Days:
Dates: May 14 & 21, 2016
Come and volunteer on one of our two work days this spring to help us prepare for Summer! We have jobs for all ages, so bring your family, friends, and youth groups for an enriching day of service.
Building Projects
Painting
Log Splitting
Mulching Pathways
General Cleaning
Assembling Seating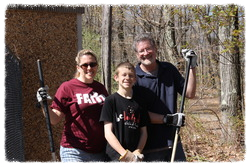 Subscribe to our
YouTube
channel to see all our videos, like the one below of our campers and staff singing Holy Time!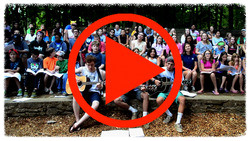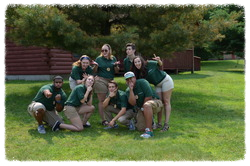 We need YOU!
We are now hiring young adults to join our amazing summer staff! If you are looking for an incredible summer experience that will also look great on resumes and college applications look no further! With a variety of positions like counselor, food service staff, grounds & maintenance staff, and a Little Adventure Leader, we have something for everyone. So apply today!



Fact #6:
Cross Roads served 29,413 delicious meals in 2015.
Fact #44: We have 18 Low and High Rope elements.
Fact #11:
There are 309 beds throughout camp.