NAJGA E-News
November 2015




MESSAGE FROM THE BOARD PRESIDENT




Japanese Gardens In Action



Dear NAJGA Member / Friend,


The power of gardens to transform people was experienced again last month. At NAJGA's East and South regional events in New York and North Carolina, more than 120 persons—pruners, curators, enthusiasts, historians, landscapers, landscape architects, and garden directors from America, Canada, and Japan—gathered to study pruning methods, tour gardens, hear lectures, and, most importantly, connect. In the words of one attendee in Durham, "I learned how to become a much better pruner, and I absorbed the history of Japanese gardens in the South. But, the best part was meeting these other people—and I am not a people person!"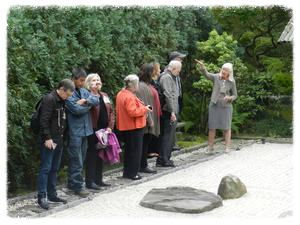 To read about the lectures and tours in New York and the workshop and lectures at Sarah P. Duke Gardens, which included the opening of the beautiful new
Pine Clouds Mountain Stream Garden
,
explore
the reactions by attendees Anita Royer and Emily Fronckowiak. Our gracious hosts, sponsors and presenters made possible these meetings.
(Right: In New York's Kykuit Japanese Garden with curator Cynthia Altman)
But it is our members—coming from near and far to deepen your knowledge of Japanese gardens in North America—who are assuring the evolution of the compelling forms and lessons of Japanese gardens.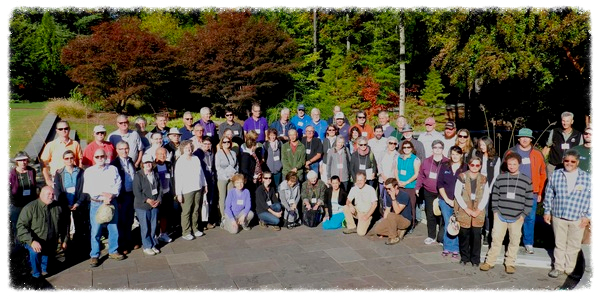 South regional event participants in Duke Garden's Culberson Asiatic Arboretum
Building on the momentum of these two events, and our equally successful Midwest regional led by John Powell in August, we are now focusing on our 2016 conference. There, in the healing embrace of South Florida and the transformative presence of 13-acre
Morikami Japanese Garden
(including a lake with alligators!), we will explore the power of Japanese gardens to create a better world. I invite you to join with us early next year as we open a new chapter in the history of Japanese gardens.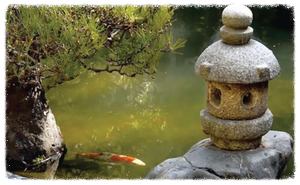 October also brought the
good news
that the UCLA Hannah Carter Japanese Garden has received a new "lease on life." In an out of court settlement, UCLA agreed to sell the garden together with the adjacent house and with the condition that the buyer preserve the garden for at least 30 years. Now the task is to find a buyer who will again open the spectacular garden to the public. The incident demonstrates the pressing need to sustain gardens and activate them as integral parts of our society.
Respectfully,
Ken Brown
---
2016 Conference Update
---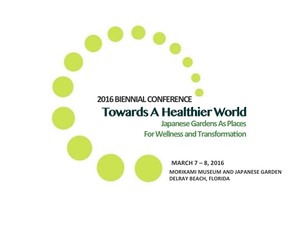 NAJGA's third biennial conference, "
Towards a Healthier World: Japanese Gardens as Places of Wellness and Transformation,"
is just over four months away. It will be held at the
Morikami Museum and Garden
in Delray Beach, Florida, on March 7
th
and 8
th
, 2016. On the 6
th
, we will have an optional tour of gardens and cultural institutions in the nearby
Palm Beach
area.
We are pleased to announce that we have chosen the
Marriott Courtyard Boca Raton
as the conference hotel, with very special conference rates. In November we will open "early bird" conference registration
and hotel reservations.
The conference committee has already received over two dozen presentation proposals from international specialists who explore Japanese gardens and gardening from many perspectives. The focus on how these gardens can transform individuals and societies will give the conference a powerful focus and immediate relevance. This convocation of the Japanese garden community will also feature workshops on the healing power of Japanese gardens through garden walks, garden design, and garden photography.
---
NAJGA Journal Now Online
---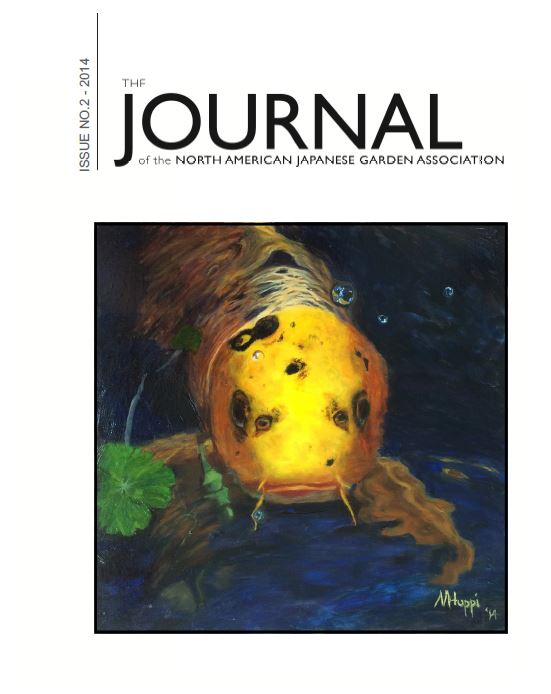 The 2014-2015 NAJGA Journal may now be accessed online through the Members' Section of the NAJGA website. The 2013 inaugural issue of the Journal is already currently available in the website.

Selected presentations from past NAJGA conferences and regional events will also be made accessible through the site on an ongoing basis. Check out the 2012 Denver Conference presentation "By Flood, Pest Or Wind: Disaster Preparedness and Response for Japanese Gardens" by Ms. Kim Andrews, Executive Director of the Shofuso Japanese House and Garden and a NAJGA board member.
LOG IN to the NAJGA website members' section
to access the journals and presentations.
Print copies of the 2014-2015 Journal are still available at discounted rates for bulk purchases. $10 for members and $15 for the general public, with a minimum purchase of ten copies. E-mail: info@najga.org.
---
MEMBER SPOTLIGHT
---
Member Reviews: NAJGA In Minnesota,
New York and North Carolina
NAJGA members Anita Royer and Emily Fronckowiak share their experiences as participants in the three NAJGA regional events held this year.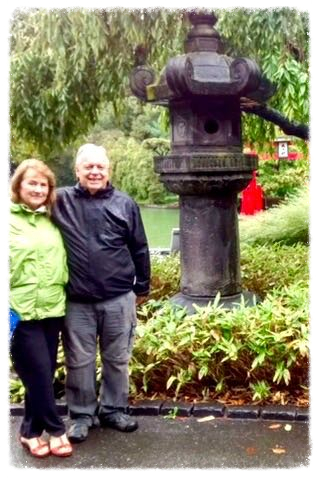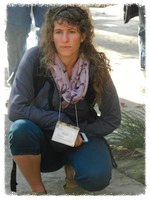 "If you like Japanese gardens, if you like to rub elbows with fellow Japanese garden comrades and to learn more about America's historic and surprising Japanese gardening beginnings, you won't
want to miss the next one" -
Anita
"The speakers were all different and I value the diverse teaching styles. Some practice their craft by following Japanese garden standards as done in Japan, and others are crafting an Americanized approach,
coined as 'aesthetic.'" -
Emily
READ MORE
---
Lighting Up the Japanese Garden At Night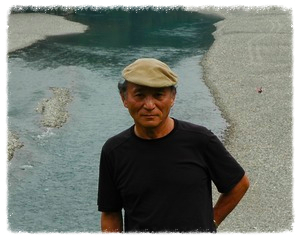 As darkness cloaks the garden earlier and stays later in autumn and winter, we catch up with NAJGA business member Hiroshi Kira of HK Lighting Group. From this lighting specialist, we can get some insights about extending our time spent in Japanese gardens through the discreet and appropriate use of evening lighting.
"It is our belief that the lighting design for a Japanese garden should not imitate the garden as it appears in daylight, but rather recreate the same harmony and subtlety as on a moonlit night. This will bring out the essence of a Japanese garden as if it were a stylized Japanese woodblock print," Kira said.
READ MORE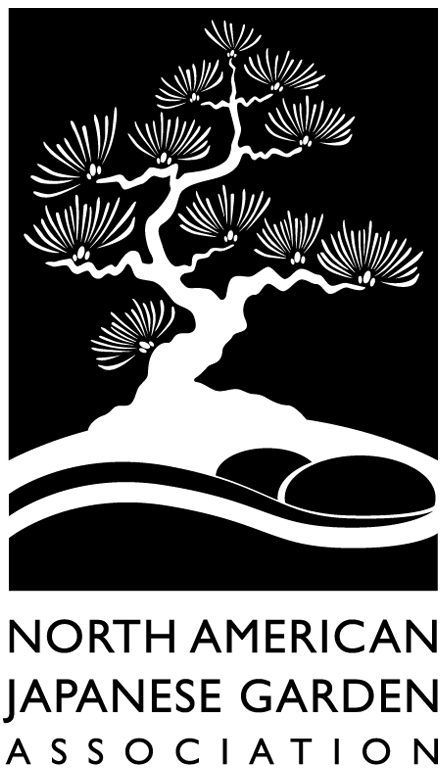 Promoting the Art, Craft and Heart of Japanese gardens
in the USA and Canada.
---
Japanese Water Basin
Online Auction
---
Here's an opportunity to add an authentic Japanese tea garden touch to your environment.

NAJGA is now accepting online bids through e-Bay for this vintage
tsukubai
from Japan dating from the
Taishō / Shōwa
period
(c. 1920' - 1940s).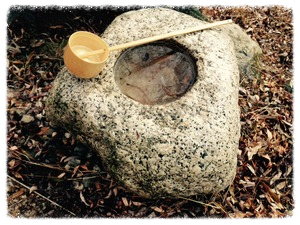 Crafted in a natural boulder style, the basin is made of hard granite and will make a wonderful focal point in
a
roji
-style garden and other garden settings that aim for a rustic,
rough-hewn feel.

Dimensions:
12"H x 19"W x 19"L
Basin - 7.5" diameter / 4" deep

Deadline for online bids
is on November 12, 2015
at 6 AM, EST. Free shipping within mainland USA.
To view this item
on eBay and submit your bid,
click
HERE.
Special thanks to our
generous donor:



---
Support NAJGA
via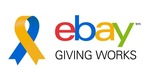 If you're a regular eBay user, you may help NAJGA in two ways:
Sellers may add NAJGA as their favorite charity and donate a percentage of their sales to the association.

Both sellers and buyers can make a direct donation to NAJGA through eBay/PayPal.
To add NAJGA as your favorite
charity, click
HERE
.
---
WELCOME, NEW MEMBERS!
---
Ronnit Bendavid
Brooklyn Botanic Garden
John Bettice
Rockford, IL
Jeffrey Harris
Asheville, NC
Stan Hobbs
Scotia, NY
Steve Huddleston
Fort Worth Botanic Garden
Mike Miller
Four Rivers Cultural Center
& Museum
Stephen Morrell
John P. Humes
Japanese Stroll Garden
Nancy Schmidt
Mizumoto Japanese
Stroll Garden
Madeline Ann Sutter
Oriental, NC
Janice Stevenson
Courtenay, BC
Michael & Michelle Styers
Charlotte, NC
---
COMMUNITY CALENDAR
---
November 12
Anderson Japanese Gardens
in 2015: A Year In Review
- Mr. Tim Gruner
November 18
Japanese Garden Pruning
and Maintenance Workshop
Yume Japanese Gardens,
Tuczon, AZ
November 21
Bamboo Basket Making
Workshop
Japanese Friendship Garden,
San Diego, CA
November 28
Free Public Tour
Kubota Garden,
Seattle, WA
November 29
Holiday Origami Workshop
Storrier Stearns Japanese Garden,
Pasadena, CA
Send us your upcoming
Japanese garden-related events
and news:
info@najga.org
---
Shop at

and Amazon will make
a donation to the
North American Japanese
Garden Association.
---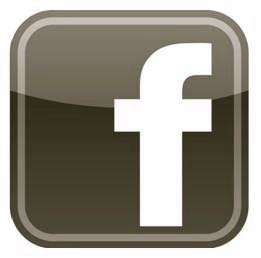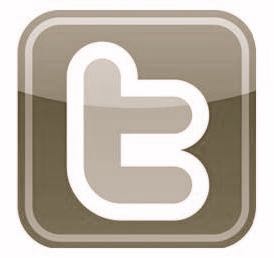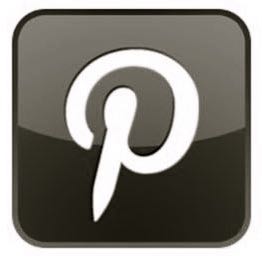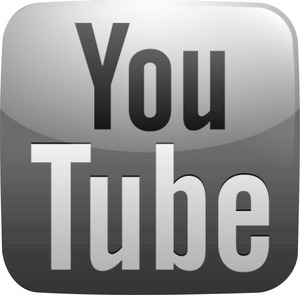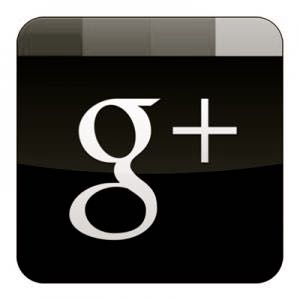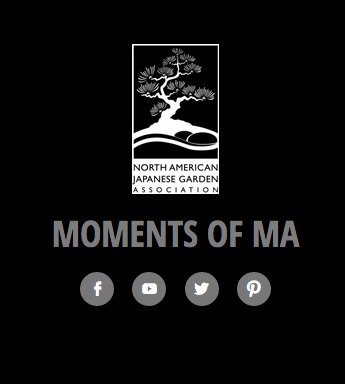 The North American Japanese Garden Association Blog